Iconic Australian presenter Richard Wilkins has backed his son, Christian, for wearing a backless dress to the Logie Awards, held in June. The 68-Year-Old defended his son's fashion choices after Christian was slammed. While some praised the feminine look, many trolled him for walking the red carpet in a sheer dress.

Christian's flamboyant style was no doubt on full display at the 62nd Logie Award, where he wore this white dress and had his long blond hair loosely.
Getty Images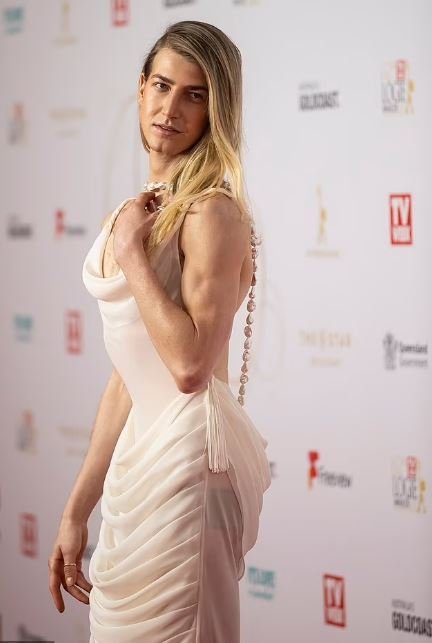 Getty Images
"
I don't understand that (parents not being in their son's corner), but I certainly am. I didn't flinch when I saw Christian in that dress. I didn't think much of it," Richard, the Weekend Today host said in his interview with The Daily Telegraph's Confidential.
He admitted there'd been the old time when Christian came down the stairs in an outfit he deemed a bit questionable over the years.
"It's not all my cup of tea, I couldn't pull it off. But he is doing it because he is having fun," Richard insisted.
Getty Images
And continued:
"I admire his bravery. He has great style. He is fashion-forward. I am boring in my black suit, black shoes, and a bow tie. I'm not shaking things up, am I?"
So far, his support has been applauded by the likes of Jess Rowe and Wog Boys star Nick Giannopoulos. Accordingly, today's show co-star Karl Stefanovic has backed Richard's sentiments.
Karl commented: "Beyond exceptional. He is light. A beautiful human light. Who comes from beautiful humans And light. Anyone who thinks otherwise ain't worth knowing or paying attention to you. I love you guys so much. Soar higher."
Getty Images
Getty Images
Over time, Richard has steadfastly supported his son, publicly hitting back at those who suggested he was disappointed in him.
He had taken to Instagram to post a picture of himself with Christian, accompanied by a heartwarming message. He wrote:
"So… to anyone who dares to suggest that I am in any way 'ashamed' of my son Christian. For whatever reason… You are wrong! I could not be more proud!!
He concluded:
"He is an exceptional human being who will leave his stamp on the world long after his detractors have disappeared. I love you unconditionally."
Christian has also hit back at a Twitter troll by mocking how some people react hysterically to me who like to wear dresses. "What is happening to the world!!!!? Masculinity is ending!!! Burn everything!!" he had tweeted.