It was all glam in the Sunday night's Golden Globes awards as all eyes were cast on stage feasting on movie stars receiving their prestigious awards. However, in what came as a shocking surprise, favorite A star is Born lost the Best Picture going to Queen Biopic Bohemian Rhapsody. Bradley Cooper's passion project starring Lady Gaga was anticipated to bag multiple awards but instead went home with just one award, for Best Original Song.
Bohemia Rhapsody's Rami Malek in a surprising twist of events beats out Cooper in the Best Actor- Drama category. While Gaga bowed to The Wife's Glenn Close in the Best Actress- Drama category.
We Are The Champions: Queen biopic Bohemian Rhapsody surprised many as it finished off the Golden Globes with a Best Motion Picture - Drama win over heavy-favorite A Star Is Born on Sunday evening
'Freddie Mercury and Queen did that so successfully through their music and that's what we always wanted to accomplish in the cinemas.
'To see that magic come alive and see the incredible response of this film is truly humbling … Freddie Mercury, thank you for showing us the power of embracing your true self, this one's for you.'
Radio Gaga: Rami Malek, who plays Freddie Mercury, also earned Best Actor in a Motion Picture - Drama over Bradley Cooper
Bohemian Rhapsody's multiple awards came as a surprise to many considering their critic reviews were generally poor. Tomatometer gave them a 62% and top critics gave them no more than 48%. A star, the fans favorite star received 90% on the Tomatometer and a whopping 96% by top critics which sealed the star's approval among film enthusiasts.
Before his acceptance speech, Rami Malek gave a strong tribute to the late, great singer whom he portrayed on the big screen. However, unlike the previous categories, The Mr. Robot was expected to bag the award and he did just that. The 37-year-old actor in his speech said: Thank you to Freddie Mercury for giving me the joy of a lifetime. I love you, you beautiful man. This is for and because of you gorgeous.'
In the Shallows: A Star Is Born was the heavy favorite in the three top categories of the Golden Globes but was shockingly shut out including in the acting categories with nominees Cooper and Lady Gaga
Talented duo: Gaga was bested by The Wife's Glenn Close in the Best Actress - Drama category
'The power of movies is that it brings us all together': At the end of the night Bohemian Rhapsody producer Graham King addressed the shocked crowd at the Beverly Hilton
'Thank you to Freddie Mercury for giving me the joy of a lifetime': Rami Malek also thanked the late, great singer whom he portrayed on the big screen
'This is for and because of you gorgeous': Malek pictured portraying Freddie Mercury in Bohemian Rhapsody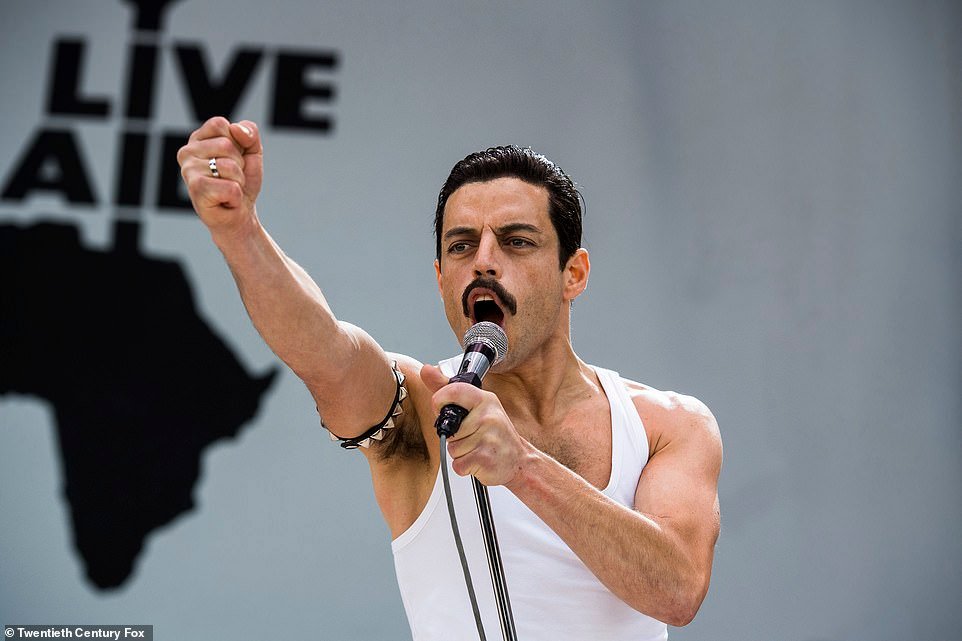 Shining star: Olivia Colman earned one of the top honors as she won Best Performance by an Actress in a Motion Picture – Musical or Comedy for her work on The Favourite
All hail: The 44-year-old British actress portrayed Queen Anne in early 18th century England in the acclaimed film
'Thank you my b*tches': Colman paid tribute to her The Favourite co-stars, Emma Stone and Rachel Weisz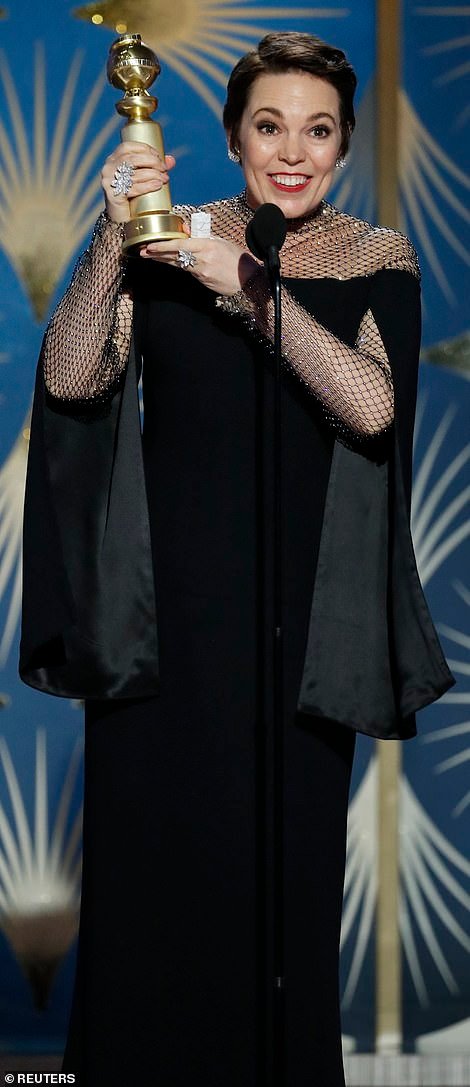 Her 'b*tches': Colman appeared on stage with her co-stars Stone and Weisz earlier that evening to present an ward
'[She] really sublimated herself to my father her whole life': Close held back tears as she honored her mother in her very emotional acceptance speech as she said the role reminded her of her mother
What a performance: The 71-year-old actress portrayed Joan Castleman in The Wife alongside co-star Jonathan Pryce
Mutual admiration: Close was visibly shocked as her name was announced and was was graciously greeted by Gaga before walking up on the stage to accepted her shiny new trophy
Respect: Close received a standing ovation from competition Gaga along with Cooper and his model girlfriend Irina Shayk
Honored: Lady Gaga accepted the Best Original Song trophy for her work on A Star Is Born smash hit Shallow at the 76th annual Golden Globes on Sunday
Touching: When Taylor Swift and Idris Elba declared her the winner, Gaga's eyes welled up with tears before hitting the stage alongside Mark Ronson, Andrew Wyatt, and Anthony Rossomando
Smash hit: Gaga and Cooper in their critically-acclaimed film A Star Is Born which has won rave reviews and a huge fan reaction since its release late last year
Making a point: During the acceptance speech she said: 'I just have to say, as a woman in music, it is really hard to be taken seriously as a musician and a songwriter'
'Thank you, Bradley Cooper': Ronson - who is an often collaborator with the Born This Way hitmaker - also thanked the 44-year-old actor
Dynamic duo: British actor Idris Elba and chart-topping singer Taylor Swift presented the sought-after award
'Thank you to Satan for giving me inspiration': Christian Bale had one of the most memorable speeches of the night as he accepted Best Performance by an Actor in a Motion Picture – Musical or Comedy for his role
Huge transformation: Bale, 44, as the former US Vice President Dick Cheney in Vice
All guns blazing: Bale, 44, also thanked director Adam McKay but couldn't help but take another shot at a different political figure, quipping: 'I will be cornering the market on charisma-free a******s. What do you think, Mitch McConnell next?'
Golden: Mahershala Ali also won Best Supporting Actor for his work portraying musician 'Doc' Don Shirley in the 1960s in Green Book
Touching: Green Book was one of the biggest winners of the night as it won the coveted Best Motion Picture – Musical or Comedy gong
Big winners: Stars Viggo Mortensen, Linda Cardellini and Mahershala Ali posed with director Peter Farrelly after the win