The court's ruling defined that women's federal rights to abortions are to be abolished, and 26 states are set to follow through. Some might just outright ban it, causing thousands to rally to protest against the Supreme Court's decision.
Pro-choice supporters have begun the #SexStrike movement, asking everyone to stop sleeping with men "until abortion rights are federal law." The hashtag has begun earning traction on social media as many declared their ongoing stirke.
"Women have the power here. No more sex until abortion rights are federal law," wrote one outraged woman on Twitter.
bassettg -Via
Protesters have remained peaceful until Sunday, except for one truck that drove through a group in Cedar Rapids and injured a woman's foot.
Getty Images
But things have been heating up in Portland, Oregon as well as Los Angeles as activists and police officers clashed.
AP
Meanwhile, in Greenville, South Caroline, things also heated up when police took in four men after tackling them to the ground as the crowd did not disband after one hour of protesting.
Off The Grid Greenville
Speaking of their stand, a 24-year-old protested talked to The New York Post, "If you're a man who won't get a vasectomy, even though it's reversible, and you're not out in the streets fighting for my rights, you do not deserve to have sex with me."
Another added to the argument, "I think it's absolutely valid for us to be withholding the Holy Grail that men seem to think is important. Why shouldn't we withhold it if we're always worried that they're not going put a condom on, that they're going take one off after we ask them to."
Tear gas was released in Phoenix, Arizona and vandalism erupted in Oregon by Saturday.
eaphill0208 -Via
Aside from bringing back Roe v. Wade, protesters have also added demand for men to have mandatory vasectomy which is reversible.
Alamy Live News
Protesters have been spraying graffiti on the Library of Congress, as one read "Our Bodies Our Choices."
Shutterstock
On a building in Portland, protesters were seen snapping pictures with the words "Abort The Court."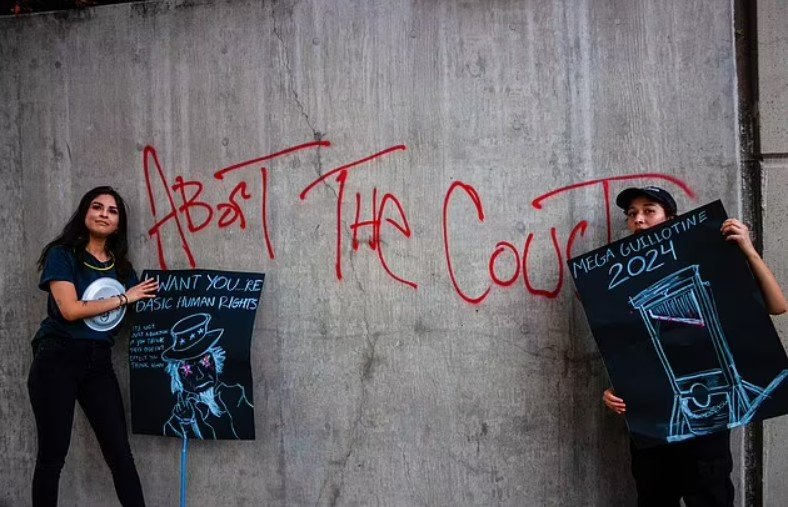 Shutterstock
The SCOTUS's decision spells "nightmare scenarios" as Karine Jean Pierre, Biden's spokeswoman, commented.
Different states will have different rules enacted, with Missouri being the first to enact a complete ban, with no exception for rape or incest. Alabama, Arkansas, Kentucky, Louisiana, Oklahoma, South Dakota, and Utah followed suit.
Several others provided as much leniency, with Wisconsin possibly allowing it when saving the life of the mother is necessary. Governor Tony Evers vows to provide as much clemency to doctors that might face prosecution.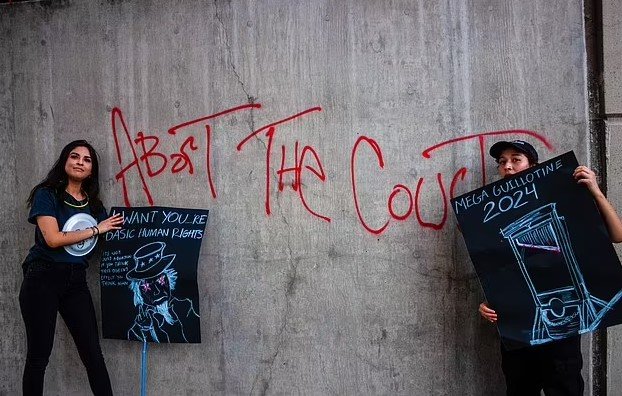 MoniquePressley -Via
California, Oregon, and Washington are among some Democratic-ruled states pledging to defend access to the procedure.

SlevinIvy -Via
Organizations such as Planned Parenthood have also received over 40-fold increased donations since the court's decision was made known.
EPA
Kelley Robinson, the vice president, spoke, "This is just the beginning, and we won't back down."