Hollywood's most enduring action hero, Tom Cruise, recently appeared unrecognizable when he attended Game 2 of the National League Division Series in San Francisco. Spotted sitting with his son Connor Cruise, 26, the actor smiled for pics, to which his fans took to social media, particularly Twitter, to debate his changed appearance.

Fans got disturbed as Tom Cruise waved to the crowds looking unrecognizable' while attending Game 2 of the National League Division Series.
via AP
Some users argued it was indeed 59-year-old Cruise at the game, while others linked the look to Canadian Stand-up Norm Macdonald, the ex-SNL star who died in September. A few pondered how the actor's face had dramatically changed, saying that he either gained weight or had his face filled with fillers. The 'Top Gun' actor, when in his prime, has had one of the sharpest Jawlines in the industry.
Some questioned whether the Mission Impossible star had undergone cosmetic surgery or naturally gained weight.
via Getty Images/AP
But now, he looked puffier than usual. Videos of the Risky Business star, where he was also seen waving to fans during the game, have since circulated, sparking a few not-so-nice comments. "What has Tom Cruise done to his face?" One person wrote. Someone weighed in to defend the actor, saying: "Tom Cruise putting some weight on in his face because he's prob not filming a movie requiring him to be in not-human shape and getting memed all over for it feels awfully yucky to me."
A video (below) of Cruise smiling to fans as he enjoyed the game sent many internet users bothered about his face.
Tom Cruise is in attendance at @SFGiants game tonight. It is Fleet Week in San Francisco #ResilientSF #Postseason pic.twitter.com/uRGX98xv6X

— Chris Alvarez (@CAlvarezABC7) October 10, 2021
Many fans wanted to know what Cruise had done to make himself look different
via Twitter
via Twitter
via Twitter
via Twitter
via Twitter
Another added: At first, I felt a little bad that everyone was making fun of Tom Cruise's face because it honestly looks like some side effect to me. But then I remembered he'd spent decades criticizing people for taking meds. Drag that pillow face." This particular tweet referenced Cruise's comments Brooke Shields. He had suggested that the Church is against psychiatric drugs, having got into a public spat with Shields in 2005.
Others, however, defended the "Risky Business" alum, saying that he is just aging naturally.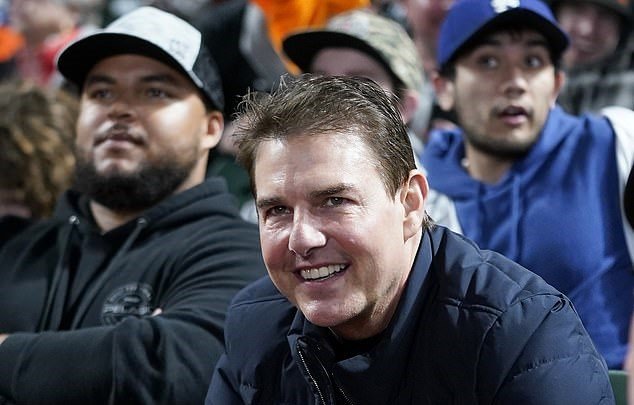 via AP
What a mean comment ! Tom looks #amazing , he is aging gracefully and looks healthy and Happy . He is still a stud , people like you need to #Stop #Judging #Others and #Live #Your #Best #Life look in the mirror before you judge others . #TomCruise

— EddieStarr (@EddieStarr) October 11, 2021
via Twitter
via Twitter
via Twitter
via Twitter
A few speculated that the Top Gun star looked like the late comedian Norm Macdonald.
via Twitter
Both Shields and Cruise tussle had been hinged on her use of antidepressants to postpartum depression. Shields fired back for calling her actions irresponsible, saying he should stick to saving the world from aliens and let women experiencing postpartum depression decide what treatment options are best for them. But then the actress disclosed in 2006 that Cruise came over to her house and apologized.
via Twitter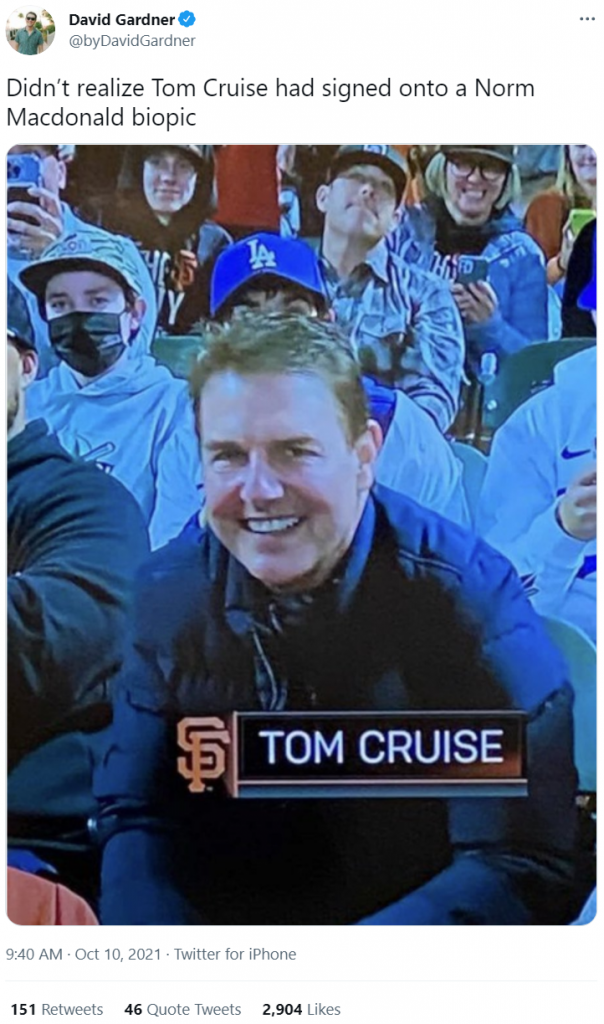 via Twitter
via Twitter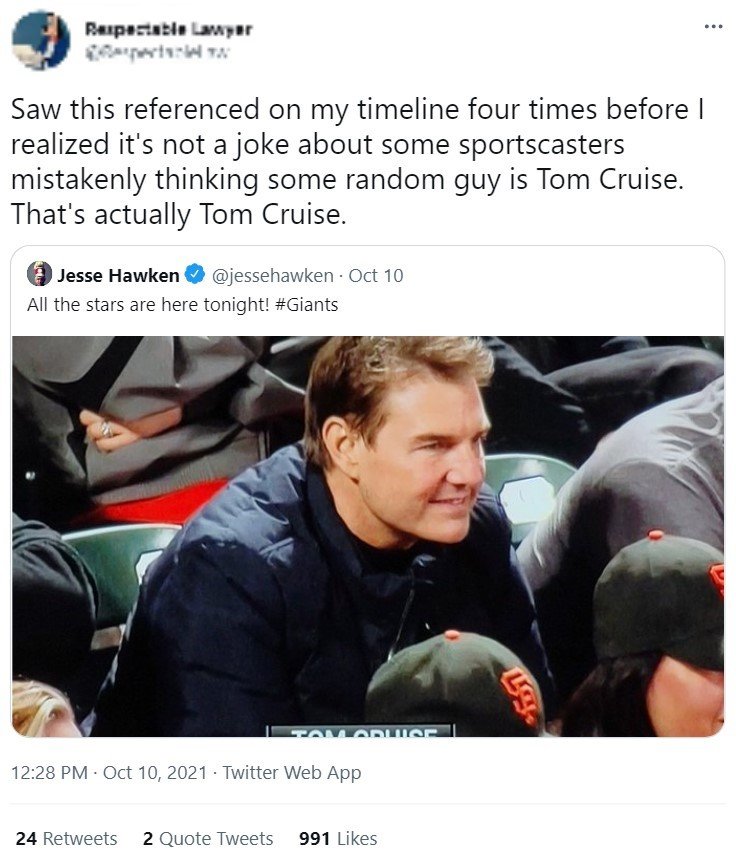 via Twitter
via Twitter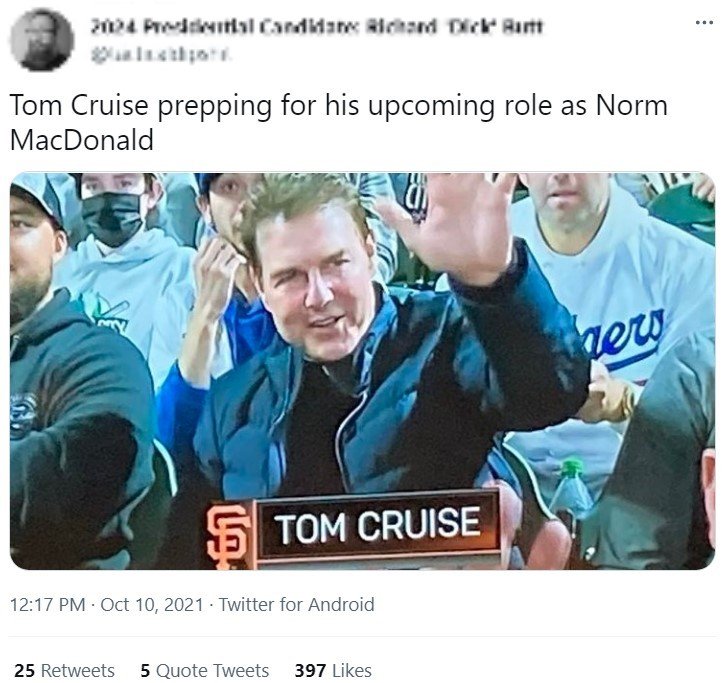 via Twitter
Over the years, Cruise has been known for his changing look, fluctuating from a heartthrob with a chiseled jaw to a geezer with a rounded mug.
@TomCruise What have you done to your gorgeous face?!!!! I was soooo disappointed when I saw you in the stands at the Dodgers game! STOP putting crap into your face please!!!!

— Lisa Rodriguez (@Azmex46) October 11, 2021
via Twitter
It's called a fat transfer or fat grafting #fattransfer #fatgrafting to voluminize the face. It's pretty much permanent but only 50% of the fat cells remain viable and will fluctuate w weight loss or gain. His looks fresh and swollen but will settle in a couple of months

— Oblomova (@heraldine) October 11, 2021