Rihanna's Savage X Fenty fashion show Vol.3 premiered on Amazon Prime on Friday. Models weren't the only celebrities to participate in the event; artists including Daddy Yankee and Jade Novah also performed during the show. However, Rihanna also enlisted the help of Madonna's daughter, Lourdes Leon, who goes by the Lola.

Lourdes Leon flaunted her curves in a vinyl bra and latex thigh-high boots at Rihanna's Savage X Fenty show.
lourdesleon -Via
Leon made quite an appearance as she donned a latex bra with matching underwear, thigh-high socks, and clear heels. The outfit was complemented with accessories like hoop earrings, a statement bracelet, and a belt. The 24-Year-Old was first spotted walking down the hallways of The Westin Bonaventure Hotel & Suites in Los Angeles, where the show was filmed.
The 24-year-old model looked stunning in a set of lustrous teal lingerie with a matching long coat.
lourdesleon -Via
The daughter of Madonna added a jeweled pair of panties with double straps and a thick strand of beads.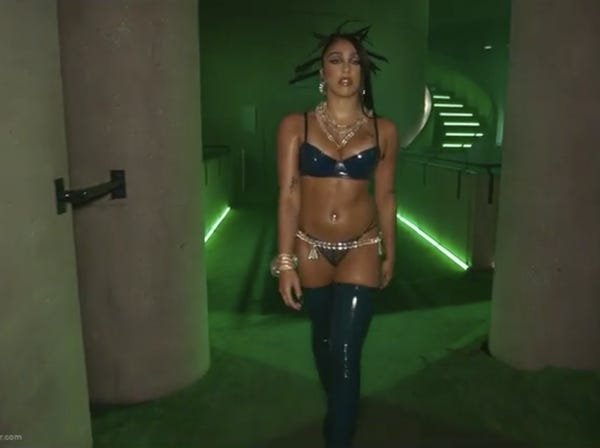 Savage x Fenty/Amazon
Into the fashion show, Leon appeared on a circular bed in an elevator. As seen, she yet again flaunted off her armpit hair. In 2017, the model had delighted her fans when she showed off her armpit hair in a photo Madonna shared on Instagram. Her mom, Madonna, has also been known to show off her natural body hair several times throughout her career.
She gazed directly into the camera in other photos taken: on the corner of the bed (left) and posed by a balcony (right).
lourdesleon -Via
Into the show, she appeared on a circular bed in an elevator between two men.
Savage x Fenty/Amazon
Well, Leon wasn't the only celebrity to walk the fashion show. The star-studded event had Irina Shayk, Gigi Hadid, Adriana Lima, and Cindy Crawford. According to
W Magazine
, Leon made her runway debut in 2018 when she walked in Gypsy Sport's Spring 2019 show amid New York Fashion Week. Rihanna's fashion show signaled that Leon is getting back into fashion after two years of being absent in the modeling world.
However, Leon pictured with her mom Madonna stayed true to her tradition of flashing her underarm hair.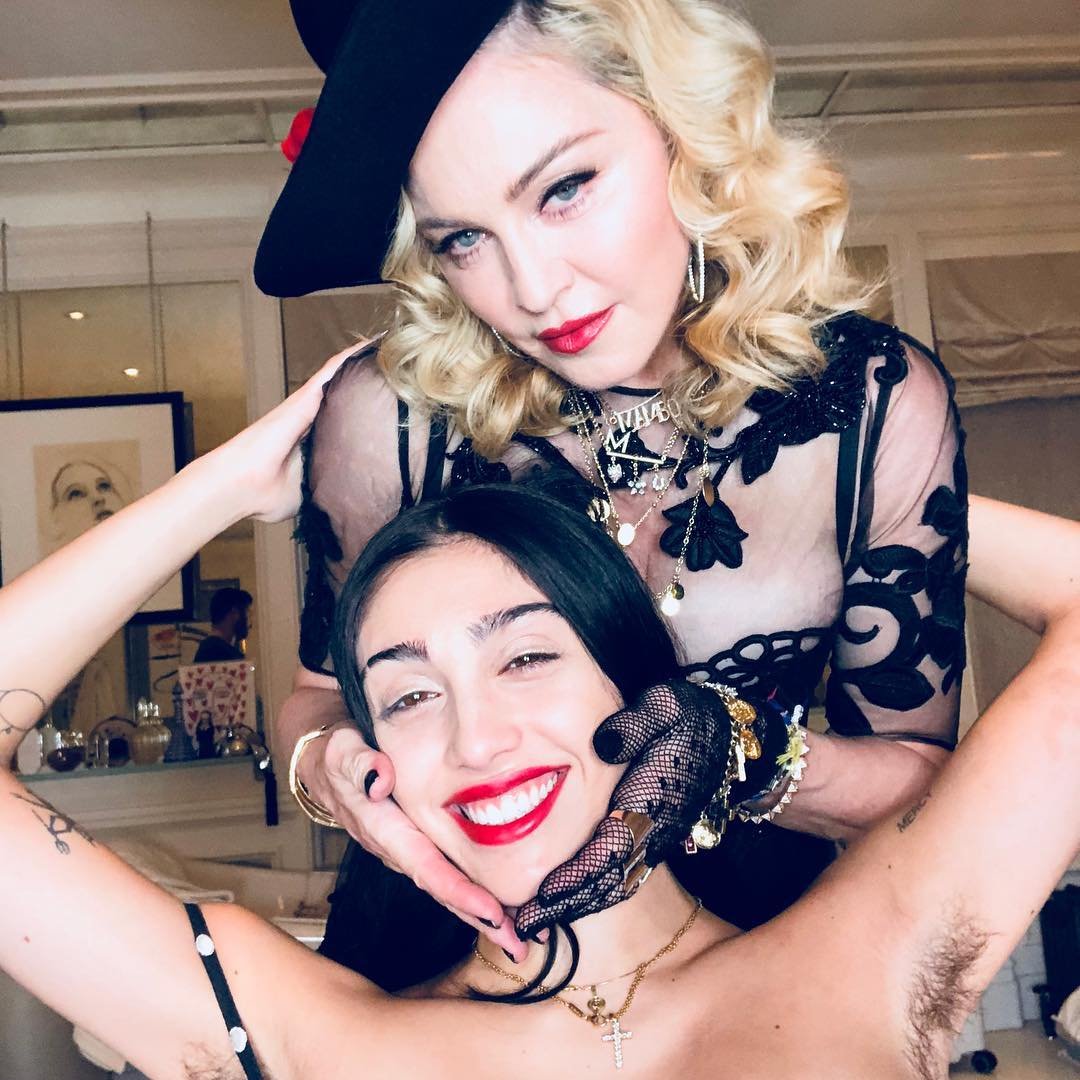 madonna -Via