Heidi Klum is popularly known for modeling and hosting, but she shines brighter in the spooky season. This is because Klum has, over the years, held the position: Queen Of Halloween. Every year since 2000, her costumes have stayed unimagined and gets typically people talking. Heidi continues to outdo herself with the most outrageous costumes possible. When you think she has reached the limit, that's when she got started. And for every of Klum's drastic appearance, she ensures to document the many hours of preparation on Instagram.
The latter has countless times kept her fans guessing what the big reveal will be. In a few tricks, the business mogul had been joined by her husband, Tom Kaulitz. The couple had dressed like an astronaut and alien and even as Shrek and Fiona. Interestingly, amid the height of the pandemic, Klum got creative at home, transforming her husband and four children into a toilet paper family. However, it's early to tell what she will look like this year, but it's guaranteed that she's nailing it. In the meantime, we've collated Klum's Halloween looks through the years. Have a look!
In Many Forms (2016).
Michael Stewart/FilmMagic/Getty Images
This was a boring costume! Klum enlisted a group of models to dress up the same as she did. The nude bodysuit and thigh-high boots weren't bold enough for a prime spot.
The Giant Patterned Butterfly (2014).
Dimitrios Kambouris/Getty Images for Heidi Klum
Klum's 2014 Halloween costume was a substantial patterned butterfly. She did take things to a whole level with her masks with butterfly eyes. On October 31st, Klum gave Times Square Visitors a sneak peek of this costume before hosting her yearly party.
A Glided Cleopatra (2012).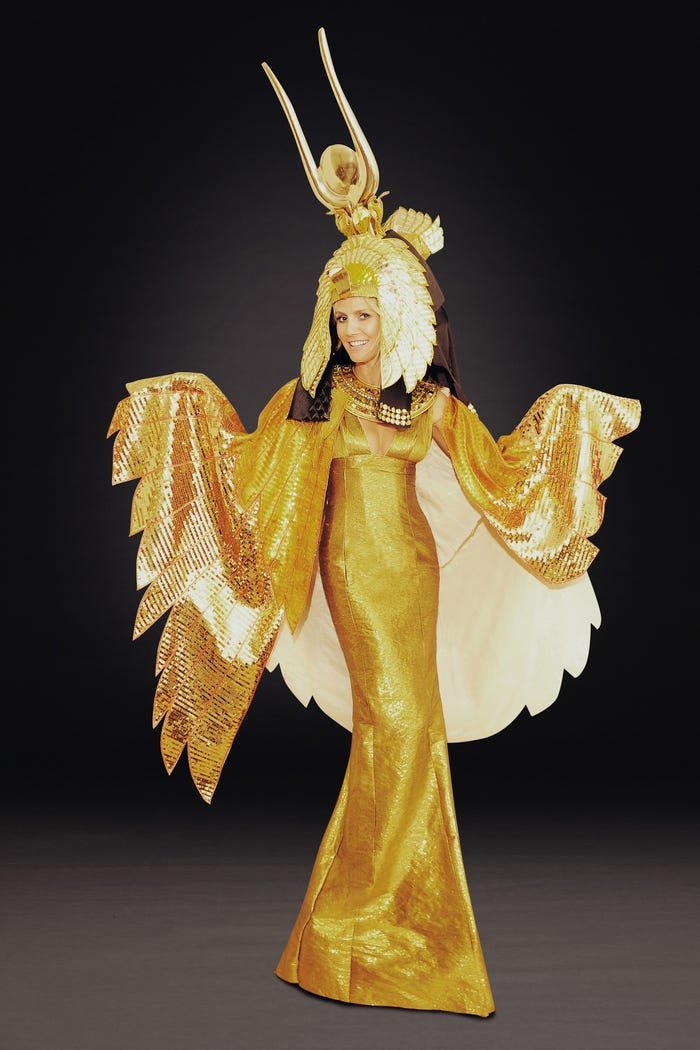 Michael Loccisano/Getty Images for Heidi Klum
Hurricane Sandy had disrupted Klum's party, yet she ensured to give her fans a look at her glided Cleopatra costume. It wasn't an exciting costume, but Klum made it an exciting one with her giant headpiece.
The Unsettling Human Body (2011).
Michael Tran/FilmMagic/Getty Images
Klum arrived at her 12th yearly Halloween party on October 29th in an unsettling human body. She looked like she had just stepped right out of Bodies: The Exhibition. It did take hours in the makeup chair to paint her whole head red.
The Crows (2009).
DAVID CROTTY/Patrick McMullan via Getty Images
Klum and her then-husband Seal had dressed up as Crows to attend the 10th annual Halloween party in 2009. But it turned out there was nothing notable about the duo's costume, so it earned a low spot. Similarly, it was unclear why Seal wore a sunflower lapel pin and yellow gloves.
The Hindu Goddess Kali (2008).
Charles Eshelman/FilmMagic/Getty Images
Klum's worst costume was her 2008 look. She had dressed as the Hindu goddess Kali. Many Hindus warned that the costume was offensive and, at that point, equally proved that people should stay off from making someone's culture their Halloween costume.
Cats (2007).
Jesse Grant/WireImage/Getty Images
Cat remains an essential Halloween costume of all time, but Klum resembled a rat, and Yes, more was expected from the Halloween queen.
The Vampire (2005).
Evan Agostini/Getty Images
Klum opted for the vampire costume designed with gothic butterfly wings. Yet again, the model rocked a giant wig and paired her outfit with thigh-high boots and vampire fangs.
Red Hot Skeleton Witch (2004).
Evan Agostini/Getty Images
Klum's costume for her 5th annual Halloween party had the internet talking. It was pretty unclear what she was supposed to be, but her giant red wig was epic like her random bones.
Golden Goddess/Alien (2003).
Evan Agostini/Getty Images
People couldn't tell if Klum dressed as a goddess or as an alien. But whichever one, she leveled up in her commitment. She rocked a golden cat-suit, had long golden braids, a gold grill, and metallic golden boots. It was time-consuming but worth the effort.
The Betty Boop (2002).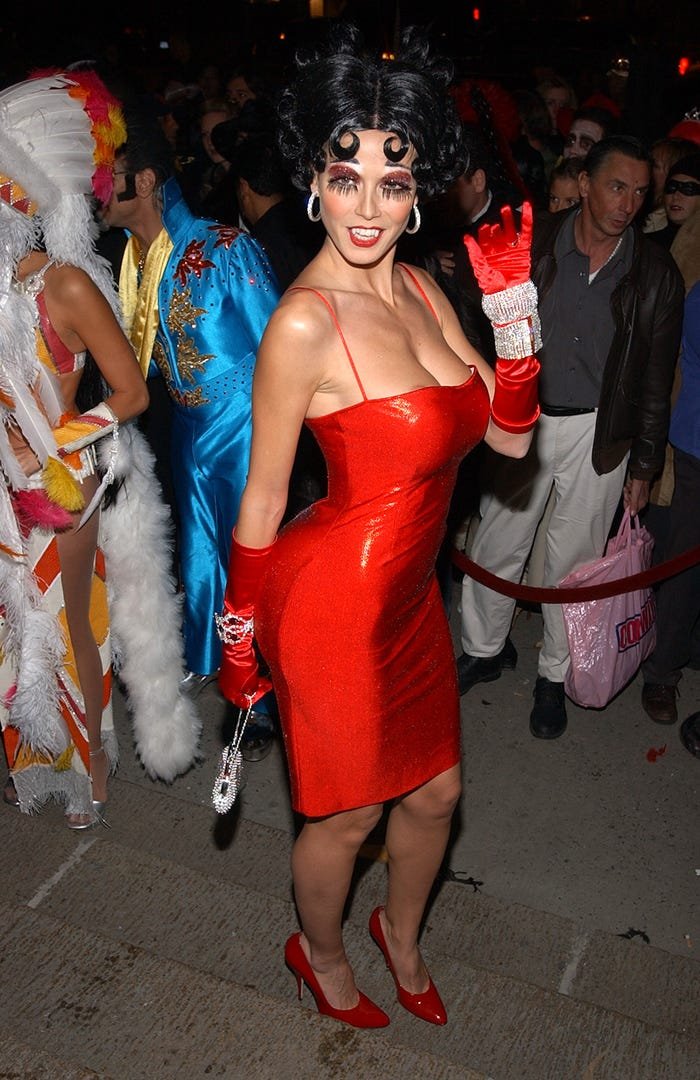 Dimitrios Kambouris/WireImage/Getty Images
This costume was flawless, especially as Klum proved to the world that the right wig, red dress, and make-up could totally transform anybody.
Dead Lady Godiva (2001).
Evan Agostini/Getty Images
For her 2nd costume for her party, Klum rode into her soiree atop a horse dressed as the British Legend lady Godiva. She turned all heads into peeping toms. Yes, you wouldn't be able to resist!
The Dominatrix (2000).
Tom Wargacki/WireImage/Getty Images
This was her first-ever Halloween costume. The host had donned a leather dress and black wig, posing as a dominatrix. The red lipstick had made Klum appear unrecognizable.
Jessica Rabbit costume, 2015
WireImage