Michel Fara do Prado uses the name 'Diabao Praddo' on social media. And if there's anything that amassed for him a huge following on Instagram, it's certainly his mouth-opening transformation into something otherworldly. Michel from Sao Paulo, Brazil, went to the extreme, cutting off his nose and giving himself tusks as part of being a 'Human Satan.'

Michel Fara do Prado cut off his nose and finger and gave himself tusks to become a 'human Satan.'
Just recently, the 44-Year-Old tattoo artist shared having a new set of silver gnashers installed and had his ring finger removed from one of his hands. In a photo on Instagram, Michel can be seen holding a bloody digit in his hand, and in particular, this comes a year after he had his nostrils cut off.
Michel has been into body art for over twenty years.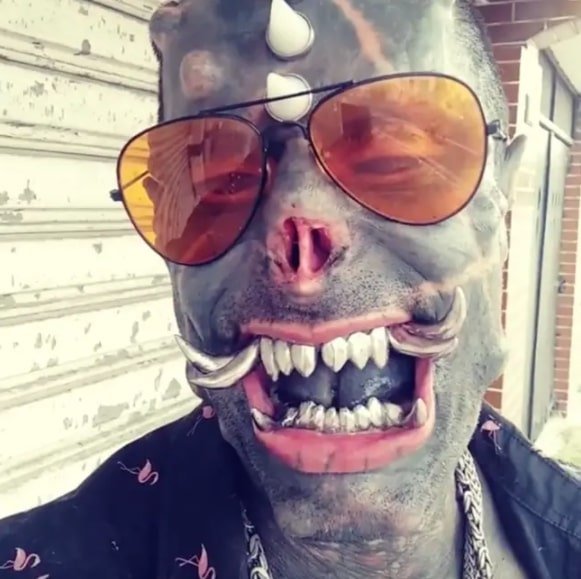 Jam Press
For over twenty years, Michel has been into body art, but it turned out he's not always looked like this.
"I have been a tattoo artist for 25years, most of my tattoos I get from tattoo artists and professionals who I have paid. I focus on blackwork and brutal tattoos, which are types of tattoos where you ink a large part of your body."
Michel, according to
Ladbible
, explained.
Here's what he had looked like before going to the extreme.
Jam Press
It wasn't until he met with his wife Carol that he decided to take his love for body art to a whole next level. He continued: "But my wife has specialized in the area of modifications, and the idea is for me to become her masterpiece when it comes to tattooing! Actually, I have good resistance to pain; I don't think anything is so painful; I suffer a lot more in the post-procedures than at the time.
"And the truth is that there are changes that without anesthesia would be almost impossible to be done; I would love not to feel any pain. But if I have to feel pain, to achieve what I want, for sure, I will face it."
On meeting with his wife Carol, Michel took his love for body art to a whole next level.