People take family photos to reminiscence the sweet old memories ages after time has worked up its magic. In the spirit of the moment, some individuals have the ability to recreate those moments that shaped their lives after all what better way to highlight the special bond you have with your loved ones.
Looking through these images 5, 10 or even 25 years apart these people have a unique bond that has not to fade over time. We have compiled some of the most ingenious old-phots re-enactments to show you that there are really fun ways to go about it too. From striking the same pose to visiting similar places, these photos conjure nostalgic memories and remind us how time flies. Check out how these amazing photos.
#1 Father, Daughter And Their Pets Recreate The Same Photo For 10 Years, Proving That Some Things Never Change
Mr. wong -Via
#2 Some Things Never Change
dawsonalliah -Via
#3 A Son Who Predicted He Would Follow In His Father's Footsteps And Become A Police
mr. memefirst -Via
#4 My Husband Was 3 Months Old When His Father Was Killed In A Car Accident. As A Christmas Gift To His Grandmother This Year, We Recreated An Old Photo With Our New Son
chelsea-vong -Via
#5 We Had To Put My Dog Of 16 Years Down Yesterday, But Before We Did We Recreated Our Favourite Photo With Him
weezabeeb -Via
#6 Off To Pre-K With My Grandmother. 19 Years Later, Off To Graduate School
JohnclarLevin -Via
#7 Me And My Great Uncle 24 Years Apart
idontsparkle -Via
#8 35 Years Later...
ooklashomeboy -Via
#9 Two Brothers Return To Their Abandoned Car In Pripyat
frenzy3 -Via
#10 My Son And I Planted Our Faces On A Copier, Then And Now
dittidot -Via
#11 Happy Easter From My Family To Yours
dogwhobarkstoomuch -Via
#12 My Mom Hasn't Aged Since 1988
fho15 -Via
#13 Nearly 30 Years Elapsed. Just Before My Retirement, We Re-Created My Favorite Photo Of My Oldest Son And I...
avghomeowner -Via
#14 Back To The Beach
lorasio -Via
#15 Brothers In A Bathtub. 20 Years Apart
stenchi -Via
#16 My Dad At 29, Me At 2 Weeks (My Dad's First). Me At 29, My Boy At 2 Weeks (My First)
Beersdelicious -Via
#17 My Cousin Offered Me A Memory For Christmas. She Bought All The Accessories To Recreate This Moment, From 2002 To 2017
forthehtirdtimeotday -Via
#18 21 Years Later
kingjosiah_29 -Via
#19 30 Years And Beards
poonchinello -Via
#20 Me And My Sister 20 Years Apart. 1998 - 2018. My Parents Are Hilarious Humans
Tookthisname -Via
#21 At Age 4, I Whispered Sweet Nothings Into Her Ear. 24 Years Later, We're Getting Married
apete384 -Via
#22 Exactly 20 Years Later, We Went Back To The Same Photographer To Surprise Our Parents With A Gift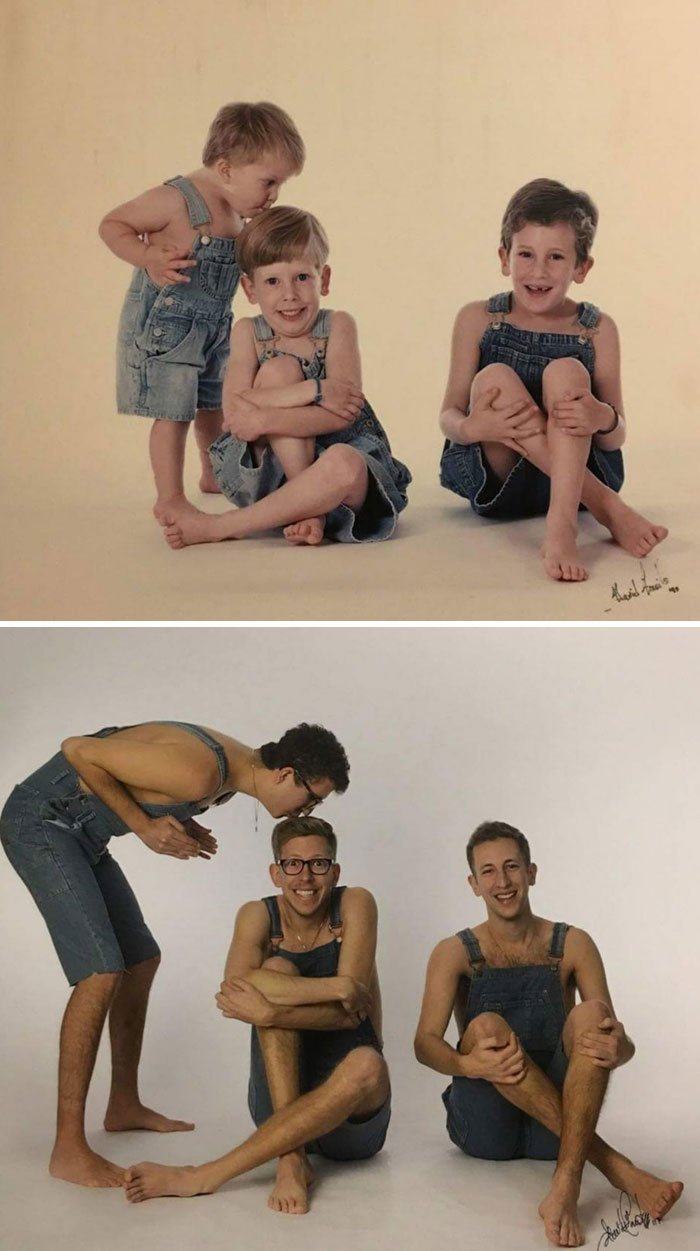 Br0veralls -Via
#23 My Wife And Her Pupper 30 Years Ago, And Our Daughter And Her Pupper
land0man -Via
#24 Then & Now
randypix -Via
#25 My Dad And Brother Recreated This Photo 26 Years Later
dillonsterling -Via
#26 Christmas 1984 To Christmas 2012. The Only Thing That Has Changed Is My Choice Of Bottled Beverage
shelly887 -Via
#27 My Dad And I 13 Years Apart
only_speak_murican -Via
#28 Recreated My First Halloween 21 Years Later
jordsimill -Via
#29 We Gave It Our Best...
reddit.com -Via
#30 My Brothers And I Decided To Recreate Our Mother's Favorite Photo Of Us For Mother's Day - 20 Years Apart
Theheavenswillburn -Via