For those unaware, Elf on the shelf is a household tradition, where children track down the elves that have been sent Santa Claus to keep an eye on them. The concept is that the elves come down from the North Pole to gather necessary information and report to Santa. These elves themselves are no stranger to mischief. Have you ever come across any of them? They launch their trouble in the middle of the night, the perfect time for antics.
And as everyone knows, they don't move around during the daytime. Parents are equally tasked with hiding them in different locations each night to surprise their children. This has resulted in brainstorming sessions as parents develop ways to shock their little ones. However, as Christmas is upon us, parents are taking to social media to share their Elf on-the-shelf-related fails, and they're downright too hilarious not to laugh at. Have a look, enjoy!
Snow Angels In Sugar!!
pixiee83 -Via
Intruder Alert!
mochi_momo_oc -Via
I Had No Idea I Gave Poor Chestnut A Orange Cheeto Weeny... Until I Heard Giggles From The Kids.
carriehoppenjans -Via
So We Decided For "BUDDY" To Have Some Lil Zipline Action, But Used Fish Wire Instead Of A Noticeable String, SO YEA! Angelito Said He Saw Buddy FLOATING He Is Scared Of Him Now.
karen.g.martinez.9 -Via
I Was Bound To Miss One Night.
oliviacsnyder -Via
Getting Him Into A Balloon Isn't As Easy As It Looks.
skyeleaa -Via
Throwback To That Time We Set Our Creepy Elf On Fire Last Year. OOOPS.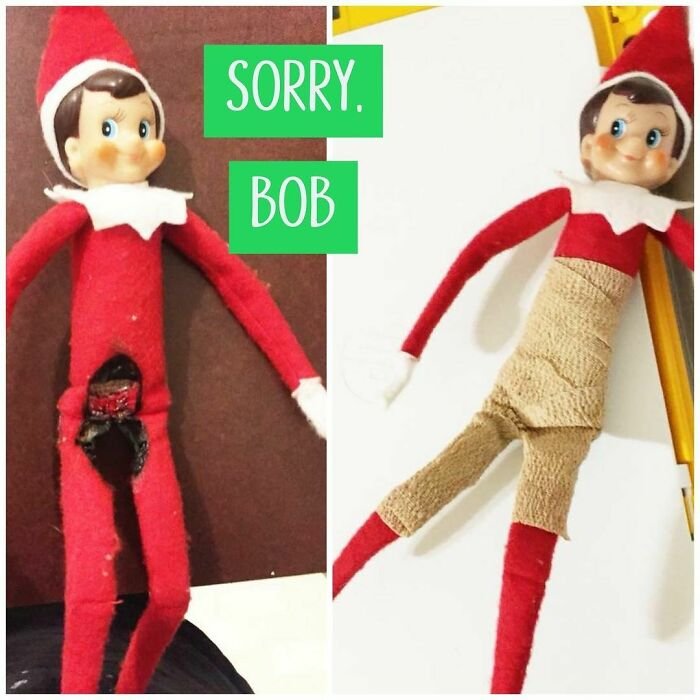 lilyslittlecupboard -Via
Bearded Dragon Don't Like Intruders Even If They're Santas Little Helper.
elisejanelle -Via
Scarlett Ran Into My Room Screaming, "What Is The Elf Doing To My Doll?" Well, I Thought They Were Dancing.
randomkcv -Via
I Happened To Look In Our Window On The Way Back And Noticed That When She's Backlit, It Didn't Quite Look As Cute As Intended.
c_r_ali -Via
Elf On The Shelf Was No Match For Booker The Boston!
the_sloaneharlowburkett -Via
Elf On The Shelf Display Goes Horribly Wrong And Leaves Parents In Hysterics.
sarah-varney -Via
Did A Cute Angel Thing For The Elf. The Cat Thought It Was Litter And Did A Giant S**T On My Kitchen Side. My Poor Kids. We Go To Find The Elf, And He's Had A Giant S**T?
katie.wright.391 -Via
Yesterday What Started Out As Just Warming Themselves Up In The Oven After A Day In The Fridge Got More Toasty Than Planned.
chigh12 -Via
Balding Barry... Our Elf's Hat Came Off So We Decided To Super Glue It To No Avail. Hey, Let's Use Nail Polish Remover To Get The Glue Off...Laughing Hysterically Ever Since!!!
RoscoeDC -Via
Today's Elfscapades Seem To Have Gone A Little Wrong! She Thought Someone Was Dead!
elfgilbert -Via
I Bit The Head Off The Kids Christmas Elf!!!
tamcam10 -Via
Well, I Guess I Should Have Checked To Make Sure That There Wasn't A Fucking Elf In The Fireplace Before Turning It On.
whatswrongchamp -Via
Poor Ken!Tried To Spread A Little Christmas Cheer At The Piano, And Look What Happened.
Janetfreisner -Via
Woke Up In A Panic At 530a To Do The Elf. This Idea Looked Okay At That Time. Brandon Woke Up To Find Berry An Well; Brandon Said That's The Creepiest Thing His Elf Has Done, And He Doesn't Like It.
mom_of_3_great_kiddos -Via