Ah, the dilemma of dating etiquette. There are people who believe in chivalry that men should always be accommodating and be the ones paying for everything on a date. Progressive people argue that women should be held accountable for the responsibility of paying for their own food. That's equality, isn't it? And then there are those in-between who don't mind letting the men pay, but is always prepared to pay for their own food as well.
Is chivalry dead? A man went on a date with a woman but he didn't get her food after she claims to forget her money at home.
Heydi shared on her TikTok account on a sour first date experience as she didn't get to eat anything because she forgot her money. But her date didn't budge - if she has no money, then she's on her own.
"Should I go out with him again?" she asked in the caption.
But as some people suspected, it turns out that this date wasn't initiated by her.
heydiberber -Via
"I didn't have money, so he only bought himself food," she wrote. "He said pay me or pay me no attention."
She shared in the comment section that she was the one who asked him out.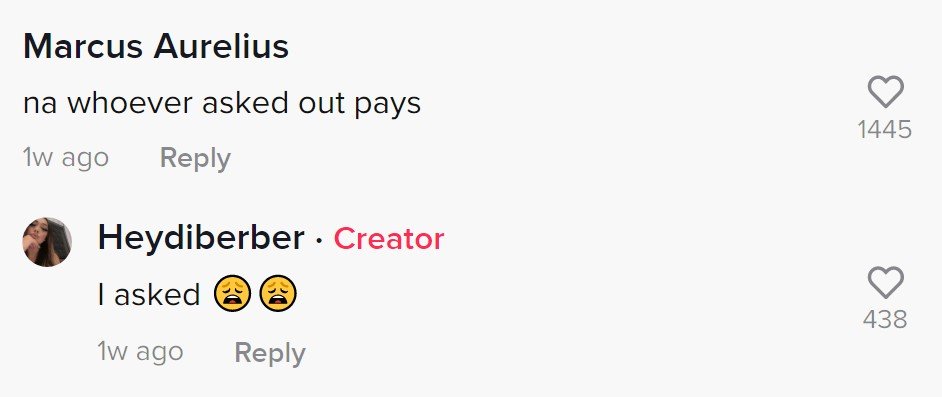 The video that has been viewed more than 5.3 million times has reaped many divided opinions. One wrote, "If he asked you out, then he should be buying. If you asked him out, it would be on you. You asking is a huge red flag."
Another advised her, "You should always have money for emergencies, what if he left you there?"
Meanwhile, another criticized, "I personally offer to pay on the first date but knowing your date came expecting a freebie...should he go out again is the question."
She asked him out, but he went on to eat on his own while she watched. Yay or nay?
On a more unusual turn of events, the two went on another date. But it didn't go well as she shared, "I shouldn't have come."
heydiberber -Via
"I'm done with Fresno guys," she complained. One user pointed that she might be joking, as they still went for another date despite the seemingly negative experience. Maybe there'll be a third?