Stumped with what Halloween costume you should go for this year? Sometimes coming up with an outfit that you can coordinate well with your partner can be challenging. So why not check out what some celebrities did before that looked well?
Here are some of the best Halloween couple costumes you can replicate with your loved one! From dressing up as fellow celebrities to classic outfits such as nurse and doctor, pick your poison!

The genius YouTube couple Jake Paul and Tana Mongeau decided to dress up as fellow stars from the vlogging community, Shane Dawson and Jeffree Star, who are also their favorite duo.
tanamongeau -Via
Chrissy Teigen and John Legend are often people's favorite when it comes to their couple costumes. For Heidi Klum's 2010 party, they were Cleopatra and Antony.
Getty Images
Tom Kaulitz and Heidi Klum were almost unrecognizable as Shrek and Princess Fiona. But guess that means their Halloween looks were a success, right?
Getty Images
Josh Duhamel and Fergie were Karl Lagerfeld And His Cat when they attended Casamigos Tequila Halloween party in 2015.
Getty Images
In 2018, Mariah Carey and Nick Cannon were being cute as Cookies and Milk for the Halloween Eve party held in NYC's Marquee.
Getty Images
At Heidi Klum's 2016 Halloween party, Trevor Noah and Jordyn Taylor are Eddie Murphy from 'Coming to America' and the Troll.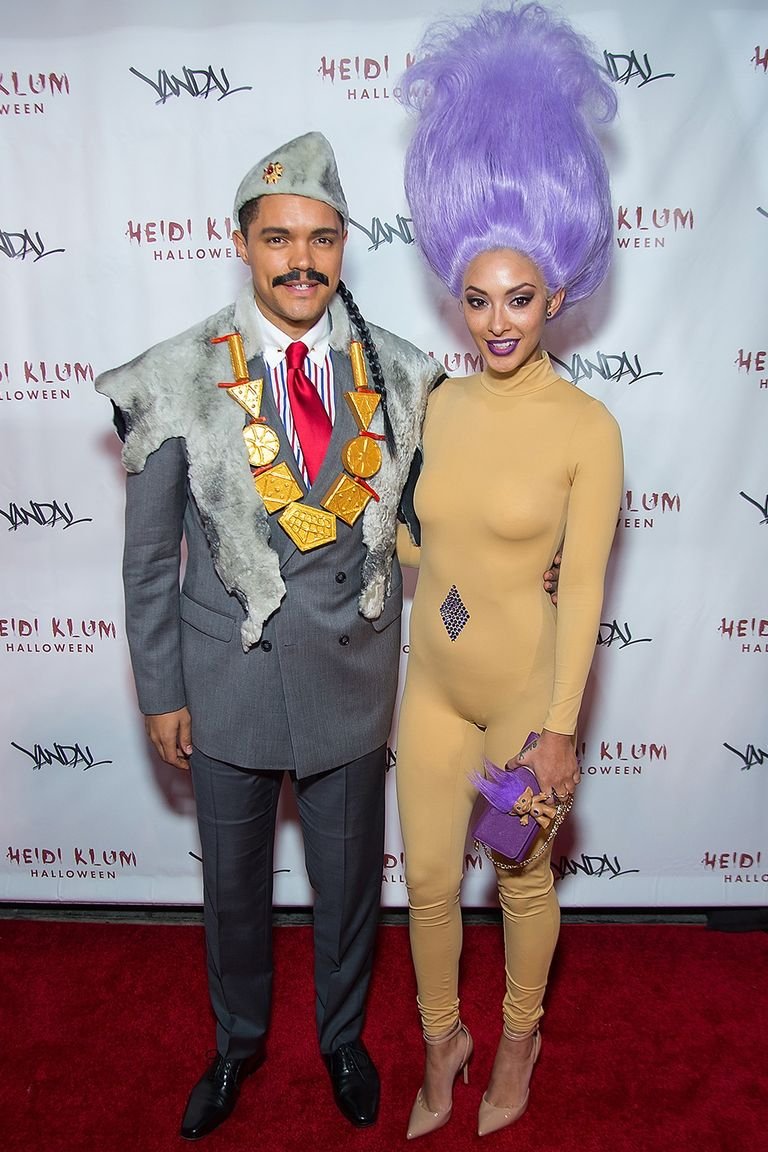 Getty Images
Husband and wife Coco Austin and Ice-T - Assasins had a matching theme as a ninja and 'The Purge' character.
Getty Images
'Game of Thrones' Khal Drogo and Daenerys cosplay by Tristan Thomas and Khloe Kardashian were perfections.
Instagram
Kim Kardashian in the 1920s Stunners with ex Reggie Bush was fire when they rocked it in 2008.
Getty Images
Beyoncé and Jay-Z - Barbie and Ken were FloJo, and Tommie Smith in 2016, and they had to get a photoshoot with daughter Bey.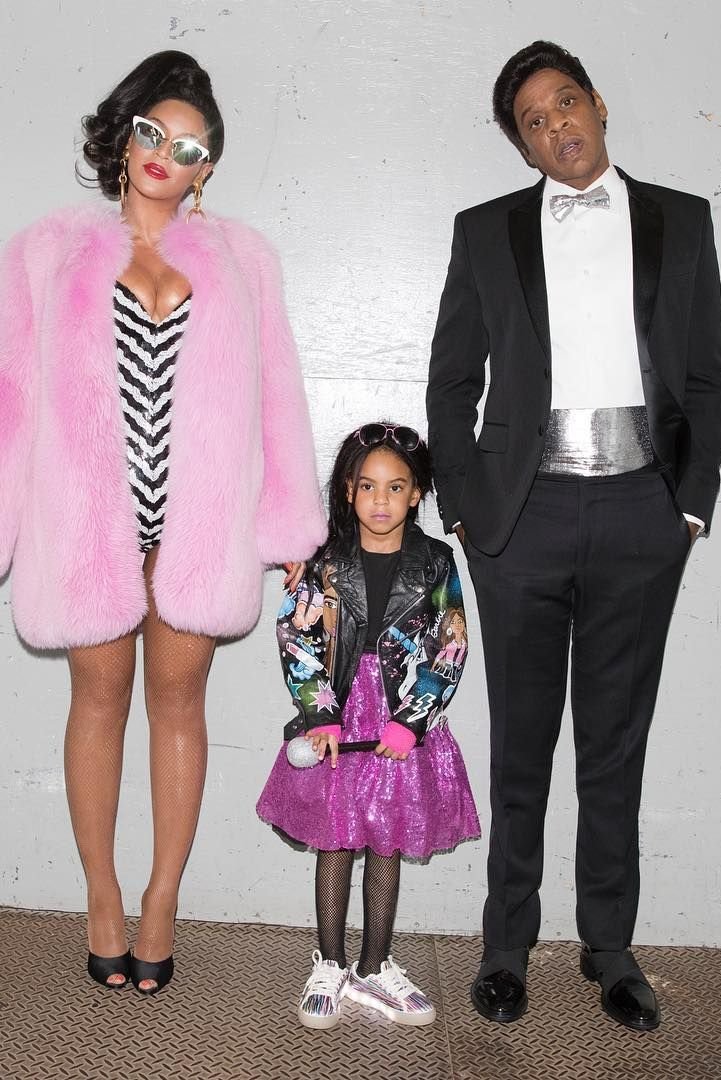 beyonce -Via
Lauren Miller and Seth Rogen were Luigi and Mario for 2016 Halloween as they attended a party in LA.
Getty Images
Chrishelle Stauss and Gleb Savchenko dressed up as the duo many of us secretly loved from 'Maleficent' as they attended the DWTS Halloween event.
Getty Images
While Paris and Nicky Hilton were Jasmine and cheetah. Random, but who cares?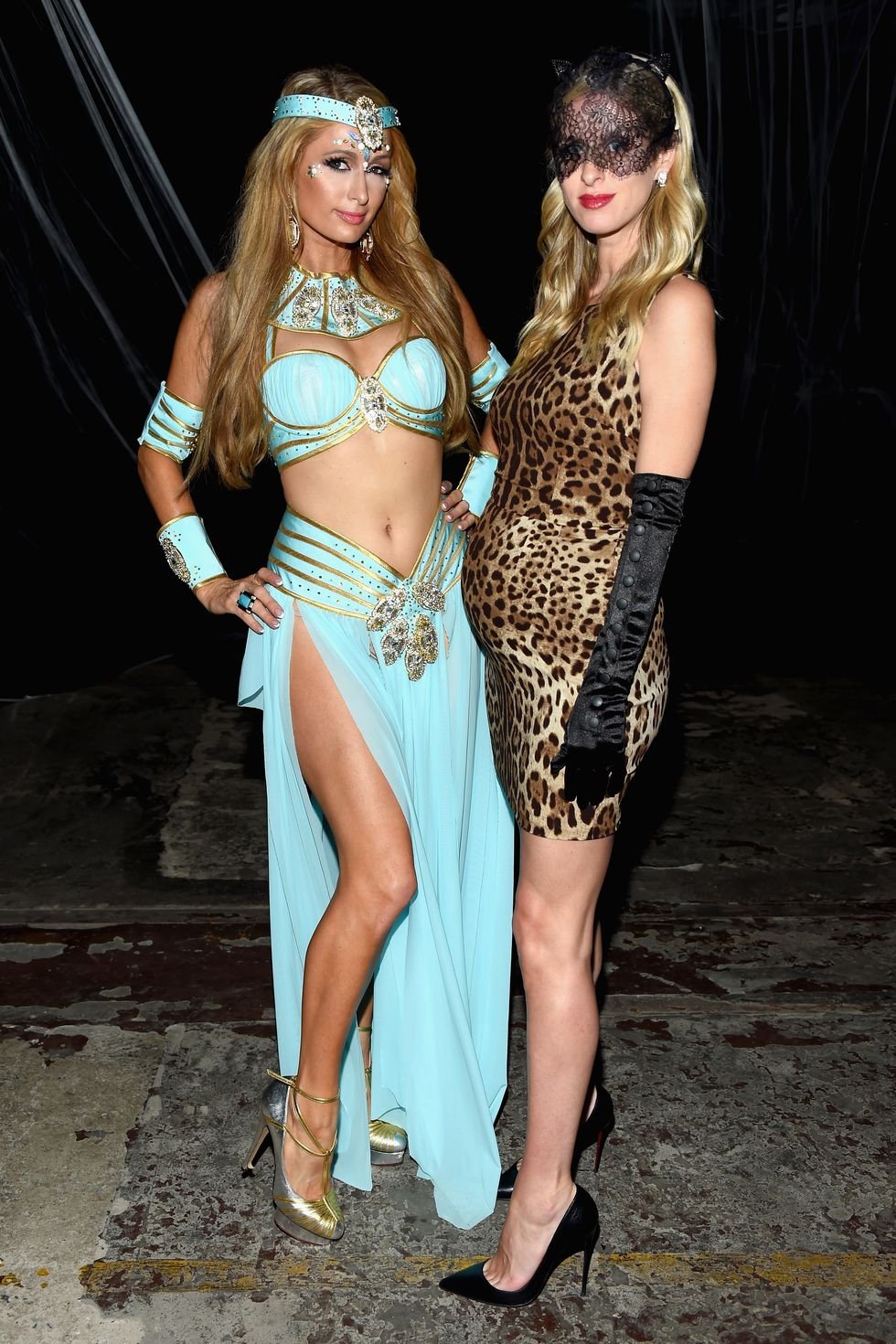 Getty Images
Joey Fatone and Izabel Araujo stick with the horror factor as they became Twins from 'The Shining' for Casamigos Halloween party in 2018.
Getty Images
For Kim's 2012 Halloween party in Miami, Kourtney Kardashian and her ex Scott Disick were Batman and Robin.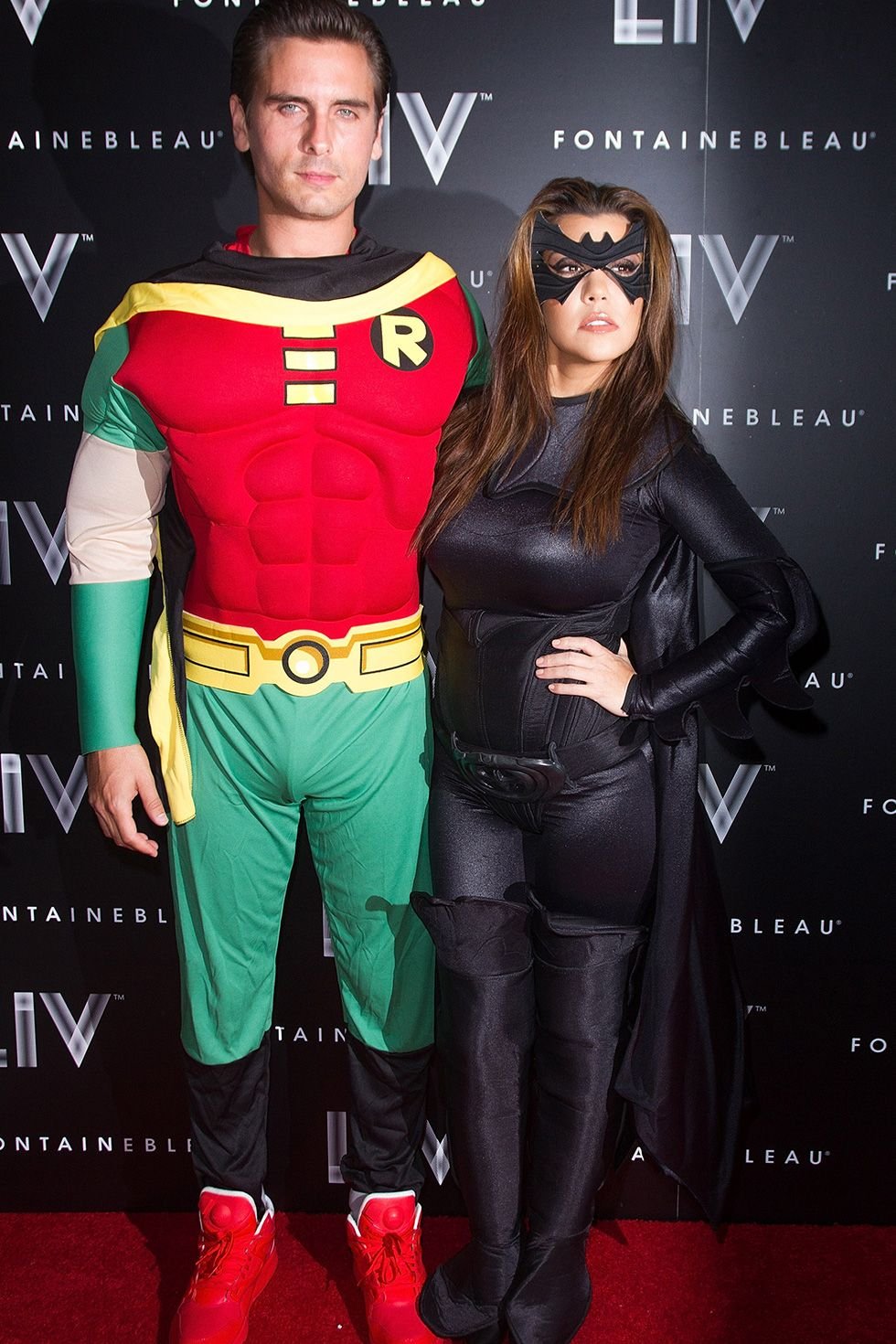 Getty Images
Maybe Jennifer Lopez and Casper Smart are not together anymore. But their skeletons look for Heidi Klum's 2015 Halloween party were too classy to forget.
Getty Images
In 2010, Austin Nichols and Sophia Bush became Russell Brand and Katy Perry to Maroon 5's Halloween bash party.
Getty Images
Kanye West was the sea captain to Kim Kardashian's green mermaid get up for a 2012 Halloween party.
Getty Images
Joe Jonas and Sophie Turner's execution as Addams couple in 2018 were so flawless.
Kevin Hart, Enikko, and the family were Minions and took some hilarious pictures in them.
Christina Aguilera and Jordan Bratman's nurse x doctor from 2015 are some of the best classic Halloween ideas.
Getty Images
Jackie Cruz and Fernando Garcia were in costumes inspired by 1970s Andy Warhol for 2017 Heidi Klum's party.
Getty Images
Channing Tatum and ex-wife Jenna Dewan came to Casamigos Tequila Halloween in 2015 as characters from 'Cat In The Hat.'
Getty Images
Winnie Harlow and Kyle Kuzma were Frankestein's monster and Bride of Frankestein.
Instagram
Neil Patrick Harris and David Burtka did one hell of a great job dressing up as Mary Kate and Ashley Olsen, from the fashion choices to the makeup for Heidi Klum's 2019 party!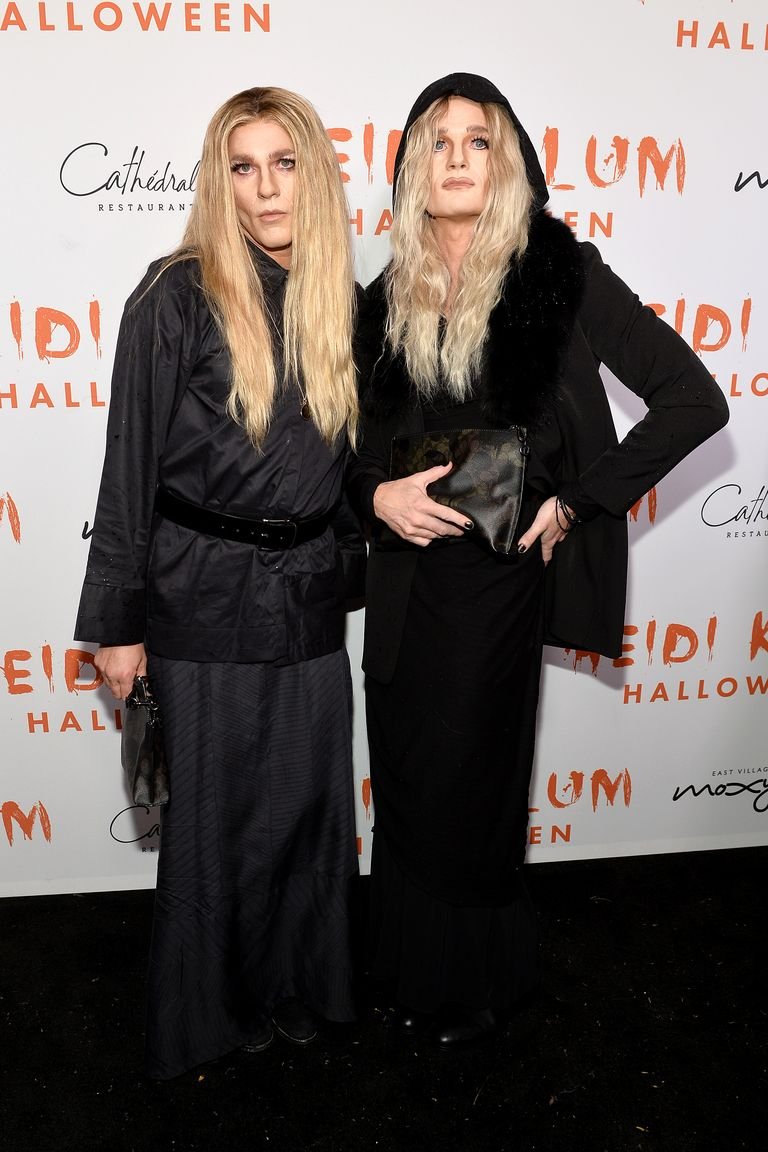 Getty Images
David Batista and Keltie Knight were reliving those all-denim couple looks by JT and Britney when they came for Heidi Klum's 2018 Halloween party.
Getty Images
Beyoncé was FloJo while Jay-Z was Tommie Smith in 2018 and the sprinter couple look is an absolute steal.
Scott Disick and Sofia Richie were barbies but in a retro vibe. So here you are, vintage Barbie and Ken.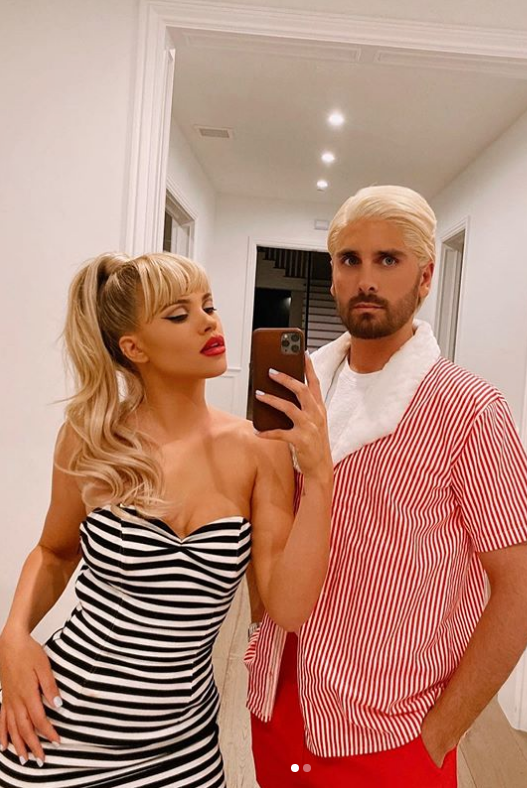 Instagram
Kim Kardashian and Jonathan Cheban dressed up as the characters from the classic 'Little Red Riding Hood' story in 2019's Heidi Klum Halloween Party.
Getty Images
These 'Pulp Fiction' costumes by Matthew Morrison and Renee Puente from Matthew's 5th annual Halloween Party in 2014 were super easy but classy.
Getty Images