While most people do not like it when their partner maintains a close relationship with their ex, the TLC's new series that focuses on unusual couples depict one big family that stretches beyond their marriage.
Jennifer Vazquez and Josh Rappahahn were married for five years before they went their separate ways and found a new love on their own. In TLC's new series "You, Me & My Ex," Jennifer and Josh keep their relationship close enough to share a child even after the divorce. In short, Josh, who is now married to another woman, remains close with his ex and his ex's new partner.

Jennifer and Josh shared their firstborn son, Jace, before divorcing 5 years later. Later, Jennifer got married to her now-wife, Chantel.
Jennifer, who was first married to Josh, ended their marriage 5 years after having her first son. She later figured out her sexuality as she felt attracted to women and married her wife, Chantel.
Josh, on the other hand, found Danielle, and the both of them welcomed his second child together, Mikaela. The Florida family maintains a close-knit relationship with each other and it was strengthened after Jennifer and her wife, Chantel, welcome their daughter, Camila, earlier this year in April.
You guessed it right: Josh became a sperm donor for Jennifer.
The family who raised a couple of eyebrows with their life stories often share their daily lives on TikTok with their 40.2k followers. And on Instagram, the unusual big family often openly shares their excitement in raising Camila together while keeping Josh closely involved.
"Chantel and I are head over heels in love with our new baby girl! Nothing in the world would ever be enough to thank Josh and Danielle for giving us this little life that we will cherish every day and for completing our family."
Jennifer spoke to The Sun, "When we found out we were having a girl, Mikaela said her name was Michelle. Naturally, that's how her middle name came to be."
While Josh is the biological father of three children now, the couple adamantly explained that he wouldn't be addressed as the 'father' although he has a 'special bond' with Camila.
"Blended, Not Broken" is the motto of the two couples.
Jennifer continued, "Camila has settled in perfectly into our blended family, and we are super excited to start our new adventure."
Josh's wife, Danielle, added that it was a stressful period, followed by a huge breathe of relief when Camila arrived.
"After an incredibly stressful hospitalization for Chantel, Jennifer, and Camila, we were overcome with relief knowing that everyone was healthy and we could all finally be reunited."

The reactions toward the unusually close relationships have garnered a lot of controversial comments.
Several people commented that they are such "relationship goals," with many noting that they're jealous of how close his wife and his ex are. But others couldn't help feeling 'icky' about the whole arrangement.
One wrote, "The way y'all can all get along is so sweet."
Another in stark contrast, "Yeah, no."
The man often creates content with his ex-wife and shares their closeness with others.
The couple emphasized that Josh won't be Camila's father, but remains close with the lil' girl.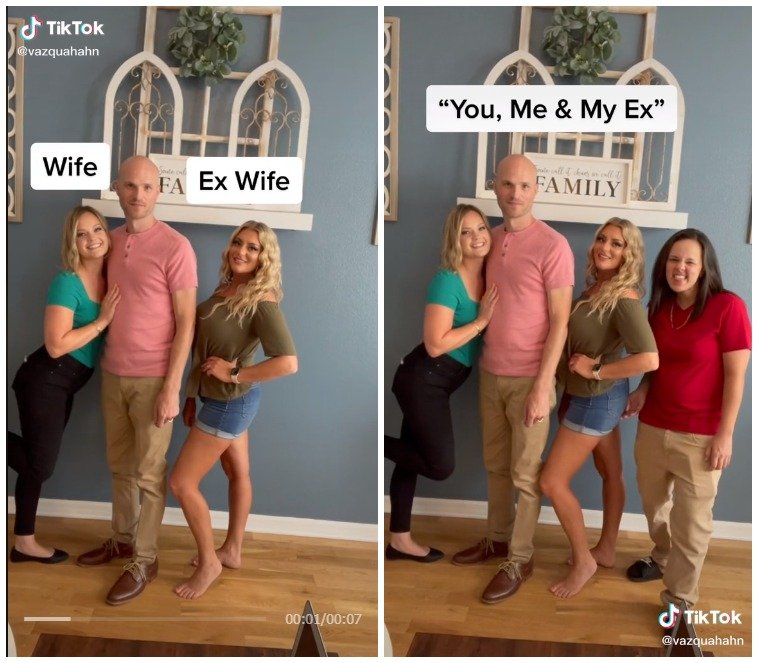 They shared, "Josh and Camila with always have a special bond. Who knows what the future holds but for now, let's just be thankful."