The phrase 'never give up on your dream' sounds cliché, but it remains a dare to chase their life's aspirations for many. A good example is Kathy Jacobs, who recently got her biggest breakthrough. The 57-Year-Old, who stands at 5'3, is an actress, entrepreneur, and now a model living in California. Kathy has proved that bodies will remain ageless as long as souls are delighted.
While she has established a place for herself in the modeling industry, she encourages women of diverse shapes, sizes, and ages to go after their dreams no matter how old they are.

ageisbeauty -Via
In 1991,
Kathy
had gotten into the industry as a Ford model, but her career didn't spark a light until 2020 when she emerged as the oldest rookie for the
famous
Sports Illustrated Swimsuit issue. She got into the contest and attained a position among six finalists out of thirteen participants. It will be safe to say that her attitude and positive energy made her stand out and create history.
Just When Kathy's Sports Illustrated photos went viral, she got bombarded with messages asking for diet, workout, and skincare advice.
#2
ageisbeauty -Via
#3
ageisbeauty -Via
#4
ageisbeauty -Via
"I just want to show the world what 56 means. You know it's not like I'm ready to roll over and play dead because I've still got a lot more inside of me to do."
Kathy had said on
YouTube
. In an
interview
, Kathy had also spoken about how she's making an impact on younger girls. She stated:
"I feel like being in this magazine not only helps other women my age but younger girls too. Everyone's so terrified about getting older."
#5
ageisbeauty -Via
The 57-Year-old has managed to create a place for herself, and she keeps encouraging women of diverse shapes, sizes, and ages to go after what they. want
#8
ageisbeauty -Via
#9
ageisbeauty -Via
#10
ageisbeauty -Via
"I've had so many younger girls message me and say, Thank you so much for doing this because I'm not terrified of getting older anymore. I know my life isn't going to end once I reach 30, 40, 50, or 60."
The beauty advocate does know how to take proper care of herself. Kathy enjoys taking hikes near her home and is fond of fitness.
Reportedly, Kathy uses her own skincare products made from collagen-friendly ingredients such as pumpkin enzyme, vitamin C, and orchid flower stem cells.
ageisbeauty -Via
#12
#13
ageisbeauty -Via
#14
ageisbeauty -Via
#15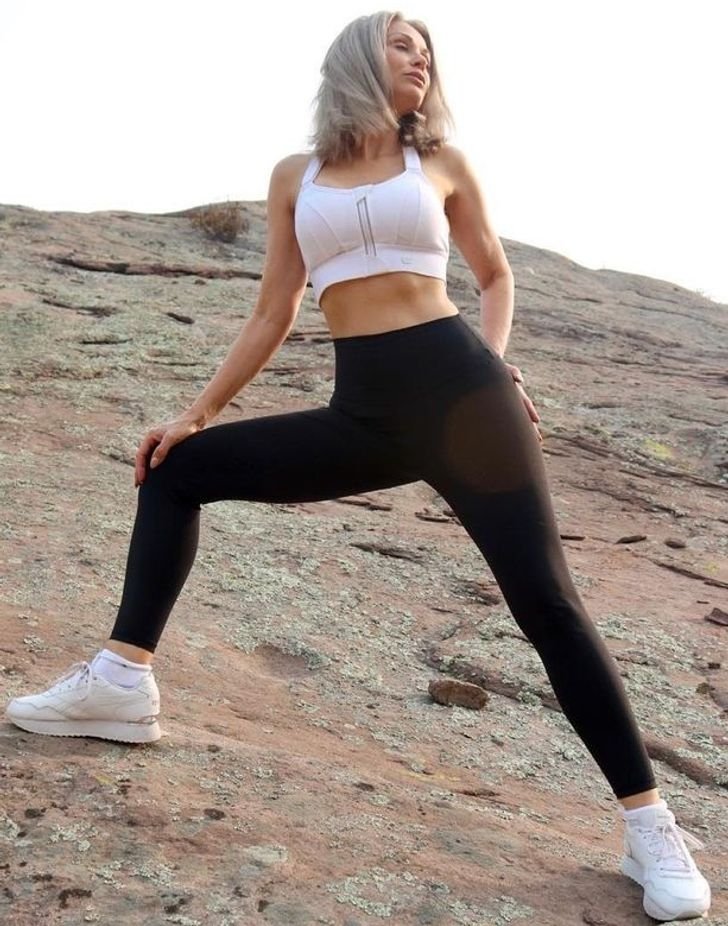 ageisbeauty -Via
On
Instagram
, she had shared a pic of a workout and said:
"Just start where you are at right now! That's what I remind myself of when I feel like I haven't hit my fitness goals! I'm going to reward myself today for trying! Hope it helps you too!!"
In a separate
Instagram
post, Kathy expressed her joy at walking the red carpet for the first time at 57 years old. She claimed she was grateful and had held back tears as she walked in and out.
It's important not to discredit people because of their age or height and we do hope her appearance in Sports Illustrated will help change perspectives on beauty.
#17
ageisbeauty -Via
#18
ageisbeauty -Via
#19
ageisbeauty -Via
However, Kathy is happily married to Rob Jacobs, with whom she celebrated 23 years of marriage. The pair has a lovely daughter named
Abigail Rose
. On the other hand, you will downright agree that Kathy's self-acceptance and positive attitude are inspiring. It's a strong message always to be oneself no matter what, and importantly, you can still achieve your dreams, so don't give up!
Kathy (middle) and her husband Rob Jacobs, whom she celebrated 23 years of marriage, and her lovely daughter Abigail Rose.
ageisbeauty -Via