People are discovering the versatility of crocheting, and of course, it's no longer perceived as a grandma's hobby. Professional textile artists are gradually exploring crochet possibilities, and the results have so far been remarkable. In particular, the dedication to the craft remains captivating, and fortunately, it turns out there's an online group dedicated to the most creative and beautiful crotchet works.
The Subreddit r/crochet is home to 257K people who appreciate the art of crocheting. The online community has, over time, pride itself on maintaining a kind and helpful platform that's welcoming to crocheters of every skill and experience. If you've wanted to learn this craft, then the community is your perfect find. However, we've collated some of the gorgeous projects featured on the group; guaranteed to get you to hook after a scroll through.
More Info: Reddit
"Thought I would release my own UFO images since the Pentagon is releasing theirs."
Touwtjee -Via
"Made an octopus friend for my son. Son included for scale."
nericksx -Via
"My first [FO]. I fell in love with a girl who loves daisies. She showed me a picture of a blanket like this. I had no clue how to crochet, but she REALLY liked that blanket, so I knew what I had to do."
RetfordOaks -Via
"My SIL loves Jeff Goldblum, so I crocheted her a blanket as a surprise."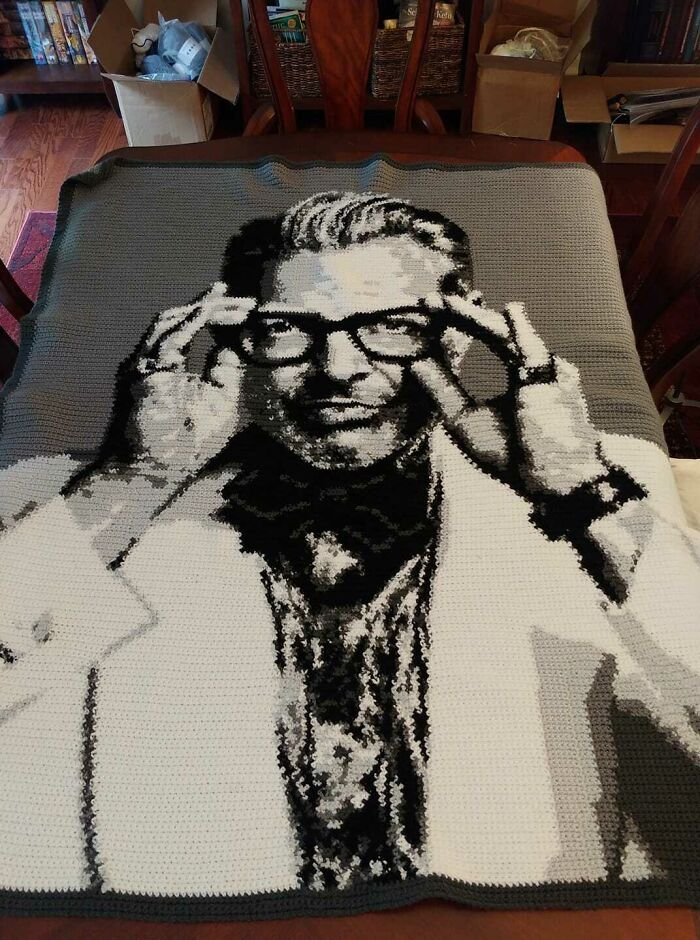 redlorelei -Via
"I made my old girl a sofa to watch people from."
CoughInNine -Via
"Crocheted my wedding dress. Details in the comments."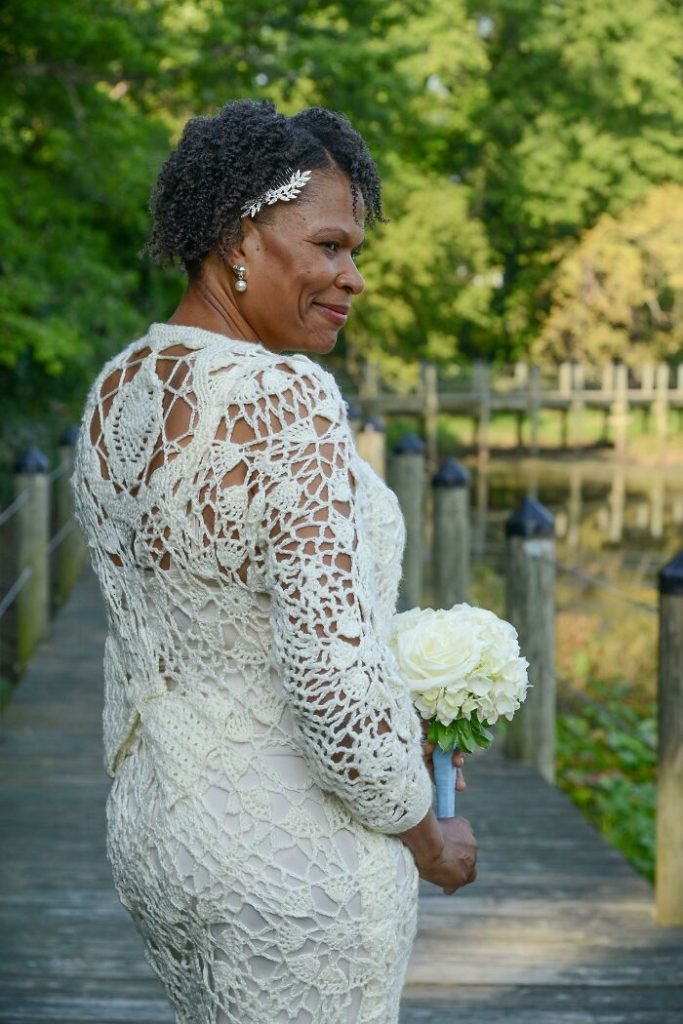 Leggylett -Via
"We got married almost 3 years ago at the courthouse. About 3 weeks before the wedding I decided to make my dress. Found a pattern and then had to modify it like crazy to make it fit and work for me. Very satisfied with the end results after my own alterations."
A Finland artist who loves making crochets of people crocheted this lady with her dog.
moneeo -Via
"It nearly cost me my sanity, but my scale dress is finally complete!"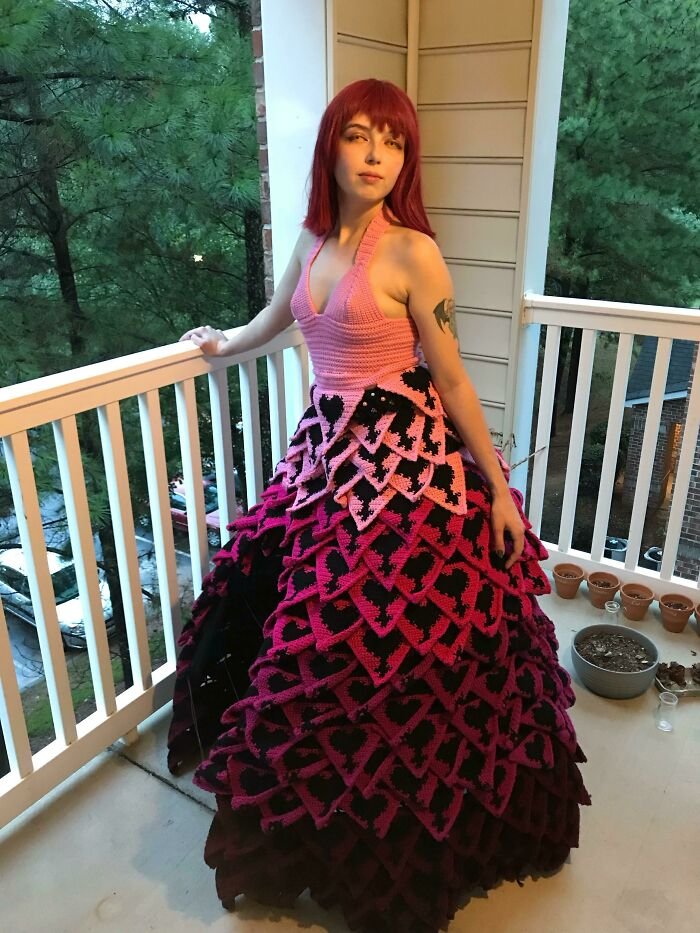 Zahai -Via
"I made 20 bees for an order – a company that makes honey. I'd be okay if I never make another bee again."
felixhorse -Via
"Ladies in my village in southern Spain, crochet and hang these over this street."
Sylocule -Via
"My wife makes lovely crochet animals. "
Diaphor -Via
"At the moment, she is not on a high with self-confidence, so I want to show her that her work is not only liked by our kids and myself."
"Xenomorph crochet full-body costume! My son's choice! He glows! (Freehanded/No Pattern)"
Crochetverse -Via
"Mom doesn't have Reddit, but I think her work is pretty awesome!"
parkbrat12 -Via
"I finally finished my lockdown project (started May 2020!). It's only my 3rd ever project, so I am really chuffed with how it turned out."
star-pix -Via
"I'm happy to show you my new sheep design."
LoopyPattern -Via
"I don't really like to make clothes for toys, but this fur coat had been made in one breath, as the sheep itself. P.S.: The coat hanger in the photo also deserves the attention; it was made by my husband especially for the sheep."
"HOTH: I am working on a series of Feminist Icons for my Brownie Unit. Here is the first, Marie Curie."
Wolf_Mommy -Via
"I designed this cardigan for my little girl."
Eliesje -Via
"My mom crochets and donated 31 blankets to sick children this year."
seacogen -Via
"This blanket pulled me in like nothing else – I finished it in just 8 days and can't believe I made it!"
koukkuunkoukussa -Via
"I made a shark. It's not the best, but I'm 14, and I tried."
69_nice- -Via
"To Say I Am Proud Is The Understatement Of The Millenium"
MamaPHooks -Via
"My Persian Tiles Blanket Won First Place In A Crochet Blanket Competition!"
Fizzyguineapig -Via
"A Pic Of My Self Crocheted Wedding Dress"
pugglik -Via
"My Friend Loves Flowers And The Color Yellow So I Made This Hat. How'd I Do?"
blbrna -Via
"I Finished It!!!! So Proud Of This One"
Rlysrh -Via