Chrissy Teigen has received a judgment from people through social media. What goes around, comes around. Amidst cyberbullying, Chrissy Teigen has considerably reduced her social media engagement and focused more on admitting her past mistakes and self-reflection. But after being "quiet" for a while, Chrissy finally opened up that she it "doesn't feel right" and she is "depressed" from pretending like nothing happened while waiting for things to cool down.
Chrissy shares in her latest post on Instagram to her 34.9 million followers her wish to connect with fellow people who've been cancelled before.
"I don't really know what to say," Chrissy began.
In the caption, Chrissy wrote, "Just feels so weird to pretend nothing happened in this online world but feel like utter sh** in real life. Going outside sucks and doesn't feel right, being at home alone with my mind makes my depressed head race."
"But I do know that however, I'm handling this now isn't the right answer. I feel lost and need to find my place again; I need to snap out of this."
"I desperately wanna communicate with you guys instead of pretending everything is okay. I'm not used to any other way!"

Chrissy also shared her fascination of cancel club in the post.
"Cancel club is a fascinating thing and I have learned a whole lot. Only a few understand it and it's impossible to know til you're in it."
"And it's hard to talk about it in that sense because obviously, you sound whiney when you've clearly done something wrong. It just sucks. There is no winning. But there never is here anyhow."
The post continued, "All I know is I love you guys, I miss you guys, and I just needed an honest moment with you because I'm just...tired of being sick with myself all day. I don't even know if it's good to say any of this because it's gonna get brutally picked apart but I dunno. I can't do this silent sh** anymore!"
On the last part, she asked for fellow friends who've experienced the horror of being cancelled to hit her up.
"If you or someone you know has also been canceled, please let me know if there is a cancel club reunion because I could use some time off my couch! Thank you, and goodbye. Love you."
After her brief social media break since major scandals of her cyberbullying past went viral, Chrissy first wrote a Medium post to apologize and admitted to all her wrongdoing.
Since the insulting tweets she sent to Courtney Stodden who was a married 16-year-old resurfaced, multiple others added on top of those.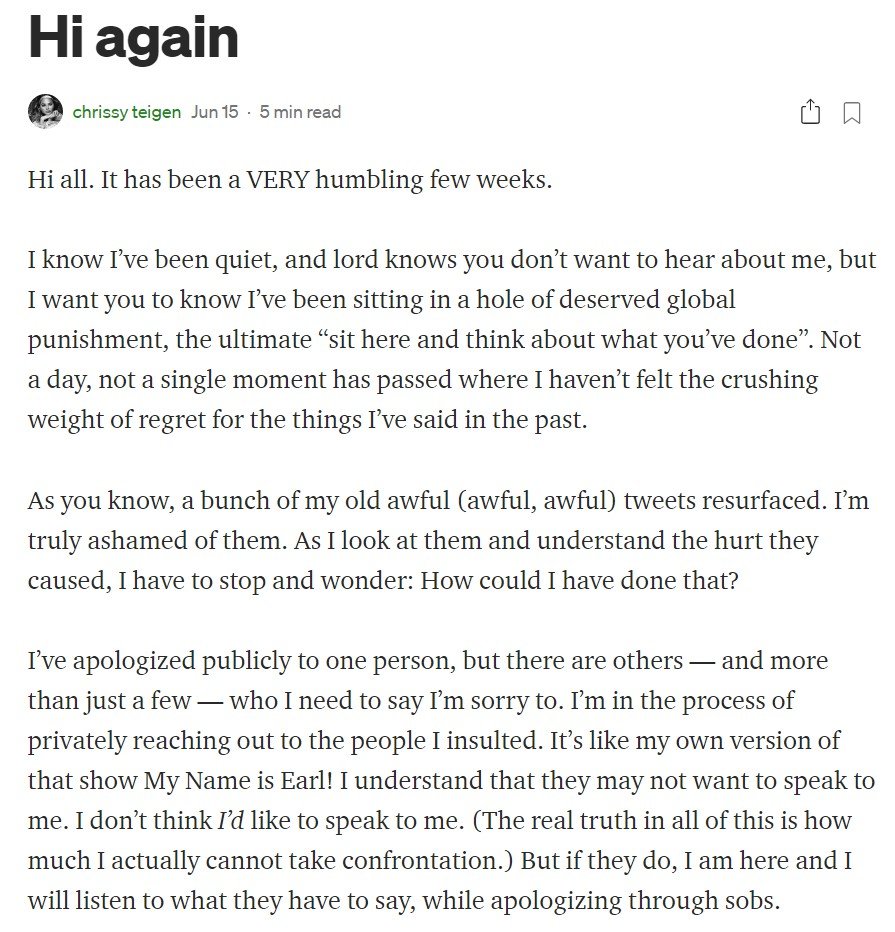 Medium -Via
She wrote in her Medium post that she's no more the same person: "The truth is, I'm no longer the person who wrote those horrible things. I grew up, got therapy, got married, had kids, got more therapy, experienced loss, and pain, got more therapy, and experienced more life. AND GOT MORE THERAPY."
There was one where she said Lindsay Lohan added "a few more slits to her wrists" concerning Emma Stone. Then that one time when she called a 9-year-old Oscar nominee 'cocky.' Michael Costelo has also come out with a post saying that Chrissy had falsely accused him of being 'racist' and caused major damage to his career as she would "threaten people and brands."
Chrissy allegedly denies this and said that Michael had edited his screenshots of Instagram DMs.