The world has sighted a lot of unique wedding gowns. But a few have certainly made the headlines. While there's nothing wrong with classic dresses, some brides have decided to break away from the norm, wearing something no other bride ever has. A vast fashion statement has hit the bridal world, and it's gradually featuring sheer bridal dresses. You'll agree capes, jumpsuits, and even exceptional veils have had their moments in the spotlight, so it's time for something new.
From see-through fabric, cutouts, bright colors, backless designs to almost entirely transparent bridal styles, our compilation hinged on wedding dresses range from sexy, romantic to ethereal. And indeed, they didn't just turn heads as these brides walked down the aisle, there were also just perfect for some beautiful photos. Whether you would love to replicate these ensembles or you would gasp at the thought of them, these brides didn't shy away from taking a risk, and for that, we applaud them. Have a look!
This Bride Turned Heads In A Nude, One-Shoulder Dress With A Simple Silhouette Designed By Phylicia Ellis. The Cutout On The Chest Made The Gown One Of A Kind As YES, Looks Gorgeous With The White Train.
stanlophotography -Via
Anna Rocked A Head-To-Toe Daring Mak Tumang Dress For Her Wedding. The Gown With A Flowing Cape-Like Train Featured Flower Embellishments With Off-The-Shoulder Sleeves.
mymetrophoto -Via
This Gown Has A High Neckline, Yet The Bodice Is Filled With Cutouts. The Skirt Seems Full And Simple, But Then The Crystals On The Bodice And Sleeves Appear To Wrap Around The Stunning Bride.
haleyrynnringo -Via
Luxury Spanish brand Pronovias made heads turn with this nude wedding bodysuit embellished with 200 Swarovski crystals.
Instagram/cristipedroche
It's probably the furthest thing away from a traditional bridal gown. Yet, this wedding season could see a bizarre visual feast of sheer fabrics and flesh-toned linings, leaving very little to the imagination.
The way this nude dress could be seen makes one thing the bride can absolutely go to a pool party right after by taking off the lace overlay!

Here's A Stunning Plunging Neckline Wedding Gown With Bell Sleeves Fully Covered With Silver Sequins.
For This Bride, A Sheer Wedding Dress Designed With Pearls Over A Nude Bodice And Statement Earrings Made Her Special Day A Stand Out. Those Heels Were Equally Quite A Perfect-To-Match.
This Is Completely A One-Of-A-Kind Style. A Sheer Fully Embellished Blue Wedding Gown Designed With Floral Embroidery, A High Neckline, A Nude Bodysuit Underneath, And Long Bell Sleeves.
Bijon Vaughn Turned Heads In This Sleek Galia Lahav Gown With Detailing On The Bodice And Removable Sleeves. However, The Dress Has Sheer Cutouts In The Front And Back.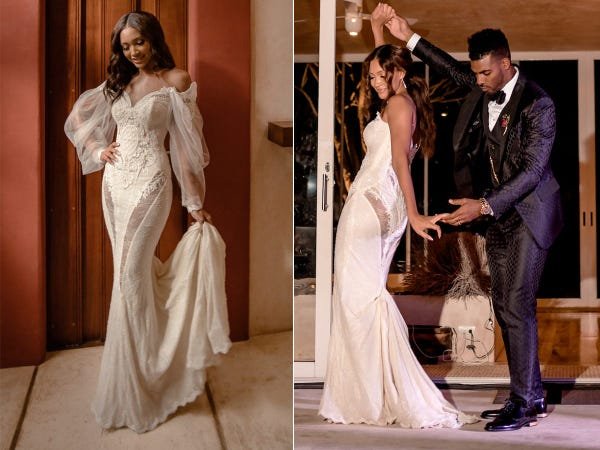 Gareth Davies Photography -Via
The Skirt's Silk Material And Bow Made This Dress Elegant. Similarly, The Detailing On The Transparent Top Gives The Gown A Modern Touch. In Particular, Leo Sicairo Designed This Bride's Long-Sleeve Gown, Which Had A Sultry Skirt With Thigh-High Slit.
LA76 Photography -Via
Tamara Opted For A Dress That Is Both Simple And Sheer. The Top Of This Dress Was Made Up Of See-Through Fabric, Exposed Boning And Lace Details. Ryan And Walter designed it; However, The Peplum Flowed Into A Simple Skirt With A Long Train.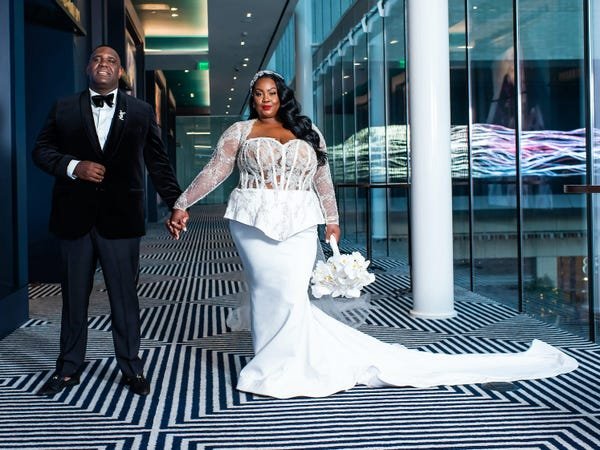 Fotos by Fola -Via
A Jaw-Dropping Completely Sheer Celestial White Bridal Style With Long Sleeves And A Train That Can Be Worn With Either Bodysuit Or Underwear Underneath.
This Is Perfect For A Bridal After Party! But A Bride Opted It To Walk Down The Aisle. Here's An Amazing Wedding Gown With A Tull Overskirt, A Train, And An Applique Sheer Base With No Sleeves.
If You're Confident With Showing Off Your Body, Do Rock This Naked Wedding Gown With Floral Embroidery. The Dress Has A White Bodysuit Underneath And Lace Appliques. It's Just So Perfect For A Wedding By The Beach.
This Is Simple, Yet It Makes A Bold Bridal Statement. Here's A Neutral Sheer Wedding Gown With Embellishments From Head-To-Toe. As Seen, It Has A Bodysuit Underneath, Long Sleeves, And A Fairly Plunging V-Neckline. It's Worth A Shot!
Elegantly Sheer From Head-Down! Starting With A Lace Bodice, This Neutral Wedding Dress With Bell Sleeves Has A High Neckline, A Small Train, And, Of Course, Embellishments All Over It.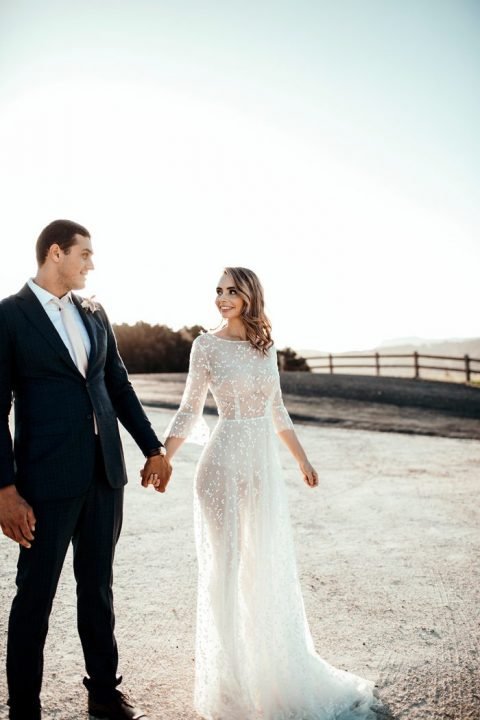 For A Barely There Look, This Naked Lace Wedding Dress Is A Perfect Fit. Worn With A Black Leather Jacket, Black Hat, And Black Boots, It's Just So Right For A Rock And Roll Bride.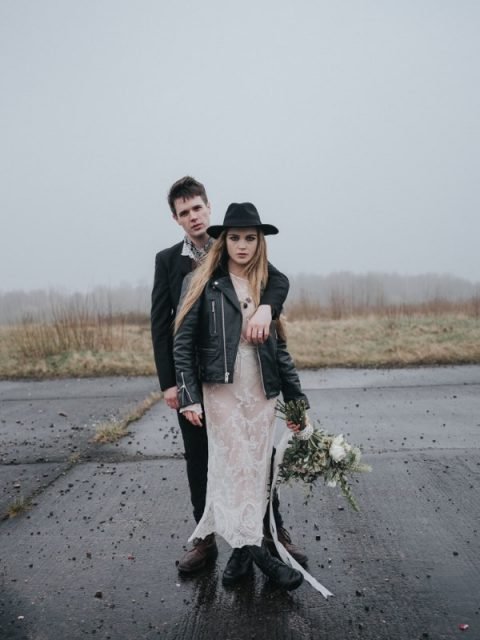 This Is A Modern Cutout Design Featuring A Cutout Back, Long Sleeves, And A Train. This Dress Is Fully Embellished And Just So Perfect For A Wedding In A Garden.
Jessica Fearlessly Wore This Nude Inbal Dror Gown For Her Wedding. This Mermaid Bridal Style Was Designed With A Corset Bodice And Crystal Details.
The Big Affair Photography -Via
This Gown Featured Both A Slit And A Completely Backless Design. Ines Di Santo designed it, And Indeed The Dress Modern Neckline Added To The Overall Look.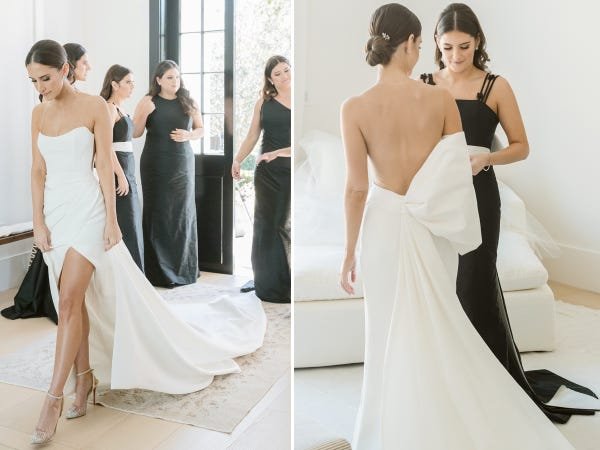 PS Photography and Films -Via
Instead Of A Slit, This Bride's Dress Wowed Guest With Its Sparkles And Transparent Bodice. The Off-The-Shoulder Dress Created A Sexy Look While Also Featuring An Exposed Boning And Sparkly Full Skirt.
LA76 Photography -Via
Whitney Opted For A Sparkly Look Too For Her Wedding. She Donned A Sheer Hayley Paige Gown With A Full Skirt. The Numerous Embellishments, Soft Gray Color, Open Back And See Through Fabric All Made The Dress Stood Out.
Flowermouth Photography -Via
For Both A Romantic And A Girlish Look, This Wedding Dress Is One Among The Numerous That You Can Go For. This Blush Wedding Dress With Silver Stars Has Long Sleeves And A V-Neckline.
Where Are The Beach Brides? This Is A Sheer Wedding Gown With Floral Embroidery, A High Neckline, And Long Sleeves. This Dress Is Sure To Wow Not Only Your Guests But Even Mother Nature.
This Dress Is Right For A Moon Lit Garden Wedding! This Polka Wedding Dress Is Designed With Long Sleeves, A Cutout Back, And A High Neckline. It's Quite A Romantic Gown.