The 93rd Academy Awards recognized the best of the best. People witnessed many celebrities heading to the stage to accept a coveted golden statuette. But then, the red carpet looks was the aim for many people. With nearly a century's worth of Oscars history to look back on, this article is hinged on the most memorable outfits that have ever been worn, especially the ones that have motivated extreme reactions of both good and bad.
From Natalie Portman's custom Dior Gown, Billy Porter's balloon gown tuxedo dress by Christian Siriano, to Bjork's 2001 Marjan Pejoski Swan dress, the Academy Awards have indeed seen no shortage of controversial red carpet fashion options. The Oscars have produced history-making moments, and without holding back, it's safe to say this compilation is proof. So have a look at the dresses of all time. Enjoy!
Angelina Jolie.
Getty Images
On E! Channel, Jolie's Versace gown from 2012 is regularly shown among the controversial. However, it appears this dress won't be buried anytime soon, and of course, Jolie's insistence on sticking out a leg in every of her shot has since become an instant meme.

Barbra Streisand.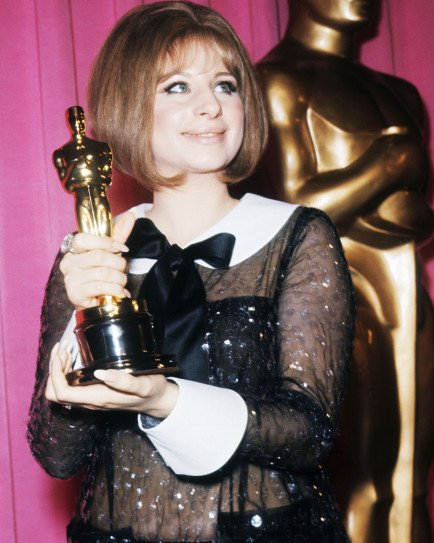 Getty Images
It turned out, Barbra didn't know quite how daring her jumpsuit was when accepting her Best Actress award in 1969. It hadn't only turned heads; it mistakenly gave the audience an eyeful. Arnold Scaasi designed the dress.

Lizzie Gardiner.
Getty Images
Lizzie rocked a dress entirely made out of expired gold American Express cards for the 1995 Oscars. The costume designer had reportedly explained that she went broke and had nothing to wear, resulting in going through her list of past good ideas.

Bjork Gudmundsdottir.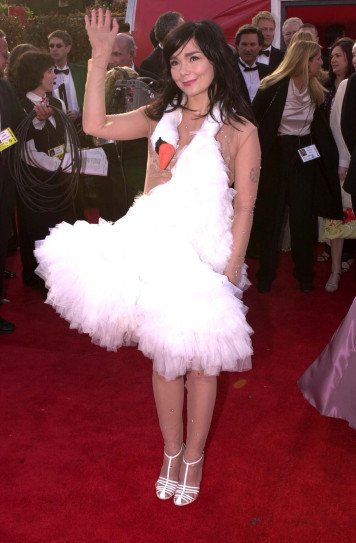 Getty Images
This dress will forever emerge in history as one among the remarkable. In 2001, Bjork rocked this swan outfit which went the extra step of laying an egg on the red carpet. It was, in particular, designed by Marjan Pejoski.
Billy Porter.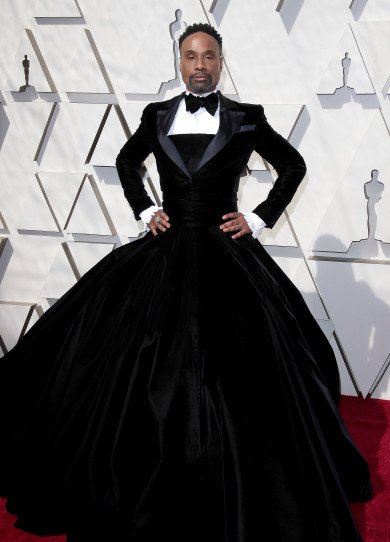 Getty Images
When you talk of fashionistas on a whole next level, Billy Porter is in this category. The Pose Actor will always be remembered for this balloon tuxedo gown by Christian Siriano. Billy rocked this in 2019, and as expected, a few people complained about the gender-bending look. However, Billy overlooked and continues to hit at every chance.
Anne Hathaway.
Getty Images
Hathaway's Prada dress from the 2013 Oscars turned out to be the most googled of all time. It's equally one of the most remarkable, thanks to how the chest darts were placed.

Celine Dion.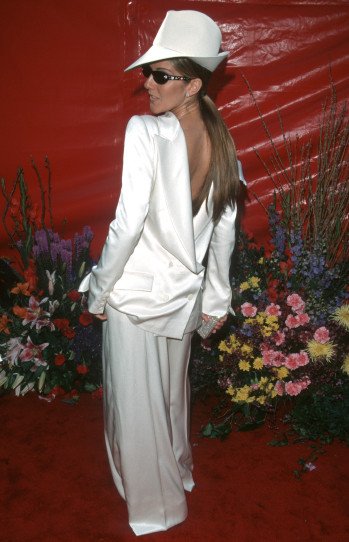 Getty Images
Celine might have grown to become one of the most stylish women globally, but at the 1999 Oscars, the singer had left people questioning her taste due to this backward Dior Tuxedo.

Geena Davis.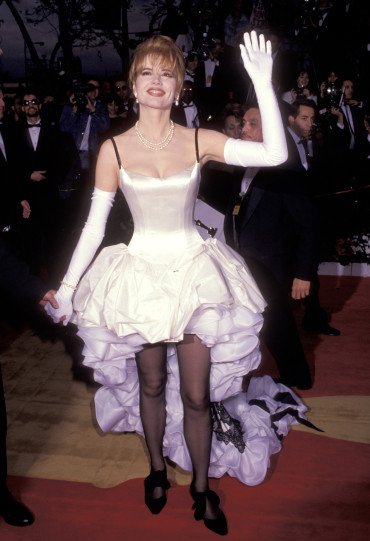 Getty Images
Ruth Meyers and Bill Hargate designed this ruffled mini dress. Geena, no doubt, looked gorgeous as she rocked it to the 1992 Oscars.

Edy Williams.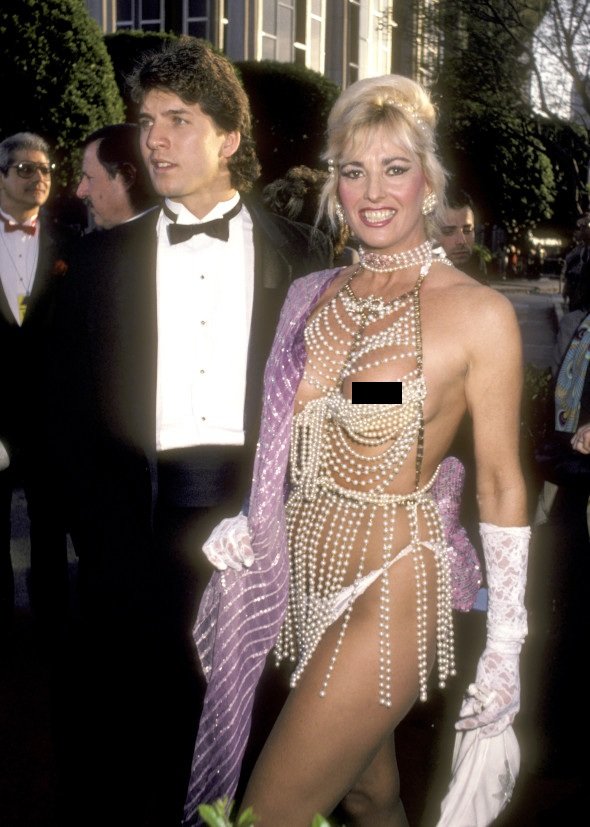 Getty Images
The queen of the controversial Oscars outfit is Edy. She tends to show off more skin than expected, and her most remarkable ensemble is the one she had donned to the 1986 Oscars. The dress featured strands of pearls, a tiny white thong, and accessories, including gloves and earrings.
Demi Moore.
Getty Images
For the 1989 Oscars, Demi stormed the red carpet in the '80s gown and biker short hybrid that she designed all by herself.

Uma Thurman.
Getty Images
Uma's 2004 Oscars dress was designed by Christian Lacroix. It had, in particular, left people thinking of where she had abandoned her flock of sheep. But, in a way, you will agree it's unique.
Jennifer Lawrence.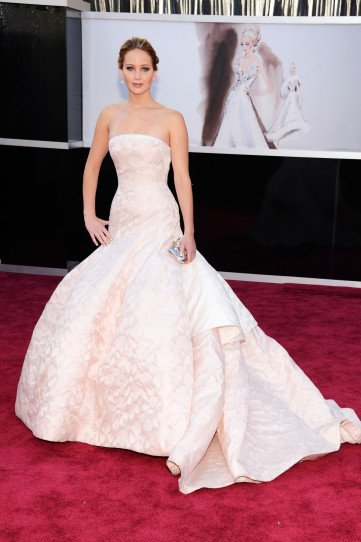 Getty Images
Ever met a real princess? Lawrence appeared in princess form for the 2013 Oscars. Her strapless Dior Haute Couture gown was completed with a beautiful backward necklace. However, what even made the event more memorable was the fall she took climbing the stairs to receive the award for Best Actress for her role in Silver Lining Playbook.

Natalie Portman.
Getty Images
Portman's custom Dior Gown at the 2020 Oscars was well-intentioned, but unfortunately, it sparked an uproar. Her black and gold cape was embroidered with the names of female directors, who the Academy snubbed. As expected, Portman got called out, and the move was dubbed offensive. In response, the actress claimed she had made an effort to prioritize working with women and will continue.
Zendaya.
Getty Images
You will agree that Zendaya looked gorgeous at the 2015 Oscars, having rocked this Vivienne Westwood Gown. However, her hairstyle stole the moment after Guiliana Rancic claimed the dreadlocks made her 'feel like she smells like Patchouli or weed." This comment eventually led to accusations of racism.
Charlize Thereon.
Getty Images
Theron naturally turned heads at the 2010 Oscars. But then, people had a challenging time seeing past the placement of the rosettes on her Dior gown.
Faith Hill.
Getty Images
Faith's Technicolor Versace gown blew minds at the 2002 Oscars. But people later claimed it was more to the extreme because she had been nominated for singing 'Somewhere Over The Rainbow.'
Gwyneth Paltrow.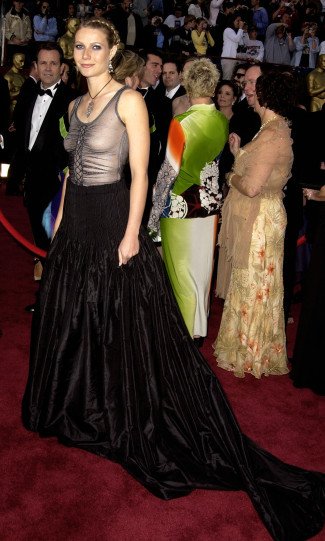 Getty Images
Actress Paltrow rocked this outfit to the Vanity Fair Oscar Party 2002 at Morton's in Los Angeles, C.A. The Alexander McQueen dress is undoubtedly stunning. Still, Paltrow putting on a bra wouldn't have been a wrong decision. However, the actress regretted not wearing a bra, but it was too late.
Halle Berry
Getty Images
Halle Berry appeared on the red carpet in 2002 in Elie Saab's creation, which featured a completely sheer bodice embroidered with flowers. she got her Best Actress Oscar for 'Monster's Ball.'
Taraji P. Henson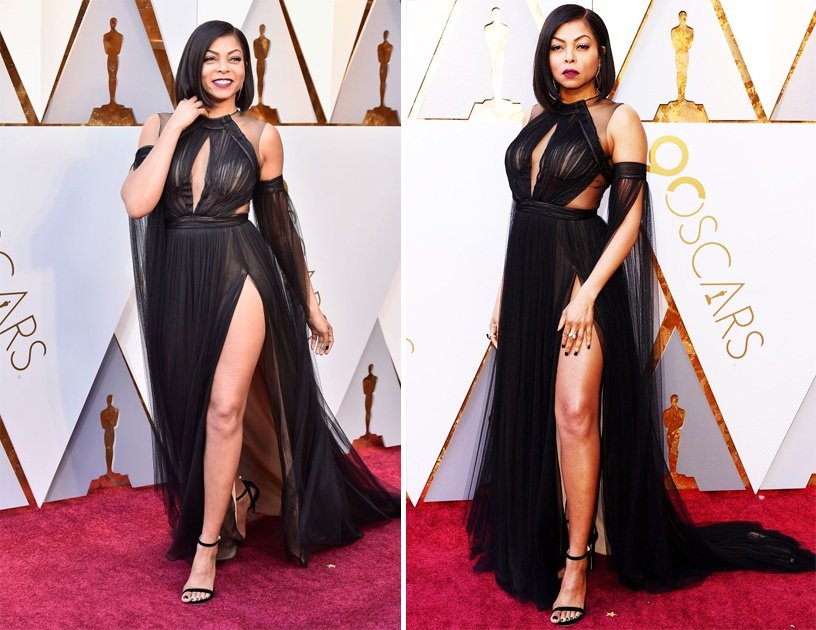 Getty Images
She perfectly shut down the Oscars red carpet in 2018 with her slit-up-to-there Vera Wang look.
Cher
Alamy
Oscar-winner Cher appeared on the red carpet in 1998 in a glittering gown by Bob Mackie.