Nothing is impossible in the universe of fashion!
Balenciaga and Crocs recently teamed up for the spring 2022 collection. The duo debuted some fresh knee-high croc boots and unique stiletto clogs that come in numerous colors, including green and black. However, this is the first time we've seen crocs offering heel support and wedges for women in a variety of bright colors. Other products in the same collection equally include rain boots with a platform sole for people seeking something a bit sturdier.
Balenciaga and Crocs have created a heeled clog in bright colors for women.
Balenciaga x Crocs
The new collection had been met with mixed feelings on the internet, and many people weren't impressed with the collaboration. On Twitter, in particular, it has been met with comments like the shoes were painful, while a few claim they can't wait to get their toes on a pair.
The shoes will be available in several colors, including green. Their prices is yet to be confirmed.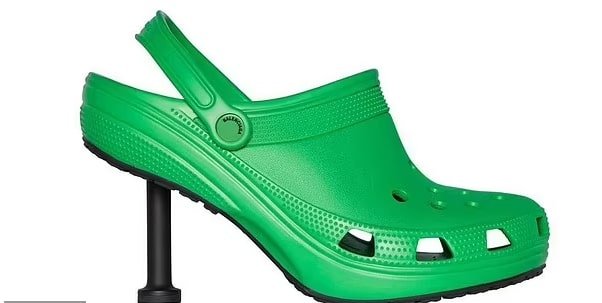 Balenciaga x Crocs
"I love crocs, but a Balenciaga x Crocs collab is what we DON'T need." One person said. Another added: "What the f is wrong with people at Balenciaga? Can't decide whether it's a joke or just making fun of people who buy these. Several others tweeted "no," while some people shared GIFs to express their displeasure at the footwear. While many were left horrified by design, some expressed the desire to get their hands on a pair. "Anyone with information on how to get the Balenciaga crocs will be rewarded handsomely." One wrote.
It's unclear how much the footwear that includes these platform rain boots will be sold.
Balenciaga x Crocs
It remains unclear how much the footwear, which will be released in 2022, will be sold, but a previous Balenciaga and Crocs collaborations had set shoppers back £600 rather than the £39.99 a regular pair of Crocs usually costs. This isn't the first time Balenciaga and Crocs have collaborated. In 2017, Christopher Kane and Demna Gvasalia had called out the brand's iconic shoes, the word's comfiest shoes. "Balenciaga x Crocs isn't impossible; the question of taste is a very subjective value," Demna told French Vogue in 2017.
The New Collection Has Been Met With Mixed Reactions Online: