Dating a member of a step-family is a little bizarre! The concept might appear at best and at worst on so many frontals, but it still happens. This is precisely the same scenario TikToker Scarlet Vas found herself, as she's currently dating her ex-boyfriend's best friend, who is also her male model stepbrother named Tayo Ricci.

Having a soft spot for a stepsibling is considered unusual, but Scarlet and Tayo have proved to be nailing it.
tayoandscars -Via
A description as seen on the duo's TikTok bio reads: "Two step-siblings who are completely in love." In a clip captioned:
"I fell in love with my bf's best friend, who happens to be my stepbro
," the duo shared how they got together, and it featured Scarlet standing next to her BF, whom she claims she's been in a relationship with for seven years.
Scarlet Vas started dating her step-brother Tayo Ricci after going out with his best friend of seven years.
tayoandscars -Via
During a truth vs. dare game, Scarlet was dared to kiss her 'step-brother, initially refused but eventually gave it in front of her BF.
tayoandscars -Via
It turned out to be a dare game! Scarlet was dared to kiss her stepbrother but initially refused. Her ex-Bf then urged her to do it as long as they make it quick. Responding, Tayo delightedly opened up his hoodie and said:
"You're not the only one who has abs,"
after which he took Scarlet into his arms. Scarlet asked her BF how he would choose to spend his last day on earth in an updated clip.
The duo is continually condemned online but has given out deaf ears. Interestingly, Scarlet and Tayo plan on having children.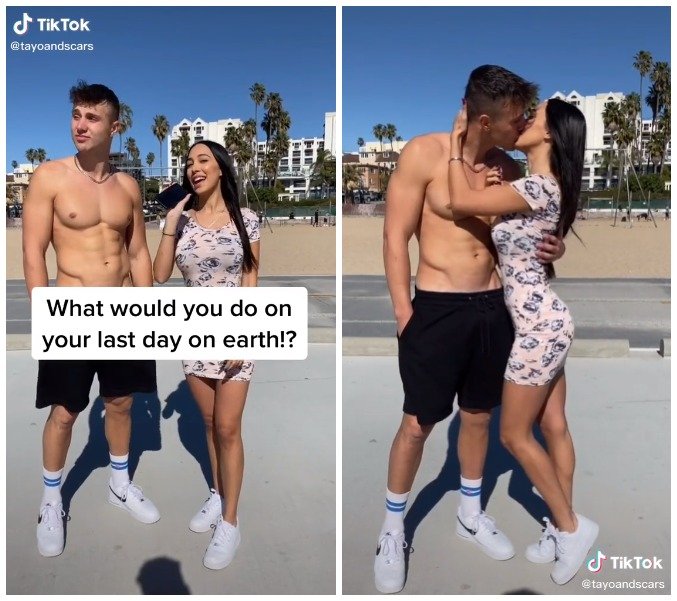 tayoandscars -Via
"You, I would impregnate you,"
Tayo responded. Scarlet added:
"Erm, you are my step-brother. That's kinda f***ed up."
Tayo said:
"Why are you laughing? I know what I want, and I get what I want. I think everyone grilling us online for being in love. It doesn't matter if we have the same parents."
So far, the step-sibling relationship has since sparked a debate, with many criticizing the affair. "That's just wrong." One user wrote. Another added: "This is in all ways weird."