It might have crossed your mind that getting inked is something entirely new and trendy. Let's bust your bubble: Body art has been in existence for about 12,000 years. While a tattoo might preach an owner's whole story, a few have no specific meaning at all; they were just spur-of-the-moment decisions. However, tattoo owners agree that their ink is made to be appreciated and not stigmatized.
Most humans are fond of criticizing tattoos, claiming it isn't right to have a drawing that will remain an entire life. But then, for a few, it's the perfect gift for memorializing a specific event or perhaps a person. This is no content, nor is there a prize. Here we've compiled some examples of creative tattoos, and we can't help but applaud how the wearer carries them with dignity. Have a look, and possibly, you can be moved to tears!
"So About 6 Years Ago I Lost My Wedding Ring. I Ended Up Getting A Tattoo Rather Than Replace It. We Have Moved Twice Since Then And Live In A Different State. My Wife Just Found It In Old Purse."
mprince25 -Via
"I Lost My Old Boy Sebastian Last Month. I Had My First Tattoo In His Honour. Art By Storm At Black Dagger Tattoo In QLD, Australia."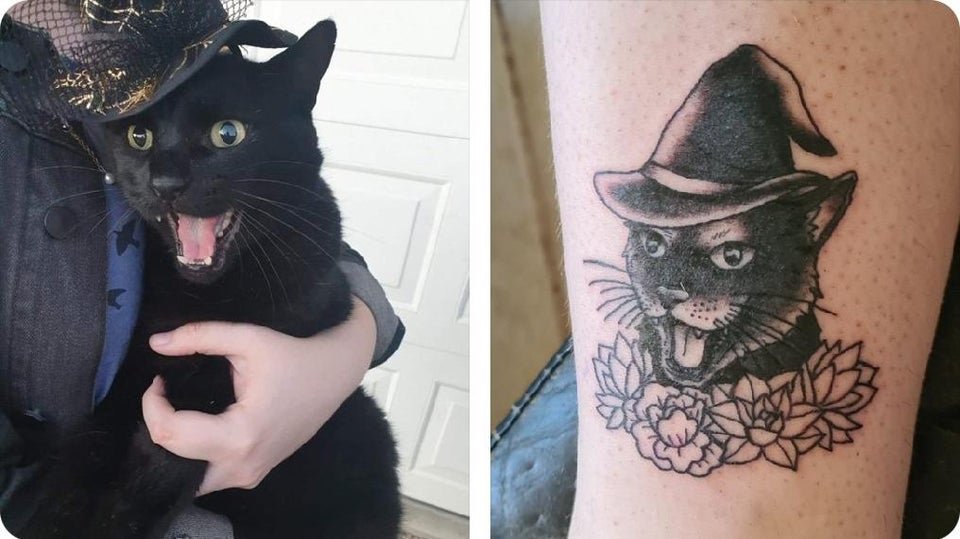 KaikesPokeCards -Via
"For a little context, this photo was on Halloween 2019, and Sebastian was saying hello to the passing trick or treaters! He loved Halloween and sat out every year by the candy bowl with me to hand out treats and receive pets in exchange. I've been waiting a little while for that "perfect" first tattoo. I knew that this was the best way to honor the cat that was such a huge part of my life growing up. It turned out so beautifully, and it truly captured the beautiful soul he was!"
"A Few Quick Tats Done Today By Mandy @ Studio 65, Clear Lake, IA."
Tattooedmember69 -Via
"A Complete Stranger And I Got Tattoos Of Each Other's Face By J-Cee Capilia, The Fall Tattoo, Vancouver Bc."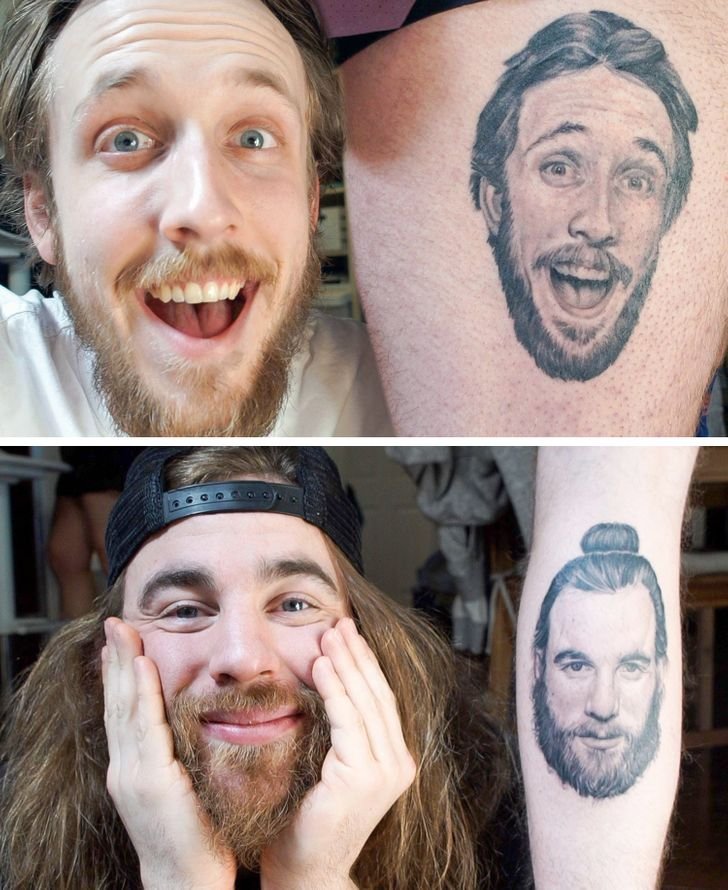 lancaster27 -Via
"I wanted to experiment to see if this would be possible to get someone to do this with me and see if I could make a genuine friendship out of the experience! I just walked up to random strangers in Vancouver and asked them if they would be down. The second person I asked was Geran, and he was immediately down, literally such a dope dude. The idea was we would share a bonding experience before the tattoo. So I brought him to do my favorite thing, which is paintball, and he brought me to his MMA gym, and we did some sparring! And then from there, we went and got the tattoos! We still stay in contact, and my girlfriend is helping him with his nutrition for his upcoming fight!"
"I Am From Canada, And Someone From New Zealand Reached Out To Me Asking If They Can Get A Colour Realism Tattoo Of One Of The Cross Foxes I've Photographed. Here Is The Result."
keenfeed -Via
"Honoring My Birth Givers! Tattoo Done By Kitty Jones In Richmond, CA."
tonkatrucktanya -Via
"They Covered The Girl's Scar, So To Speak, Sealed It With A Plaster, And In Order For It All To Warm The Heart And Soul, Put Flowers."
klubnichnayabu -Via
Two Sisters And Their Brother!
OctopussSevenTwo -Via
"Did A Tattoo With My Siblings! Done By Porvidatony At Dragon Tattoo, Eindhoven, The Netherlands."
basroomsoes -Via
"The characters of the show kinda fit our personalities; my little brother does the most stupid stuff and never knows what is going on. My sister is the most irresponsible and hyperactive. And I'm the middle child who is most grumpy. So it's a natural fit really."
"Memorial Tattoo For Our Babies With The Happy Date - When We Heard Their Heartbeats And Found Out They Were Twins."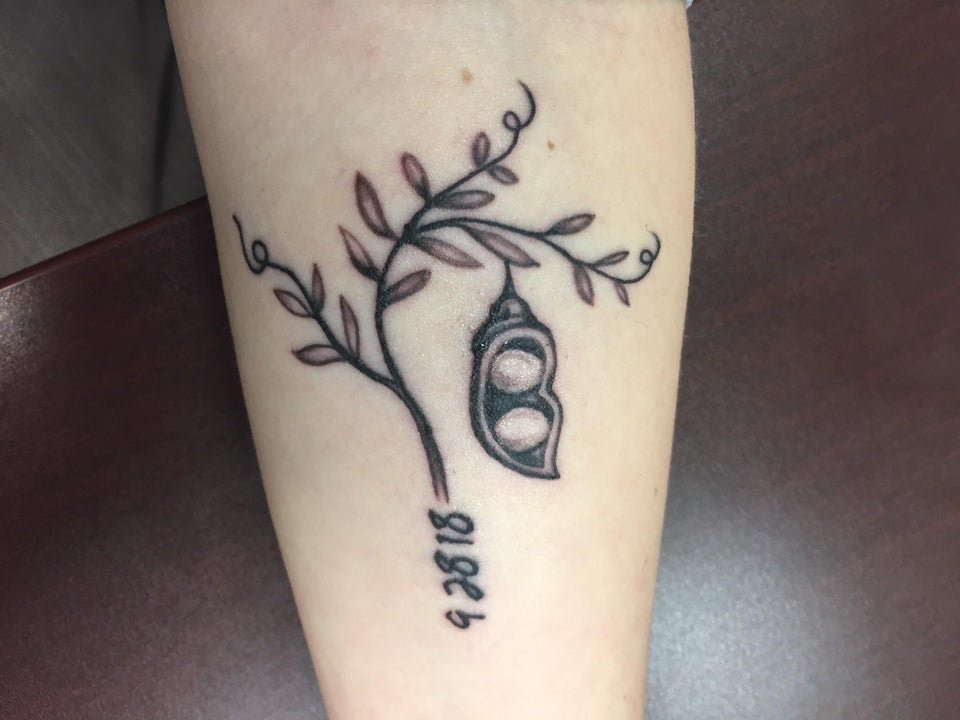 omdriver -Via
The LOTR Breakup Tattoo.
drugsarefinenowmark -Via
"After nearly three years together, my boyfriend and I decided to end our relationship. But not before getting matching tattoos to celebrate our journey together. I've been obsessed with
The Lord of the Rings
for most of my life. The tattoo traces the part of the trail that Frodo and Aragorn travel together. My boyfriend and I were very much in love, he supported me, and he gave more than I thought possible for another person to give. But like Frodo and Aragorn, it was eventually time to go our separate ways. Not because we stopped loving each other, but because we both had different paths to walk. I'm so happy I got to experience such deep love, even if that meant a painful end. On to the next chapter."
"My Wife's Simple But Meaningful Tattoo. Done By Martin At Skin Gallery In Downers Grove, Illinois. Son Was 10.5 Inches At Birth."
Not_all_aware -Via
"In Memory Of My Father."
PupsikCat -Via
"Just Defended My PhD Studying Antibodies And Thought I Should Celebrate With A Little Antibody Tattoo Of My Own)."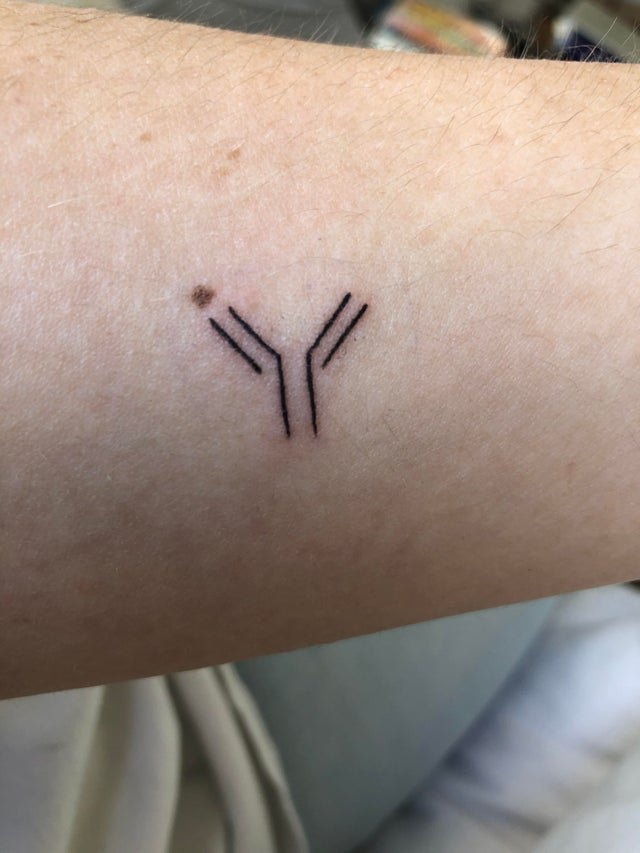 CloudySkye93 -Via
"A Couple Years Ago I Posted The Story Of My Tattoo To R/Wholesomememes. A Couple of Weeks Ago, I Finished Donating My Second Gallon Of Blood. Today, I Got My Tracker Updated."
jt1019 -Via
"Many years ago, my grandpa passed away after an accident. Before he did, he was given 72 units of blood or the equivalent of 9 gallons. Since then, I've been trying to give the same amount of blood back. For each gallon I give, I fill in a heart. My grandpa was all about giving more than you took, so this seemed like a great way to honor him. If you can, please give blood. There is a constant need for it, and you will never be turned away. I may have misspoken with that last bit. If you can't donate for whatever reason, encourage your friends and family to volunteer at a blood drive/donation center. Where I'm at, we have strict sanitation guidelines for our tattoo shops. I can donate again as soon as the tattoo is healed, and I make a double red cell donation, so I have to wait three months between donations anyway."
"Got An Amazing Cover Up Of My 20-Year-Old Cherry Tattoo. I Really Couldn't Be Happier. My Best Friend Passed Away Recently, And She Called Me Feather, So It Means The Absolute World To Me. Thanks To Iso At Fallen Heroes Tattoo, I Will No Longer Be Embarrassed By My Tat, But I Will Be Forever Proud."
britisbusy -Via
"Just Got My First Tattoo In Memory Of My Dog We Had To Put Down A Few Months Ago. It's A Play On The "Wish You Were Here" Album Cover By Pink Floyd."
CMich23 -Via
This Guy Tattooed All His Passport Stamps.
fineapple25 -Via