If you've always wished to travel to Japan but haven't, this article is perfect for a bit of exploration! Over the years to date, Japan has a reputation for a distinctive culture and traditions. Known for a long history of isolation, many aspects of its culture have, however, changed unaffected by other countries' influences. Not many places in the world can be compared with Japan as its foods alone can't be found anywhere else.
Is Japan truly a whole new world? Yes, Japan is, and a big thanks to its high-tech, comfort, and convenience is top-notch. What's more, there's no limit to the creativity of the Japanese as they will, of course, continue to inspire the world with their inventions. Here we've compiled some remarkable photos for proof! From pets being treated like children to the parking lot and Ferris wheels constructed on the roofs of buildings, this list will leave you mind-blown. Enjoy!
"The Note In Japanese Says, "I Accidentally Knocked Over Your Bike And Broke The Bell. I Am Very Sorry."
gaijinpot -Via
You Can Flip Your Seat In A Shinkansen!
"Japanese Toilets Often Have A Button That Plays White Noise/Water Sounds So You Can Poop Without Other People Hearing Your Business."
mikieliza -Via
Children In Japanese School Clean Their School Environment, Which Help Prepare Them As Useful Members Of The Society.
sarahmoersfelder -Via
"This Is How Smooth The Bullet Train Is In Japan."
gaijinpot -Via
Japan's Manhole Covers Are Beautiful.
[deleted] -Via
"Ordered This From Japan & It Came With A Little Note & Origami Crane."
JustBeingAMitch -Via
The Water Used In Washing A Hand Is Reused For Flushing The Toilet.
unknown
Restaurants Put Fake Display Of Their Food. But This Looks Very Genuine.
Matthew Yau -Via
Parking Lots And Wheels Are Constructed On The Roofs Of Japanese Buildings.
uzniko -Via
You Can Have More Hair If You Wish To.
unknown
"Someone Was Bored In A Toilet In Japan."
linkinstreet -Via
"Just Your Standard Tokyo Business Meeting."
TheGreatMattsby -Via
"My Favorite Shop Sign In Kyoto."
hannahbanhannah -Via
"The Ladies' Bathroom At My Nearby Mall In Japan."
Personwhoisfriendly -Via
"I'm An American Stationed In Japan. Had These Two Run Up To My Car At A Red Light. No, It Was Not Cold Outside."
ArmyMPSides -Via
"I Was Walking On The Seashore And Saw A Cute Building. I Came Inside, And I Was Shocked — It's A Waste Incinerator!"
unknown
What Do You Think About This Fashion?
unknown
Pets Are Treated Like In Japan Like Children.
unknown
"We Went To A Restaurant Where Food For Sumo Fighters Is Made. They Brought Us Pizza That Was Small..."
unknown
"My Mom Is Visiting Japan. She Was Not Prepared."
neomatrix248/ -Via
"So I Was In Zao Fox Village That Is Located In Japan, And I Saw Those Foxes That Waits For Their Water."
LittlePrayer -Via
This Halloween Costume Is One Such Of An Art.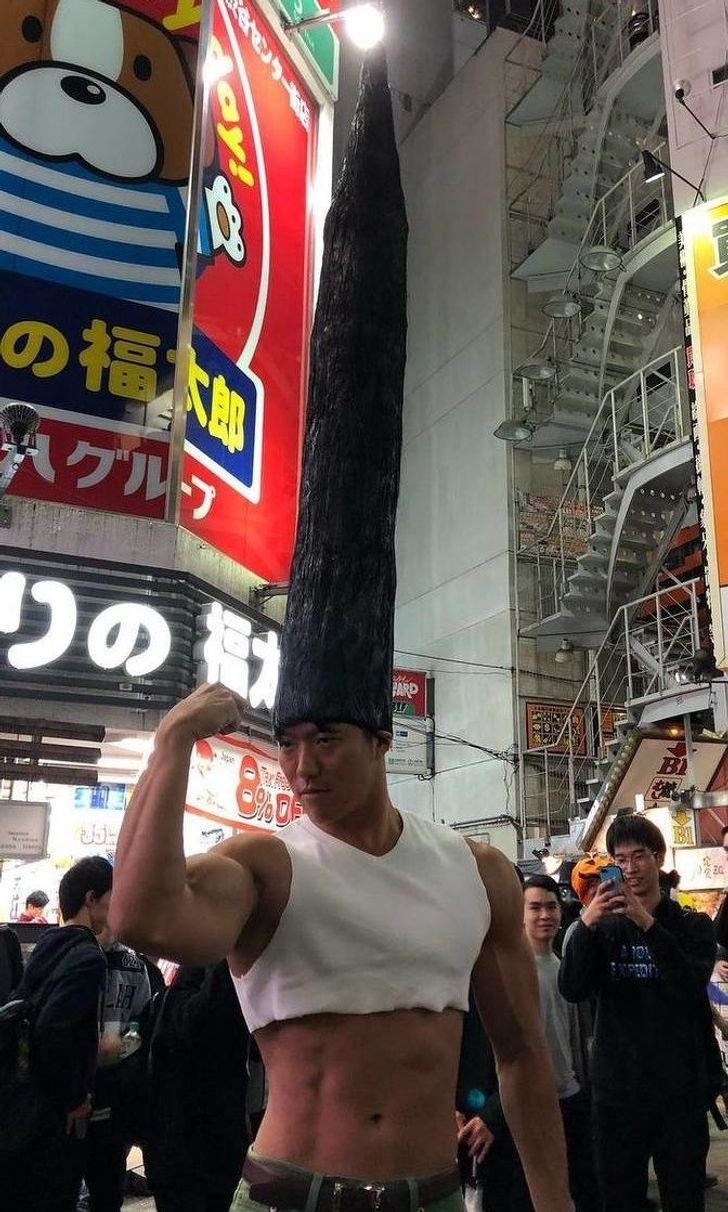 unknown
"This Guy Walking With A Stroller Full Of Cats In Shibuya, Tokyo."
Vollek -Via
Crowd Of Photographers Gathered Around A Tree. It's No Competition Just For The Fun!
unknown