This is surely one way to keep a spouse in a path, even though it's downright bizarre! Thea Loveridge is currently an internet sensation, having shared her solution to discovering that her now ex-boyfriend cheated on her with another woman. This revelation actually emerged in response to a TikTok thread titled: "Tell me you are petty without you are petty."
Thea Loveridge Found Out Her BF Had Been Cheating, So She Got Revenge On His Mistress, Telling Her He's Dead And Even Faked His Funeral.
Loveridge took to TikTok and shared with her over 30K followers how she convinced her then BF's mistress that he's dead. More surprisingly, Loveridge also hosted a fake funeral. According to the TikToker, the affair was during when she was pregnant with their kid.
The Affair Was During When She Was Pregnant With Their Kid.
Her Ex-BF Eventually Went To Jail For Assault As Soon As Truth Surfaced.
thealoveridge -Via
Loveridge claimed she discovered her man's escapades shortly after giving birth, adding that he had been cheating throughout her whole pregnancy. In a separate clip, Loveridge equally shared that her now ex-boyfriend ended up going to jail for assault as soon as the truth surfaced.
During his time in prison and with his mistress not knowing his whereabouts, Loveridge revealed it was when she convinced her that he had died and even hosted a fake funeral. Specifically, the mistress was repeatedly messaging, figuring out where he was, and got confused as to why he wasn't returning her calls or texts.
To Make It More Legitimate, Loveridge Sent Photos To The Mistress, Which Expectedly Was Left Heartbroken.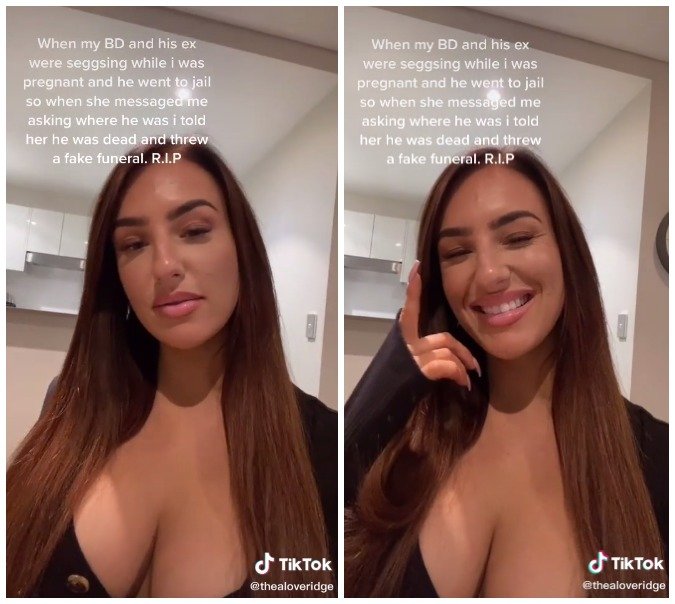 thealoveridge -Via
To make it appear even more legitimate, Loveridge sent photos to the mistress, which expectedly was left heartbroken, believing the love of her life had died. Loveridge claims the women interestingly posted tributes on a Facebook yearly, saying, "She's sorry that she couldn't be there when he died to save him."
"It's Been Three Years, And She Still Thinks He's Dead." Loveridge Said In The Clip.
This bizarre revenge has garnered over 5million views and comments. On the other hand, people are pretty desperate for an update. "This is pure evil. I absolutely LOVE it." A user said. Another added: "Imagine she married another man and finds out he's alive and now she's conflicted, and her relationship is over."
In A Twisted Plot, Loveridge Further Revealed That Her Ex Was Aware Of What She Had Done And Opted To Go Along With It.
"So he never reached out to his ex from prison. He never messaged her; he never called her. Last I heard, she still thinks he's dead."
Loveridge explained. However, it's also revealed that the mistress eventually moved states, so he couldn't even write to her as well.
Did Loveridge Do Right?