Do you remember James Fridman? He's the master of photoshop who takes edit requests too literally. We've featured him countless times, and now he has struck again with a new batch of photoshopped photos. If you can't recall or possibly haven't ever heard of Fridman, he's the wish-granting hilarious photoshop genie that gives what's asked for but in a twisted plot.
When Fridman takes up your photoshop request, you never call tell what to expect of him. He doesn't intend to offend anyone with these pranks, and every one of the clients that send him their photos knows he will do something hilarious and ridiculous with them. The main goal of Fridman is to entertain people, and without a doubt, not all heroes wear capes, especially as some sit behind the computer, Photoshopping their way to world domination. Please have a look at our compilation and do brace up for some laugh-out-loud moments!
More info: jamesfridman.com | Facebook | Twitter
#1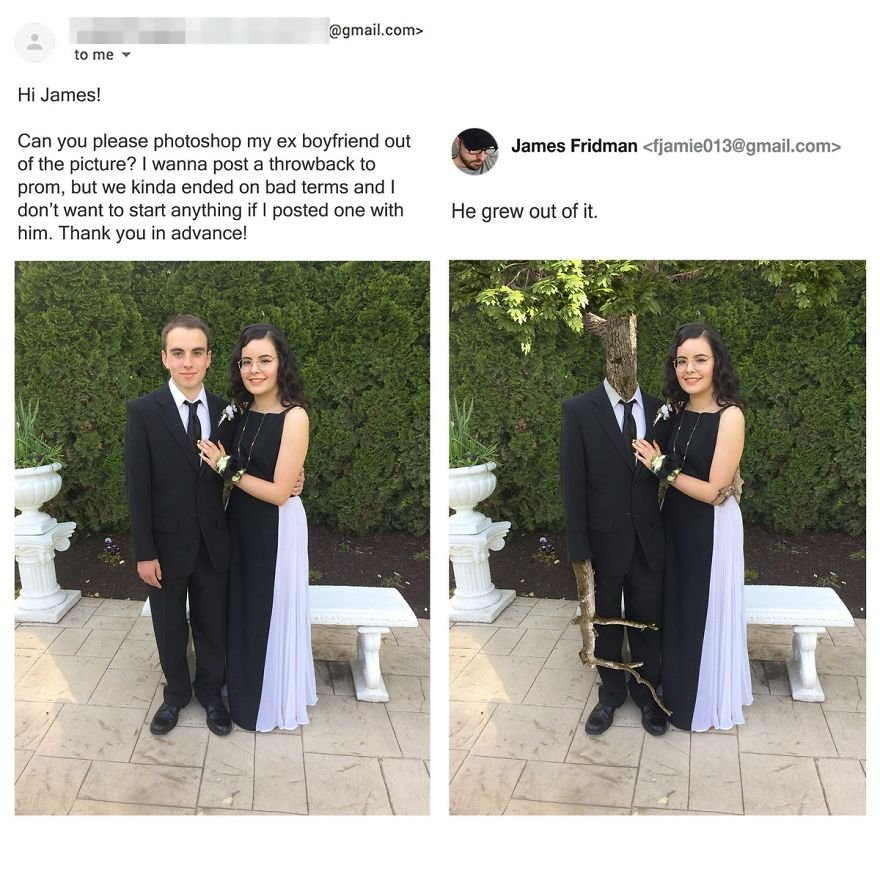 fjamie013 -Via
#2
fjamie013 -Via
#3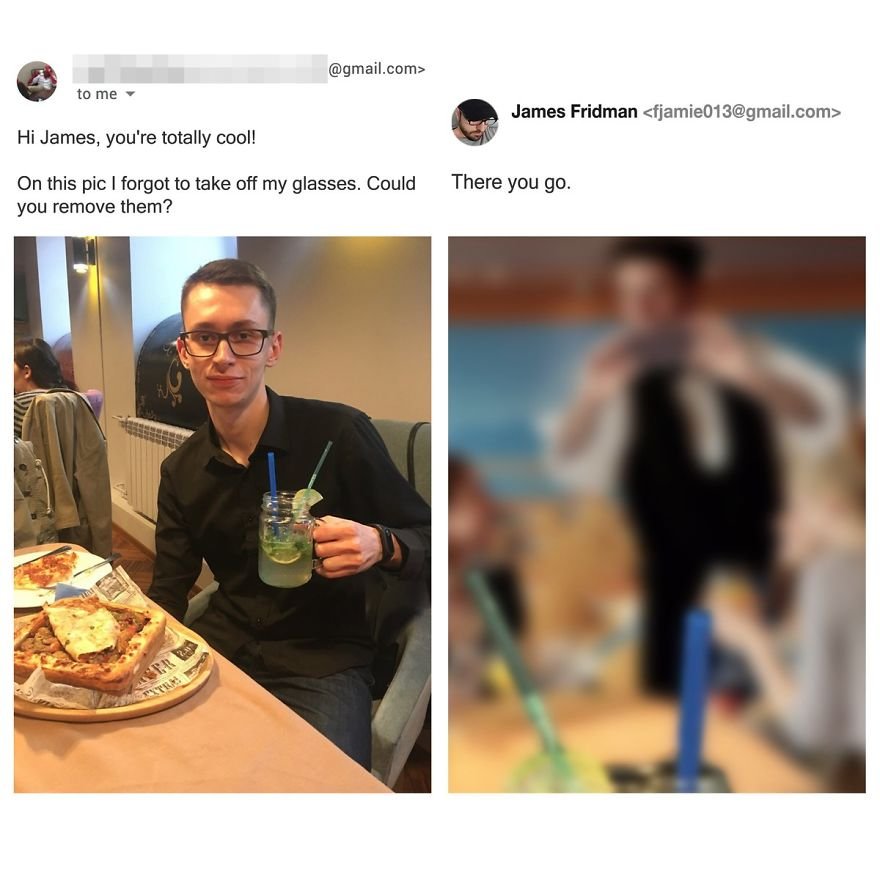 fjamie013 -Via
#4
fjamie013 -Via
#5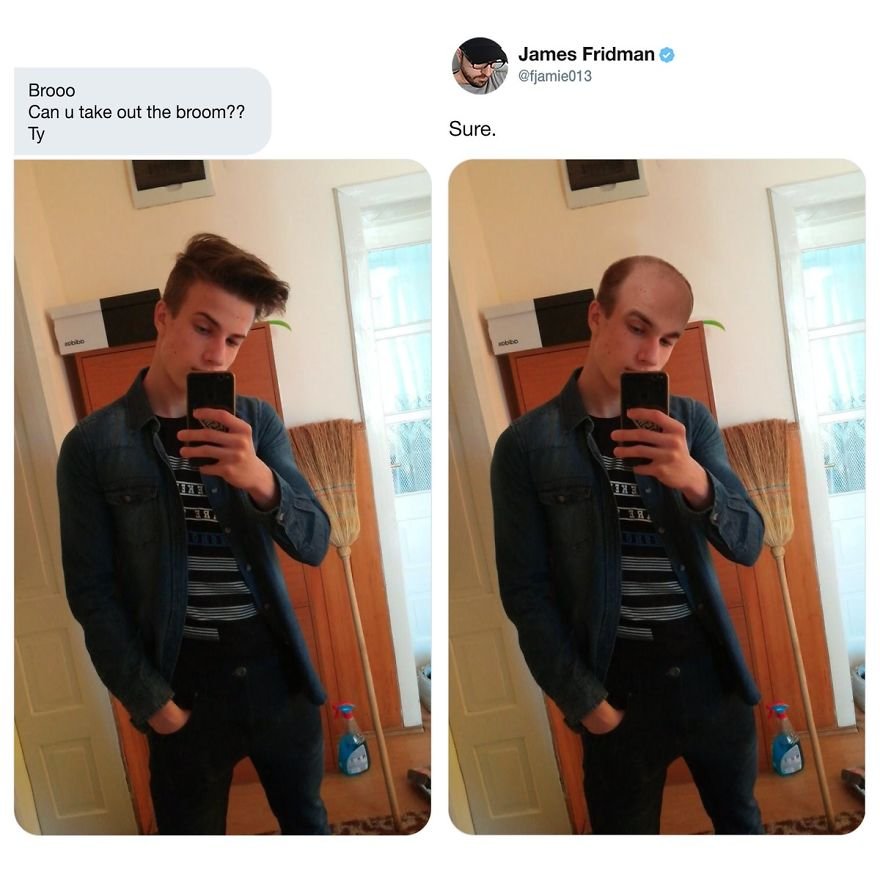 fjamie013 -Via
#6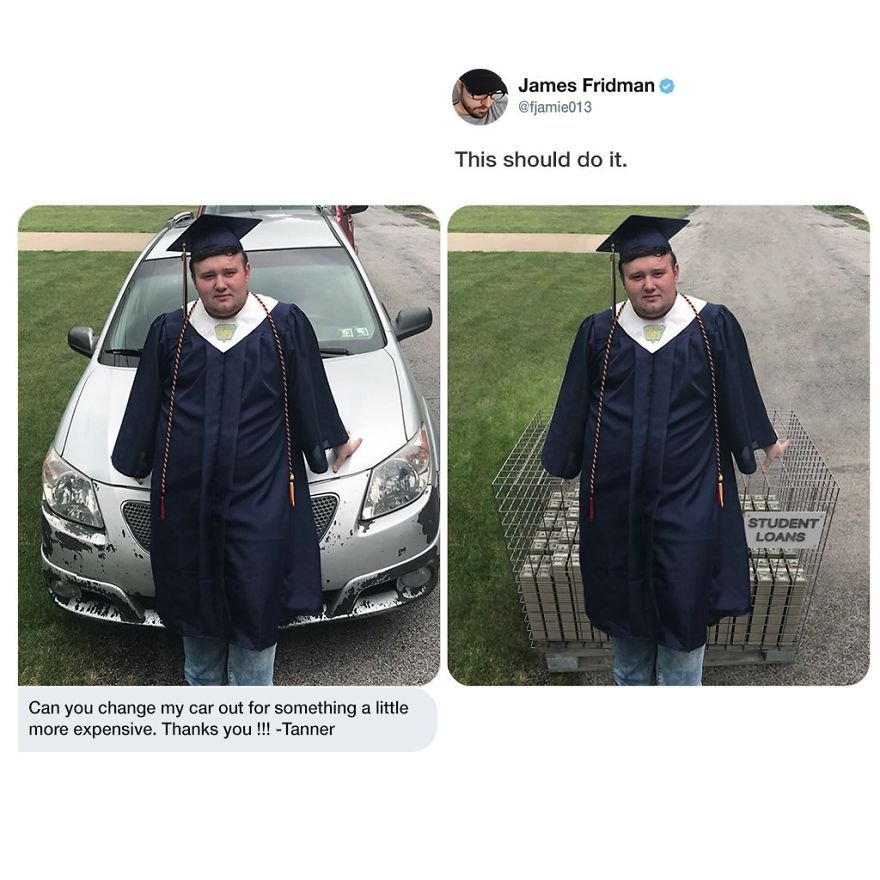 fjamie013 -Via
#7
#8
James Fridman started trolling Photoshop requests for fun when they were genuine requests for free. But soon enough, he became popular and known as the creative troller where people would purposely request him just to see what he will do with their pictures. He now has almost 2m followers on Twitter and 2.1m followers on Instagram.
#9
fjamie013 -Via
These edits are hilarious, but James would refuse requests related to beauty standards from time to time. In addition, he leaves an inspirational message that people should not be too obsessed with unrealistic beauty standards. At the same time, he's spreading body positivity messages.
Once a woman with muscular dystrophy sent in her picture. In reply, James wrote, "If people can't look past your physical condition, they are most likely not worth your attention."
#10
fjamie013 -Via
#11
fjamie013 -Via
#12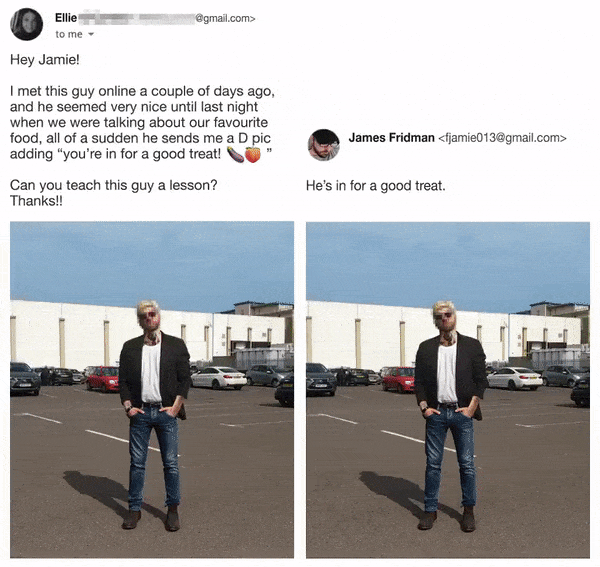 fjamie013 -Via
#13
fjamie013 -Via
#14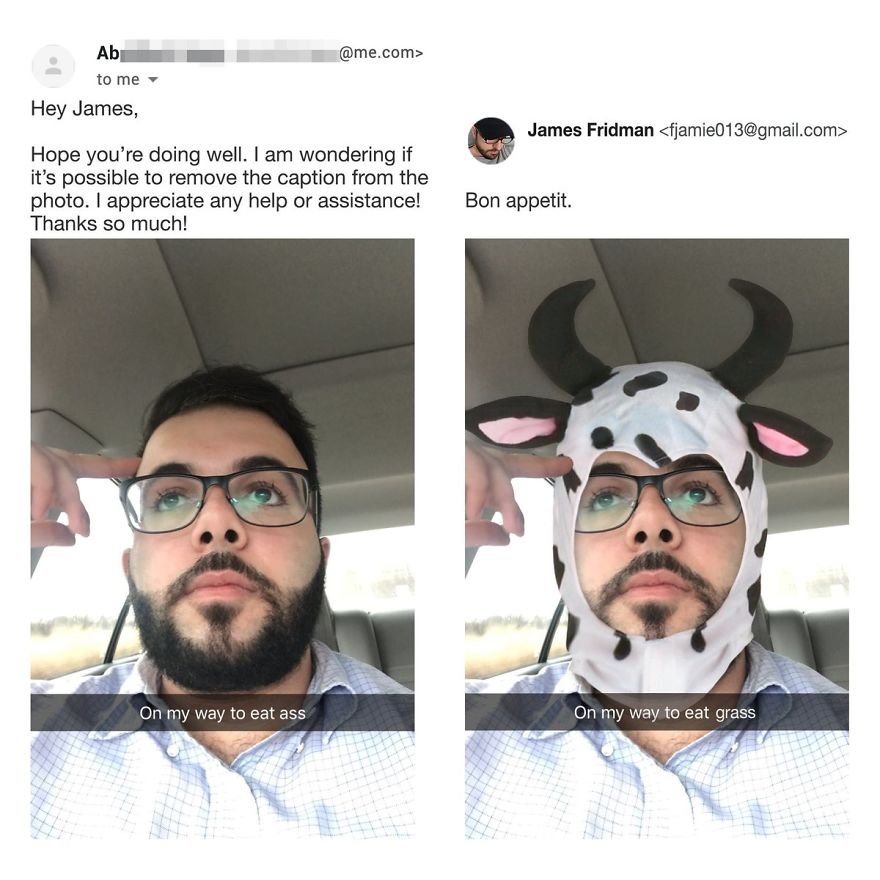 fjamie013 -Via
#15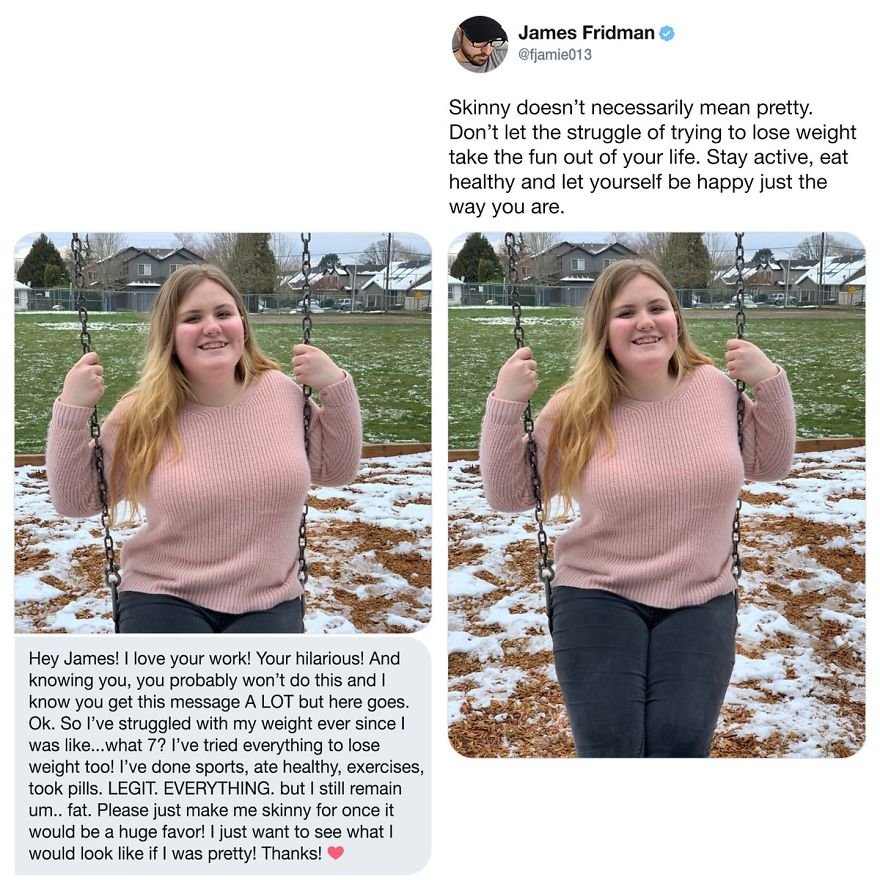 fjamie013 -Via
#16
fjamie013 -Via
Using his platform that has gained millions of followers, James started his own foundation. James Fridman Foundation focuses on providing support for children and young people who face social issues.
The foundation's vision reads, "Our mission is to support and help children and young people in developing their skills, understanding, and capabilities that will enable them to navigate the obstacles they encounter as they grow and participate in society as independent, mature, and responsible individuals.​
#17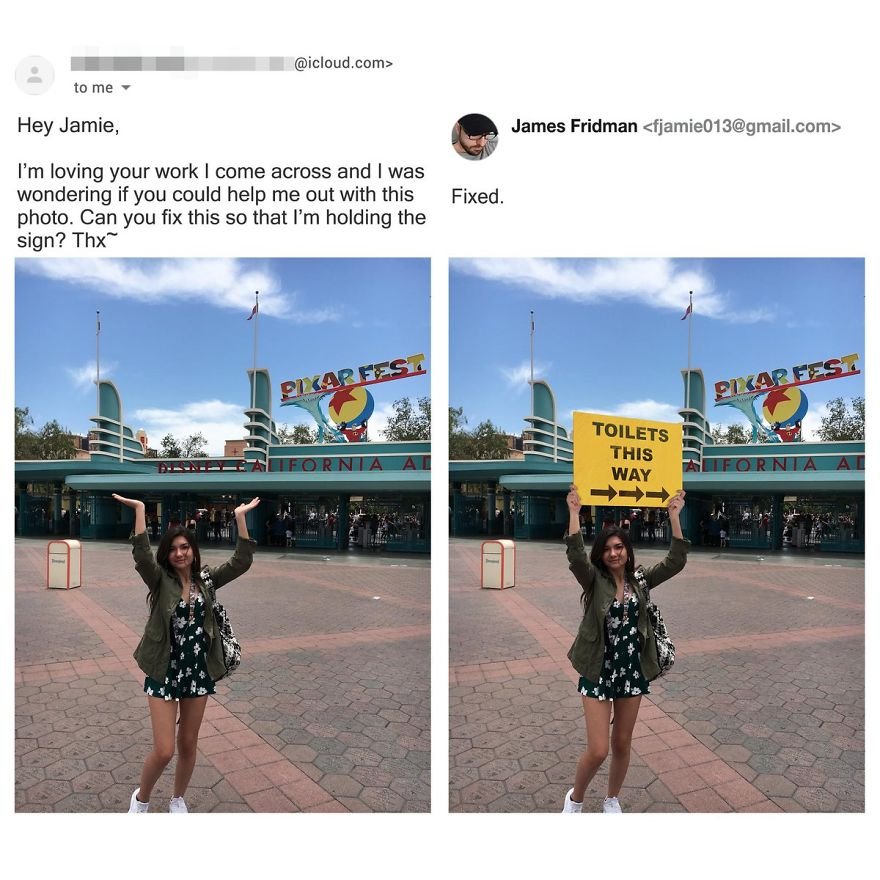 fjamie013 -Via
#18
fjamie013 -Via
#19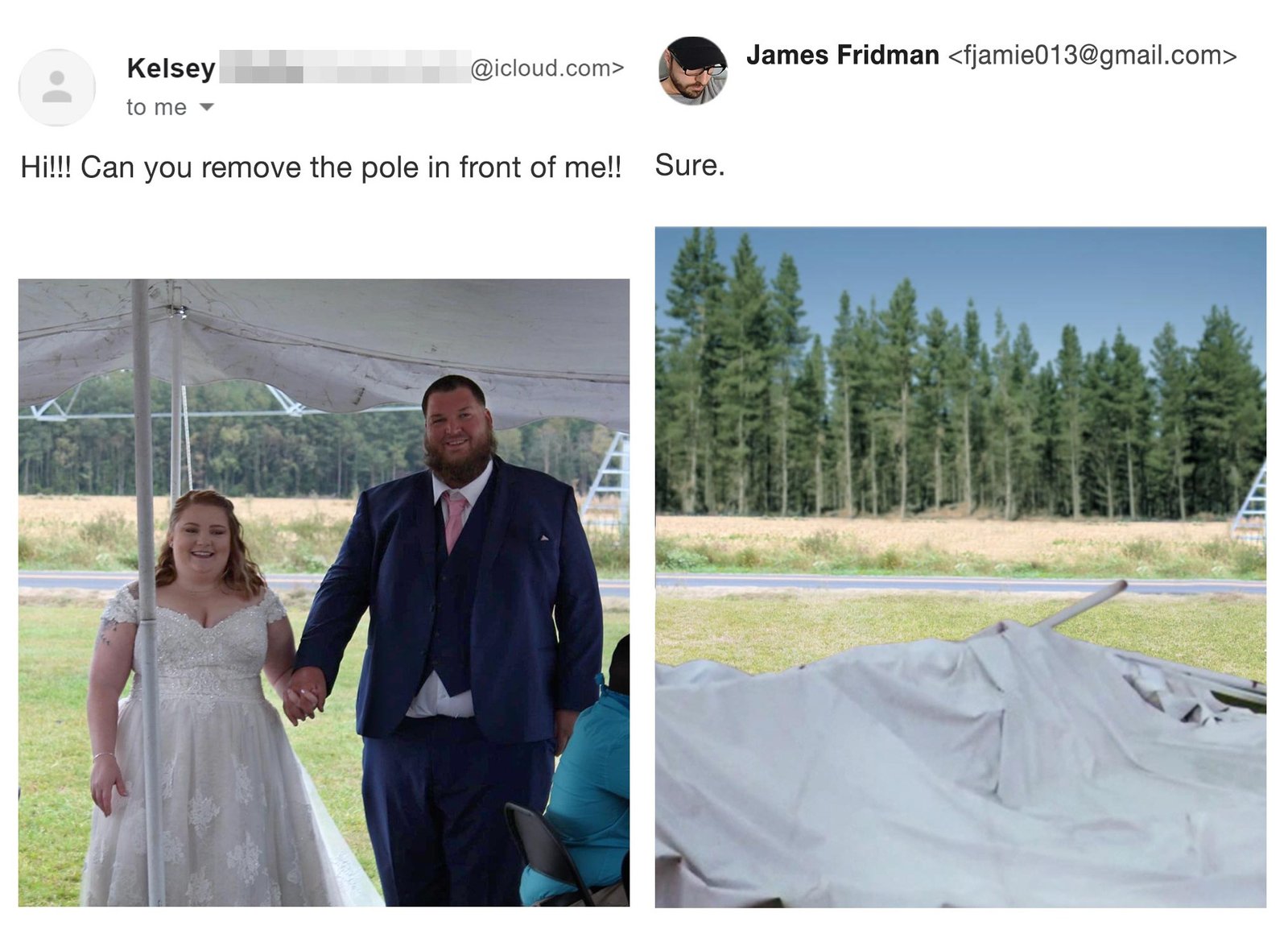 fjamie013 -Via