Videos of 'Matrix 4' behind-the-scene filmings have spread, with one of them quite shockingly shows two people jumping off a skyscraper. These stunt doubles of the fourth movie installment that stars Keanu Reeves have multiple safety cables attached to them as they ran and took the leap of faith.
A video shared from a high-rise building perspective.
Matrix 4 filming in downtown San Francisco#matrix4 #stunning #awesome #stunts #filming #SanFrancisco #NEO #keanureeves pic.twitter.com/ixjZeQRNeH

— (@oman170490) January 11, 2021
The two lept and 'fell' as the cables held them. After that, one of them looked as if they were floating and carrying the other person in their hand as they fly.
As if the director sent the 'cue' signal, the two rushed to jump off the building.
oman170490 -Via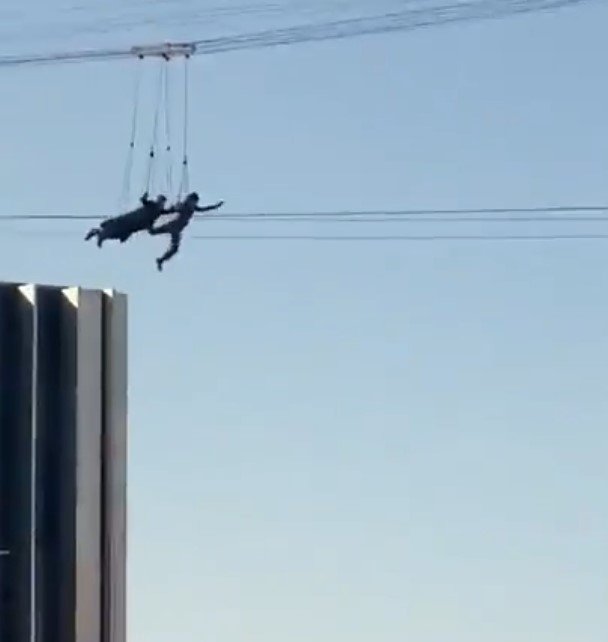 oman170490 -Via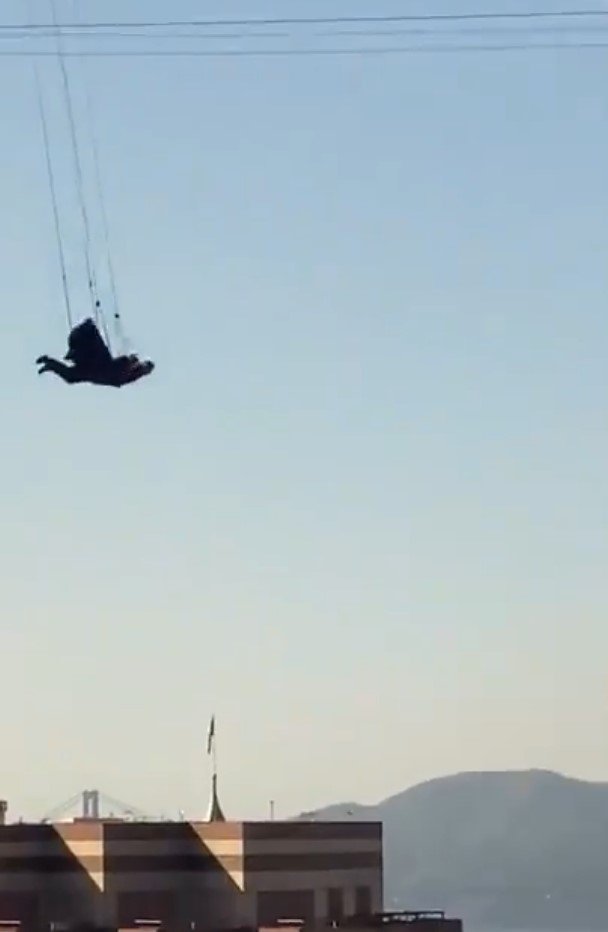 oman170490 -Via
After that, one of them looked as if they were floating and carrying the other person in their hand as they fly.
oman170490 -Via
The two characters may possibly be stunt doubles of Keanu Reeves and Carrie-Anne Moss; the two confirmed returning stars to the fourth installment of Matrix movie. They are back to reprise the same role, Neo and Trinity.
The filming was temporarily halted during the pandemic, but last year, the crew had managed to film in Berlin, Germany, and San Francisco, directed by Lana Wachowski.
The scene remained so for a few seconds before the two were pulled back to the skyscraper's roof.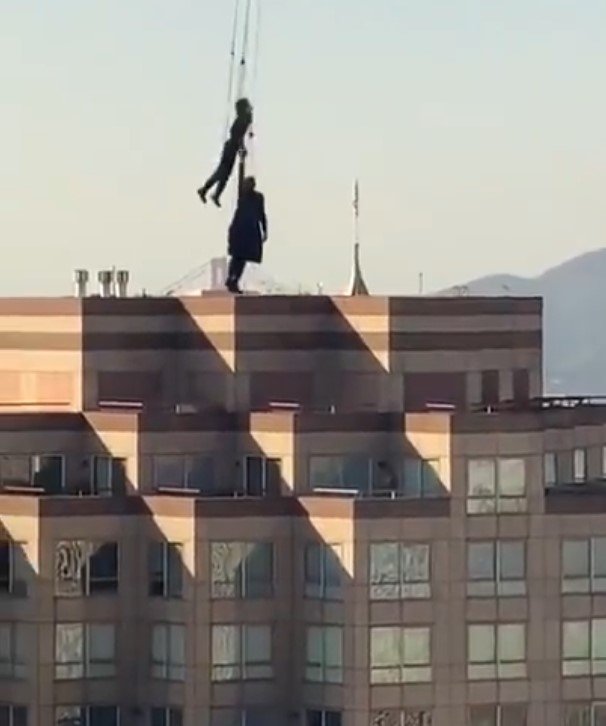 oman170490 -Via
From a different standpoint, this footage was captured from ground level.
Behind the scene #matrix4 #Lanawachowski pic.twitter.com/emViEHFzNV

— love_lana_sense8 (@carine_sense8) January 6, 2021
Keanu Reeves shared on BBC's The One Show last year that this fourth movie will be an inspiring 'love story.' This may hint at a continuation that focuses on Trinity and Neo's relationship with the aftermath of the third movie.
Sharing his thoughts, Keanu said, "'It's another version, a call to wake up and it has some great action. All will be revealed."
Trinity and Neo stand-ins scene floating together.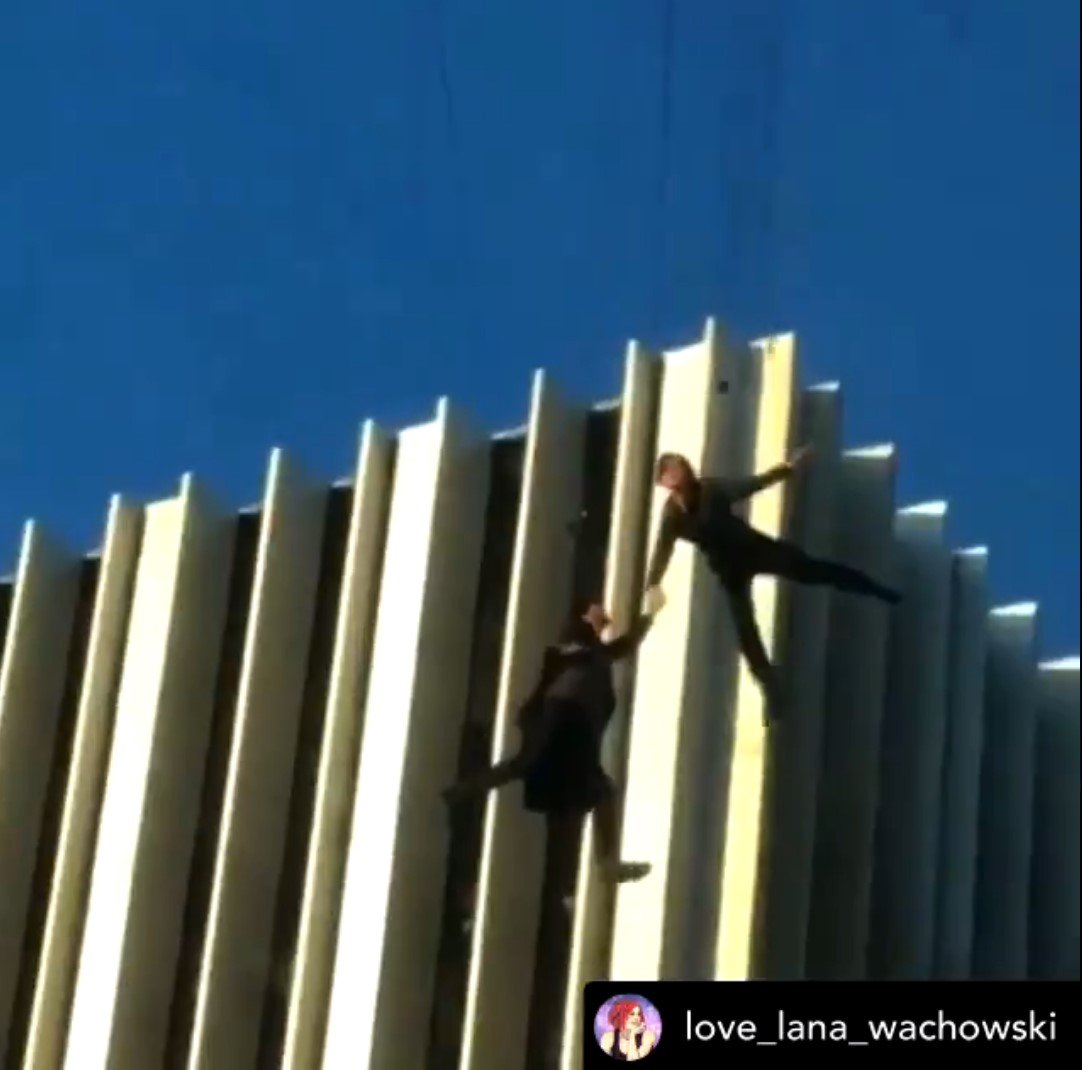 carine_sense8 -Via
Keanu also shared why he'd agreed to return to Matrix after almost two decades of the third. "Lana Wachowski wrote a beautiful script and a wonderful story that resonated with me. That's the only reason to do it," he explained.
'Matrix' first movie in 1999 went to sweep four Academy Awards and had two sequels that were filmed back to back and released in 2003.
The expected release date for the movie is December 22, 2021.
carine_sense8 -Via