Victoria Police has recently released the mugshot of a 28-year-old wanted man on their Facebook. Jess Mabilia is wanted on a warrant for contravening court orders, according to the officials. But it appears that his picture has made many women swoon because of how attractive he looks in it. If the picture had been a full-body shot, it would've been easily misunderstood as an ad picture of a model!
Jess Mabilia, 28, known to frequent the Mornington Peninsula, Frankston, Bass Coast, and Geelong areas.
Victorian Police -Via
The blue-eyed man is 185 cm tall, and his wanted post has been up since January 7th, 2021. The post has been garnering reactions and comments from women. One wrote, "Vic police just wanted the girls to do the work for them, but I don't think if found, they will hand him over, just sayin'!"
The Facebook post now has 1.4k reactions with more than 7.4k comments.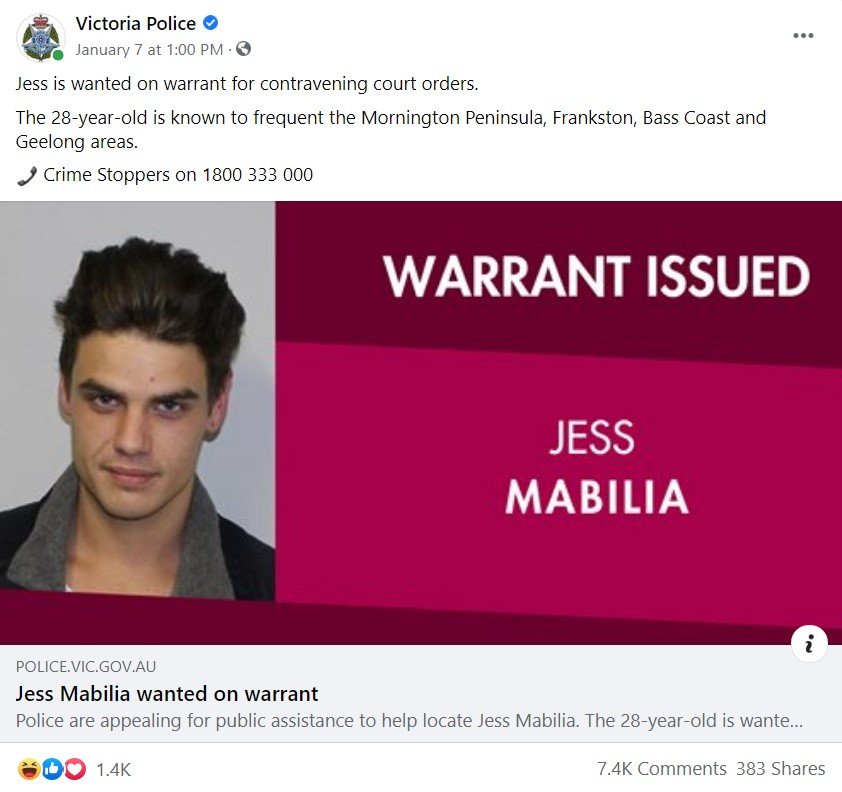 Victoria Police -Via
The comments are going pretty wild.

Many wrote teasing comments from how he can crash and hide at their home to finding him first before the police do. One commented, "Victoria's 'MOST WANTED.'"
Another commented, "The new Christian Grey, except this time it's him in handcuffs."
His situation right now is a little similar to Jeremy Meeks back in 2014. When his mugshot picture from the City of Stockton Police Department was uploaded, it immediately went viral.
Jeremy Meeks from America served his sentence for 27 months and immediately received offers when he was released.
WENN
He now works as a model who walks the runway in Milan and New York. His bad-boy image as a 'hot felon' was what made his popularity soared up so quickly. Right now, his estimated worth is $7 million. The 36-year-old model also starred in a movie in 2020.