Londyn Danelle was just a normal 11-year-old girl hanging out with her friend at home. Like any other young kids at her age, she was being a bit of a brat and argued with her mom. She'd never imagined she'd find out the truth about her parents on a family row at such a young age that her 'mom' was not actually her mom.
She initially shared a short TikTok video with a laptop open that reads, "A life without the trauma of finding out my sister is my mom." The video blew up with more than 2.3 million views and thousands of comments asking for storytime from Londyn.
She compiled and told the story of once upon a time when she didn't know anything.
She began, "When I was 11, I was in an argument with my mom, the one that raised me. I said, 'you're not my mother, you're the wicked stepmother, I'm adopted.'"
"I had no idea, I was just being a brat, and we got into this argument."

So far, she sounded like a pretty normal brat who probably just hated having rules and regulations. But her mom had taken her words at face value and responded in a way she could never imagine.
She continued, "And she said, 'Who told you?'"
The interest in her story began with this short teaser.
londyndanelle -Via
Stunned 11-year-old Londyn couldn't reply immediately.
"At this point, I'm freaking out, and I said 'nobody, I figured it out,'" she made up a lie.
"At the time, I had a friend over, and she told me to send the friend home and told me to come sit on the couch because we needed to talk."
The situation got serious, and the 'mom' finally dropped the shocking truth on her.
"At that point, I found out my sister was my mother, my other sister was my aunt, my mom was my grandma, and my grandmother was my great-grandmother."
She continued to explain that she's currently listed as her late grandmother's daughter. Her biological mother is her sister on the paper. She still refers to her great-grandmother as her grandma.
But this whole issue has become a mental blow on her. It messed her up after finding out her real genealogy. And even now, she doesn't know the whole story behind this.
"I still don't know why I was adopted. I still don't know the truth behind everything. There is a lot of hearsay, a lot of he said, she said, and I don't think I'll ever know."
"What I do know is this really messed me up; I don't think they had any intentions of telling me. They definitely didn't expect me to find out. I struggle with identity, trust issues, you name it," she added.
But after finding faith in Jesus, she finally found peace and learn to deal with her trauma easier.
Londyn found peace to move on and reassure herself of her own identity now.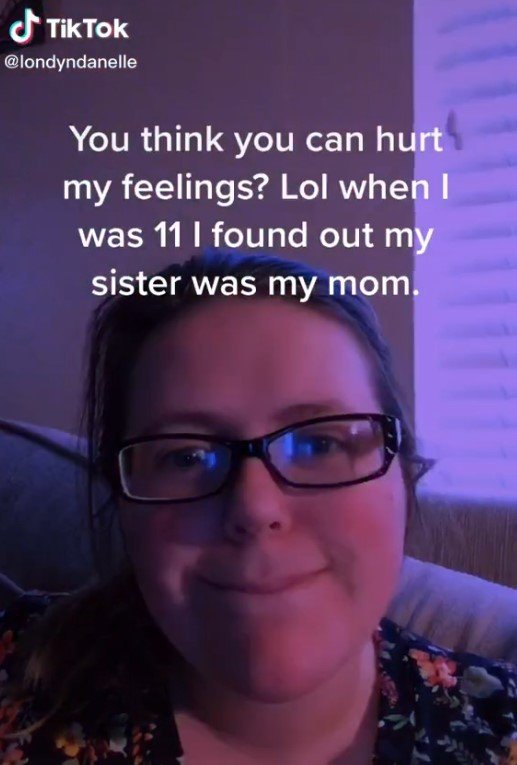 londyndanelle -Via