Captivating designs and their images can naturally make one's brand an impression. The worst can make people remember your organization for all of its wrong reasons. Besides, the saying practice makes perfect is quite a famous saying among many interior designers, but a few have proved the opposite. A big thanks to photos of awful interior designs, people are beginning to realize that common sense can equally be quite rare in the designing world. Ever entered a home and felt something was off?
Furniture can be attractive, but if all required interior space isn't correctly styled, it can evoke the face-palm factor. The presence of strong design missteps can be both depressing and problematic; hence it's best to always stick with pleasing designs while balancing between form and function. If you look at these photos, you will undoubtedly marvel at how these designers got their degree or perhaps certifications. We've compiled 30 interior design fails, and they're guaranteed to make you laugh hard. Enjoy it!
Imagine The Scrubber You'll Need To Clean Or Wash This
IdahoePotatoe -Via
This Toilet Can Likely Fall You Down Or Roll Your Ankle
I_am_lazy_15 -Via
Bathroom Has A Carpet That Goes Up The Bathtub Walls. Can You Spot The Awful Wallpaper Too?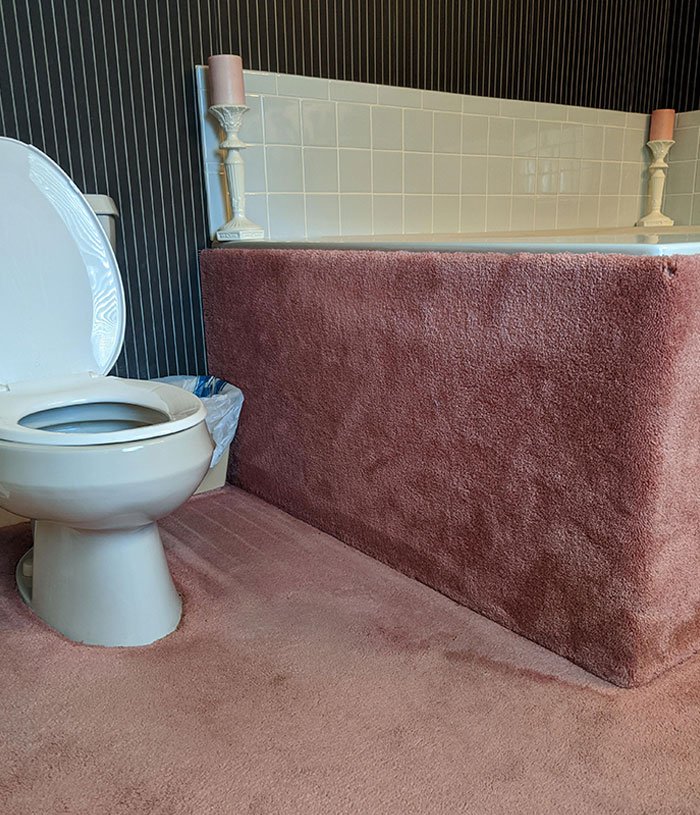 jbird2525 -Via
'Found This Master Suite In An Otherwise Normal House. This Is My Kind Of Nightmare'
whyangelinawhy -Via
This Shower Is Designed To Be As Hard To Stand In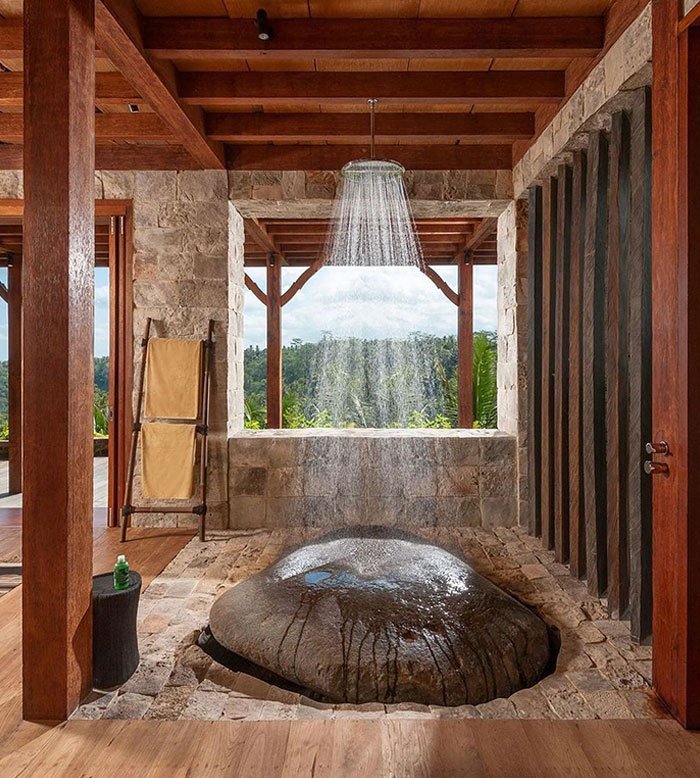 Djuna Ivereigh -Via
'Today, My Mom Hit Her Toe With This And Was Bleeding. I Hate This Kitchen So Much'
reemathenerd2 -Via
Imagine A Drunk Person Peeing In This Toilet
The Yin Yang Couple Bath Tub Looks Like Being Married For 10+ Years
trautwein -Via
The Unrequired Single Square Inch Of A Carpet With Lining
fourskincheeze -Via
Isn't This Crown Molding Overdone?
buckleybuilds -Via
One rule of designing is to keep things simple. Simple yet classic designs are easily understood, visual, and undeniably practical. But then, quite a fraction of interior designers have thrown into trash cans the rulebook of designing a space, and now, bad home interior designs are gradually becoming a thing. Beautiful designs have to be creative, useful, and self-explanatory, but once space is over-designed, it can instantly create confusion of both forms and colors.
The Pinkish Kitchen Style
DrFetusRN -Via
Both The Sink And Microwave Space Is Shocking
aprilcotz -Via
'My Uncle's House Got A Bathroom Without A Door, The First Thing You See When Enter The House'
muurilin -Via
The Steps You Can Hardly See
Paarnahkrin -Via
This Kitchen Is Designed By A Sofa Maker
At Least You Don't Have To Stretch To Get A Toilet Paper
henryfranks -Via
All That's Required Is A Soda Fountain And A Jukebox
Czechs_out -Via
Here's An Under-The-Stairs Bathroom. The Toilet Is Diagonal And Partially Installed Into A Carpeted Wall
dbqbbq -Via
And Up The Drain, The Water Goes, Right?
Winsthorne -Via
There's A Wood Separating The Hallway In Half. Is It Necessary?
a-random-pasta -Via
Planet Earth will a boring place if everything in it appears pleasant and sophisticated. Bad interior designs tend to grab people's attention naturally, and so far, it's become a subject for laughter and fun. Nonetheless, upcoming or amateur designers should learn to do away with unnecessary things, especially as outstanding requires a great sense of creativity and tiny details.
The Fridge Fits Like A Boss
waconcept -Via
Friend Finished A Kitchen Remodel And Here Is It
SirCadwaladr -Via
Shower Has Blinds Instead Of Curtains
TrixoftheTrade -Via
The Stairs That Leads To A Bedroom Loft
zillow -Via
Hand Washing Sink Looks Creepy At First Glance
Imagine The Outcome When This House Shakes Up
Pashunder -Via
The Middle Class! The Lower Class Fridge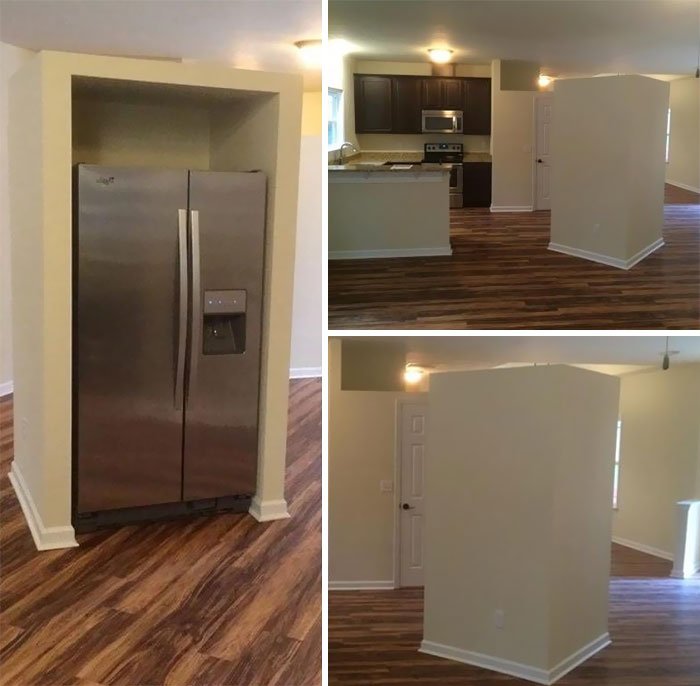 AcousticHigh -Via
This Is A Doorway And Not A Mirror
daekaz -Via
Here's The Almighty Toilet For Kings And Queens
How Do We Go About With These Stairs?
IsItKandar -Via