Adem Waterman is just a guy living his single life in London. Because of the pandemic, of course, a lot of things will happen online and through sending cards. His cool mom decided to ask Adem out of consideration if he'd prefer to receive a card from a boyfriend - which Adem obviously said no to. Just write mom as every normal parent does, right?
But his conversation with his mom on Whatsapp went viral quickly because of the burn he gets right after that.
Moms really know how to burn their kids in the best way ever.
ademwaterman -Via
"No boyfriend. You can just my name on it," Adem replied to his mom.
"Okay, will do. Do you think it's your personality or your looks?"
The question was obviously directed towards why Adem is still single with no boyfriend. After an exclamation from Adem, his mom didn't stop and continued, "Well, your brothers and sisters have partners. X"
Adem (left), shared his conversation that a lot of people relate so much to.
ademwaterman -Via
It's Christmas, one of the most dreaded holidays for singles when the family gathers and starts asking if you're still alone. Else, they'll start treating you like you're not legit - where's your partner?!
ademwaterman -Via
The tweet has gone viral, racking more than 66k likes. Adem continued to tweet hilarious reactions on his tweets and reminded people not to be brutal to his mom. On further comments, Adem shared that her mom is a cool person and that she would never be homophobic, calling her "pretty f***ing ace."
People shared their own accounts of when shades were thrown on them by family members.
BeeFlownFar -Via
jessicarayner -Via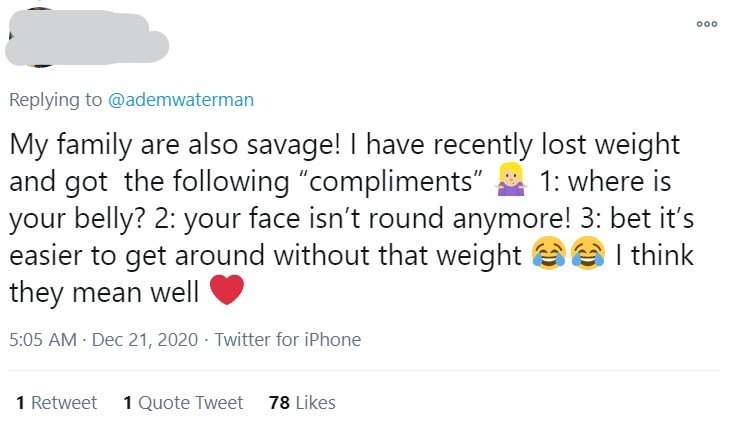 lynsh87 -Via
RezzyGhadjar -Via
RoganJoshh -Via
LadyMarmalard -Via
One person noted that it could be the missed call that prompted her mom's brutal comment.

pronouncedsham -Via
....to which Adem's reply, was not a complete mistake.
ademwaterman -Via
And we hope Adem will have a bit of better luck in 2021; you really never know!