The effect of makeup is remarkable! Women have been wearing makeup to complement their features and to appear more attractive. Makeup might not heal face wounds, but it can help people live with it. A little bit of foundation, pencil, lipstick, mascara, and concealer is pretty much everything a busy modern woman needs to do her everyday makeup routine. Makeup does make women feel more empowered as it gives them a sense of fulfillment. Accordingly, it boosts confidence, and it's all about self-love.
Every bride across the globe dream of appearing gorgeous on their wedding day, and there seem to be something breathtaking about bridal looks. Artist Zunaira, a beauty guru, believes in empowering women with the assistance of makeup. The makeup artist has, over time, been giving makeovers to brides, and there are satisfyingly striking. Zunaira's clients tend to feel like queens on their special days, and you can't help but be in awe when glancing through her works. We've compiled her 24 newest, and they're guaranteed to fill your day with beauty.
More Info: Instagram
#1
#2
#3
#4
#5
#6
#7
#8
#9
#10
With over 19K followers on Instagram, Zunaira's incredible work doesn't only transform her customers' appearance but equally uplifts their confidence as well. Looking at the before vs. after shots of her subjects, the artist's huge Instagram following shouldn't come as a surprise. Makeup has proven it improves the look and hide imperfections that shouldn't define one's personality. It's indeed a form of self-expression as more women are experimenting with their appearance and diversifying their looks using the magic of makeup.
#11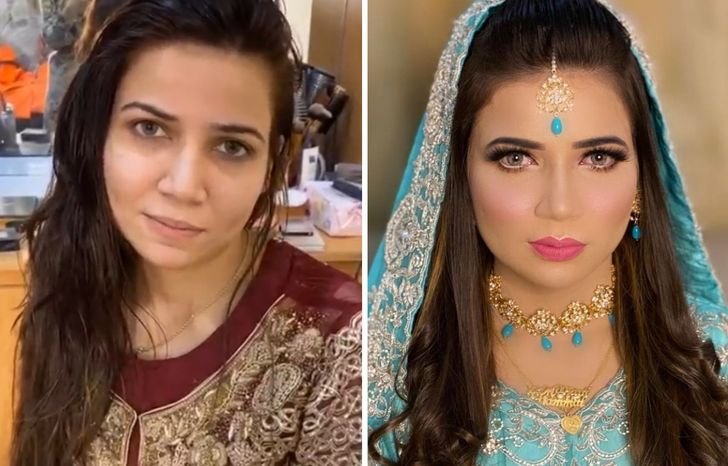 #12
#13
#14
#15
#16
#17
#18
#19
#20
#21
However, the beauty industries have caught up with the trend in their favor, launching the widest choice of various products to make our skin look young and flawless, our imperfections entirely invisible, and our lips plumper and sexier. The more innovative and life-changing these products are, the better the makeup world gains more followers. Besides, with a glance through these compiled photos, you can attest makeup is a real beauty changer!
#22
#23
#24