It's so sad to see that in a time where we should be accepting towards everyone, representations for minorities and different kinds of bodies are lacking. Girls grow up watching beautiful princesses who are mentally strong and brave while remaining kind and loving towards all. But one thing that's been bothering some women was how these princesses would have the same kind of physical body appearance.
Disney cartoons do depend on the art style of the cartoonists, hence some characters like Elsa can look very slim while others like Moana and Merida look a bit chubby and plump. But the fact remains that none of them had looked like a real-life plus size human being. They look 'ideal' in their own ways.
More info: Instagram | Youtube
#1 Jasmine
flashesofstyle -Via
As such, influencers of plus-size models united on Halloween to share awareness. Natasha Polis wrote, "21 influencers dressing up in our own style as beloved female Disney characters." They call this the 'Plus Size Princess Project.' The project is very inclusive, showing people of all kinds of backgrounds and skin color in particularly plus-size, standing under the spotlight as a beautiful princess of their dream for a moment.
#2 Esmeralda
flashesofstyle -Via
#3 Megara
readytostare -Via
#4 Rapunzel
sassyredlipstick -Via
#5 Cinderella
roseybeeme -Via
#6 Alice
ashleerosehartley -Via
#7 Mulan
magicandmarie -Via
#8 Sleeping Beauty, Aurora.
heathertraska -Via
#9 Kida
bibbidibobbidi_broke -Via
#10 Moana
curvesbyzo -Via
#11 Elena
madebymagic_designs -Via
#12 Belle
tashapolis -Via
#13 Tinkerbell
glitterandlazers -Via
#14 Anna And Elsa
huntermcgrady, michaelamcgrady -Via
#15 Snow White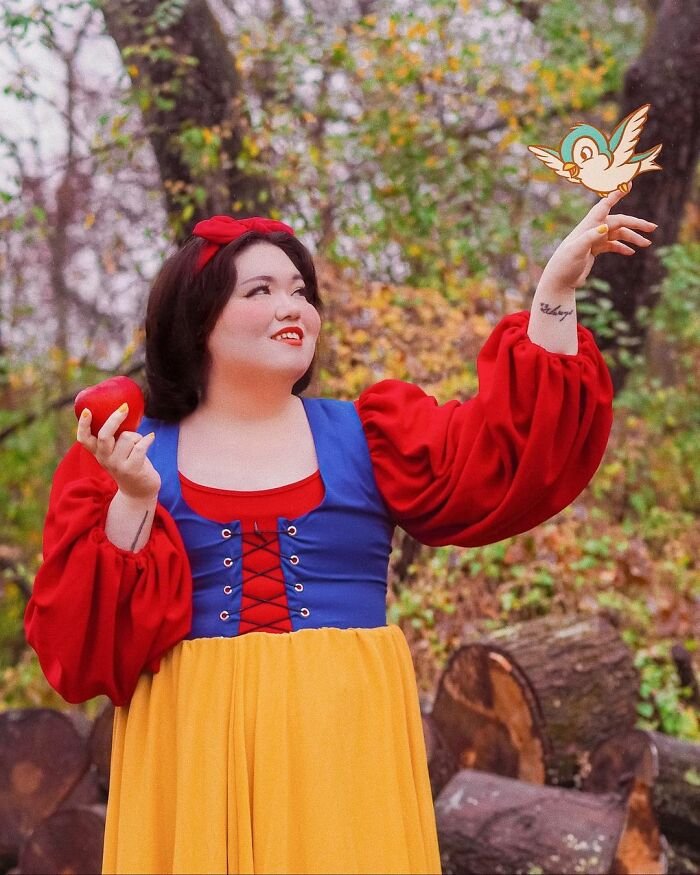 monicakim.jpg -Via
#16 Merida
tonsablush -Via