The second child is harder on a mom than dad, are you aware? The excitement and love a firstborn bring into families are beyond a measure. Expecting a second child is equally rewarding and memorable as the first one. When awaiting a second child, many things are considered, significantly assisting the older child in understanding what to expect. However, having a 2nd child and handling both the first/second can be genuinely overwhelming. Accordingly, being all organized before the child is born might be challenging if there's already a toddler. You will get busier, and your organized schedule will undoubtedly be stretched beyond the limit.
Brace up for inevitable tiring moments as caring for an older child while also being pregnant requires adequate energy. The first six to eight weeks are particularly demanding, and these comics by Artist Weng Chen are satisfactory proof. Weng is a fantastic artist, and interestingly, she's a mom. Living in the United States, Weng and husband have two daughters Ali and Electra. Having gone through the pregnancy journey to giving birth to them, Weng decided to illustrate her experience, which perfectly sums up the difference between the 1st vs. 2nd child. We've compiled 16 of her newest, and they're worth learning from. Have a look!
More info: Facebook
The First Day Of School
A lot of things are quite powerful when it comes to parenting. A child's first walk and words hugely thrill the hearts of many parents, and a few are left in tears. Accordingly, the 1st day of school for a first child records a milestone, and regardless of how disciplined a parent can be, emotions are bound to play real good. The first day of school for a second child seems much more comfortable than expected, as it mainly involves happy moments.
The Baby Photos
Every couple looks forward to having kids and placing their framed photos on the wall to see them everywhere. This is certainly a reality for the first child, and indeed images are placed around for visiting family and friends. This isn't the case for a second child whose photos are kept on the phone, particularly on Cloud.
Parenting
You will agree that all sorts of technological devices are restricted for the first child as they believe they are bad influences. Programs are usually under parental control, and all kinds of early learning are hinged on just toys and on quality time spent together. Things certainly get less restricted with the second child, and of course, children's movies are considered a great helper.
The Early Learning Activities
As a first-time mother, being all bothered about your child remains inevitable. Many efforts are put into action, including taking swim lessons and yoga classes, among others. For the second, even a grocery store is an educational ground for studies. The achieved grades with firstborn end up becoming the opposite. Every second-time mom knows this.
The Inspiration Phase
Mom, during the first child phase, is naturally creative, finding answers to almost everything. Mothers become a big-time book reader due to curiosity. 2nd-time mothers know that the perfect solution to every child's troubles is to chill out while waiting for the phase to pass. No books are needed with a second born.
Wallet
Like the aforesaid, photos of newborns are kept practically on any available space and even in the wallet. Some mothers use their first child photos in their purse, and expectedly it remains for a lifetime. The second child isn't lucky with their image in a wallet or purse. The first child picture remains, especially as parents often forget it needs a change.
Toys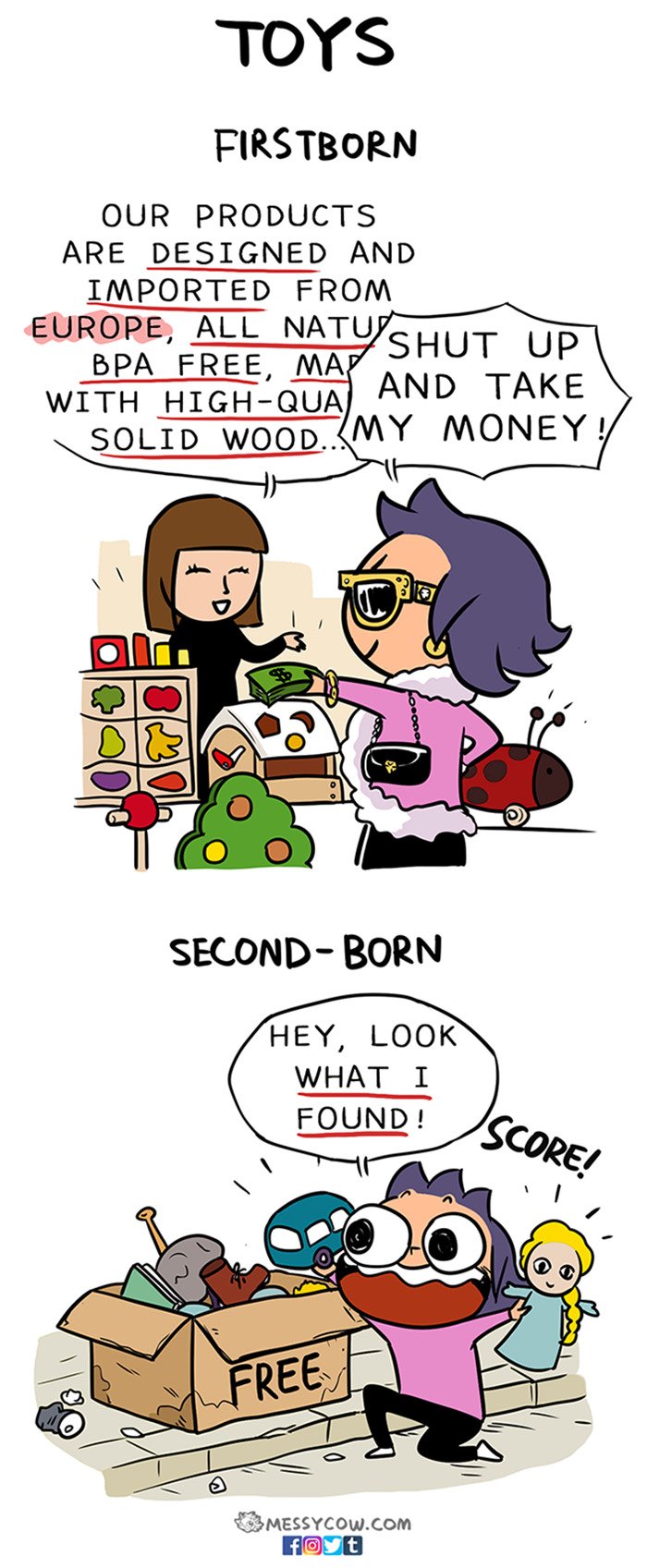 Imported toys and designer items are purchased for a first child. Every parent prefers to go extra lengths or perhaps spend out all of the monies they have to satisfy and meet their child's needs. The second child isn't always fortunate as old toys from the first are transferred over. Similarly, free toys or less expensive toys from thrift stores are mostly purchased for a second child. This needs to change!
The Child's Progress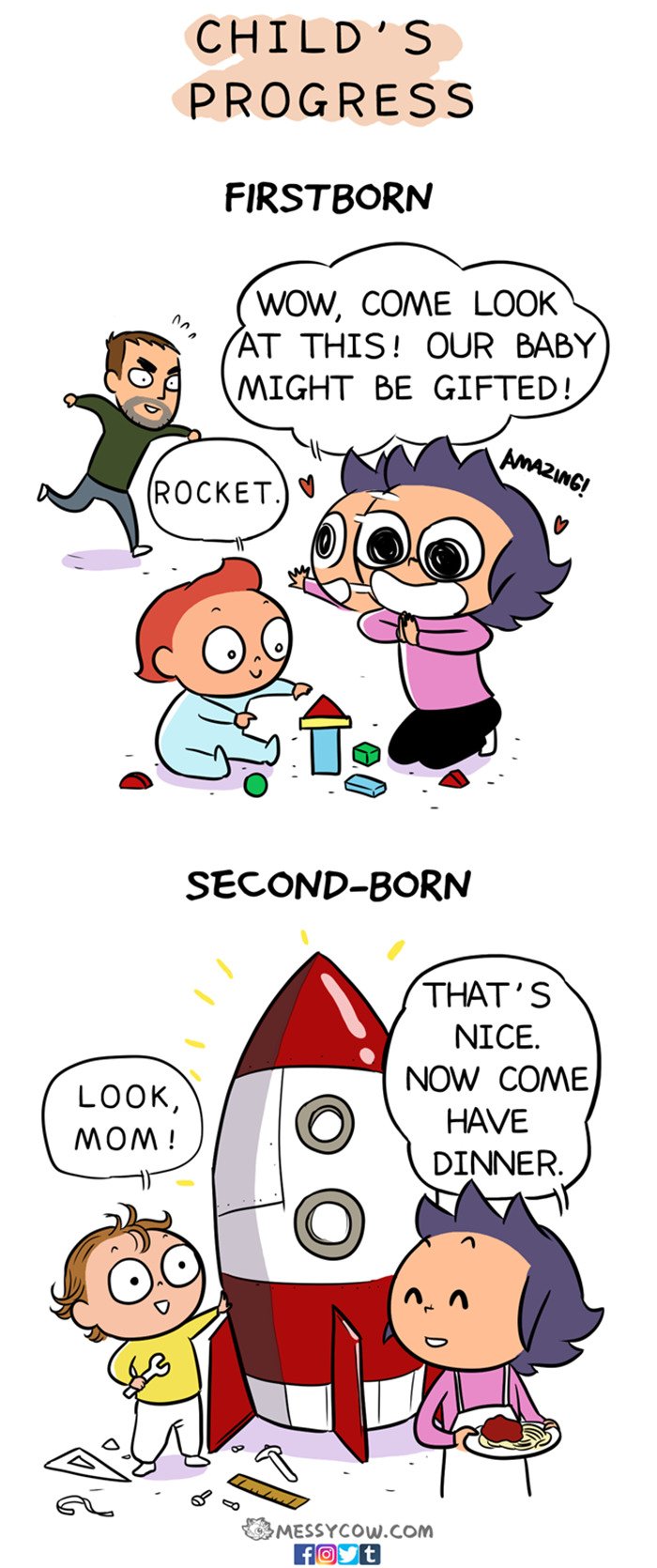 Every activity of the first child is considered a genius, but this perspective for a second-born is different. It's cool to build up anything around the house as a first child, but it's not everything impressive with a second child. It has gradually become a norm, but don't you think there's a need for a change of perspective?
You Are Pregnant
The joy that comes with knowing you're pregnant is contagious. When the news for a first child is announced, the happiness is downright out of the world compared to when the information breaks the second time. Every child is indeed a blessing, but it appears announcing a second child is somewhat less exhilarating for a few sets of people.
The Healthy Pregnancy
'I want to eat healthy meals filled with high protein and low carb' is the first mom's continuous anthem. Many food preparations are put in place, and it is a phase some meals are forbidden, all in an attempt to have a healthy baby girl or boy. 'I will eat whatever I so desire' is also the anthem for a second-time mom. Food preparations are avoided, and of course, everything seems best for consumption.
The Falling Ill Phase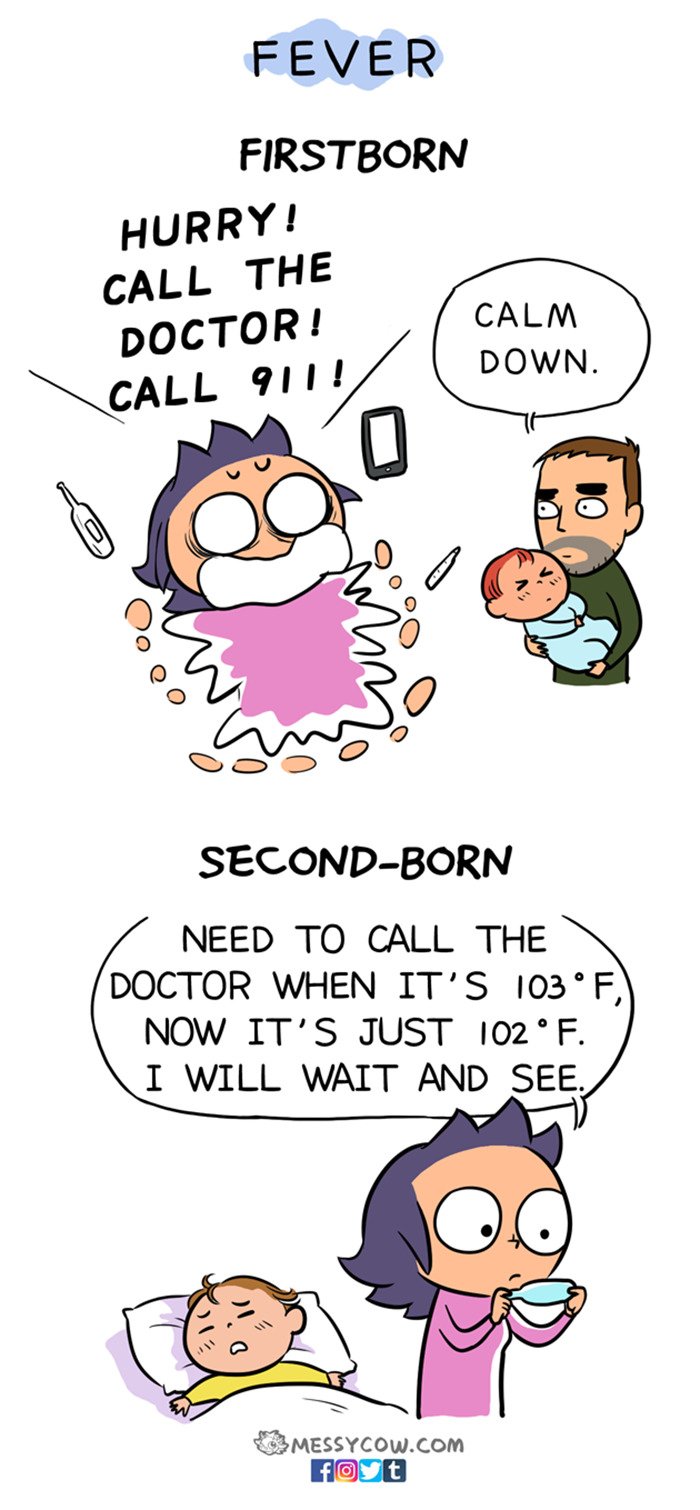 When a first child falls ill, it's perceived that the world is ending. It's a challenging situation for every first-time mother to accept that all kids get sick at a point or the other. Even when a home is gem-free, can a mother control the effect of our changing weather? Life isn't threatening with the second child, mostly as it learned that illness requires just time and medications to be better via the first child.
The Hygiene
Which mom isn't freaked about her first child? Being the first implies no germs will come near you. But for the second, not so many germs will near, but they, of course, will. The build of the immune system becomes a crucial thing when baby number two arrives.
Parenthood Gives Status
Don't you want to get high treatment when pregnant? During the first pregnancy, being treated like a queen by family loved ones and even husband a phase to look forward to. But when a mom with a toddler becomes expectant of another, it results in an overload of work. Toddlers are not bothered about treating their moms like the queen they are supposed to be.
The Everyday Dress Clothing
Clothing and firstborn share quite a bond as every first mom enjoy changing their baby's clothing everything. Designer outfits are even purchased, and interestingly, these preparations are done before the child is born. The second-born isn't all lucky as clothes are transferred down for new ownership. 'She can wear some of her sister's clothing' become the new theme.
The Nursing Stage
Moms get all creative with breastfeeding, and the fable that breastfeeding doesn't hurt is overlooked for the firstborn child. Baby No 2 tends to get feed with the right formula for babies. A mom gets all tired and stressed out about milk production, and even if a mother breastfeeds, it's done within just six to eight months.
The Fresh Food Feeding
The first-time mom is recognized as organic chefs who can go to any length to cook nutritious homemade meals for their child. This disappears with baby No. 2 as leftovers, baby formulas, and chicken nuggets from the fridge become the perfect meals.