The fear of spiders is incredibly common and they're recognized to be more disturbing than even bugs. A lot of people can't help it but squash spiders at a glance. Ever found a spider in your headphones or clothes?
Turned out, a plumber, identified as Olly Hurst found a huge huntsman spider in headphones after he felt ticked in his ears. Olly, who's based in Perth had put on the headphones amid work and was indeed left shocked at finding the huge spider.
olsta05 -Via
Immediately, Olly turned the headphones around and started shaking them to get out the huntsman. The arachnid didn't, however, budge as seen in a shared clip. He continued to shake it, but the spider stayed still. 'I knew I could feel something tickling my ear. It doesn't want to come out, guess he's happy in there.' Hunt said in the background of the clip.
The clip ended with Olly laughing as he drops the headphones and walked away. Reacting, some internet users opined he should have burnt it while a few admitted they would purchase a new one than reusing the headphones.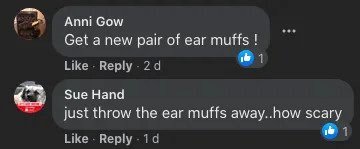 'Get a new pair of earmuffs.' A user commented. A second added: 'I would be doing a dance and firing those ear muffs as far away from me as I could throw them.' While a third stated: 'Just throw the ear muffs away. Quite scary.'
Nevertheless, spiders tend to strike fear in a lot of people and huntsmans are slightly docile as well as bite when influenced to. Huntsman's venom isn't deadly but can cause both pain and discomfort. Likewise, they prefer to hide and not run away rather than become aggressive.