A personal trainer and fitness blogger has shared two side-by-side photos to address women comparing themselves to bodies on social media. Anjuli Mack, 26, with over 135k followers on Instagram admitted the photos were taken seconds apart, but of course, a lot of would have felt it's a before and after.
The Harsh Reality? Having Layers Of Fat When Sitting Down Is Completely Normal
anjuli_fitforlife -Via
'Companies appear to prey on people desperate for a quick solution but in reality, this is simply puffing out and sucking in.' The fitness coach captioned her photo. She equally admitted that her side-by-side photos are used a lot for advertisement, adding that it happens almost all the time.
Anjuli Overeats Amid The Pandemic! Here's Her Photo Getting Back In Frame And Losing An Estimated 5.4kgs
anjuli_fitforlife -Via
Accordingly, Anjuli explained she often get DMs from followers asking how to stop having things like rolls of skin when bending over and why tummy appears bloated. 'I actually never get exhausted by educating all of you. I am readily available to assist as much as I can.'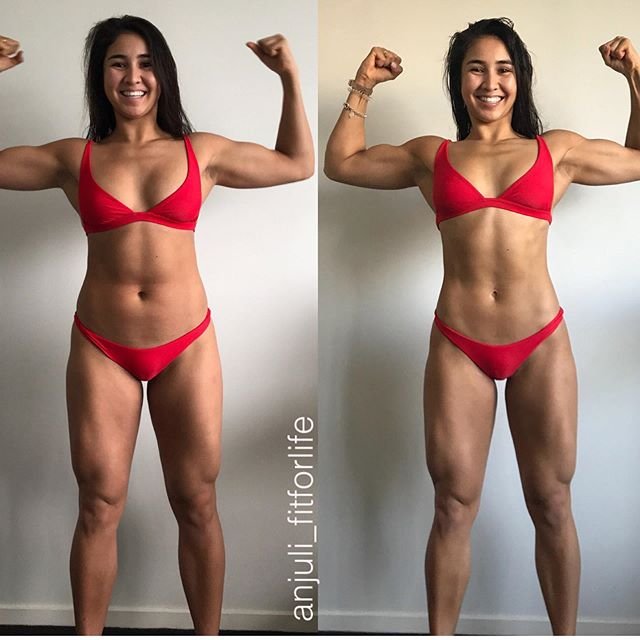 'Self-love is very important and always be kind to yourself. Years from now, you won't be bothered about the occasional night you fell off the diet with friends or perhaps the holiday with the family where you felt bad for eating at a breakfast buffet. You will want to remember the lifetime memories around your loved ones.' Anjuli added.
This, however, is coming from a woman with experience in bad body image having tried all sorts of diets and exercise plans. Currently, she promoting health and body positivity, and here's what she also wrote about personal development and self-love.
'How you appear doesn't make you a better being than someone else. Judging someone else doesn't make you any better than anyone else. What actually makes you a better person? Being kind.'