Do you have a photo that you'd like to alter? Whatever your request is, Photoshop Expert James Fridman can be of assistance. Dubbed 'King of Photoshop, there's absolutely nothing Fridman can't do.
The artist has become a famous one for making the funniest photo fixes and perhaps has proven he's not running out of ideas any time from now. As long requests keep submitting, James doesn't worry as he's filled with materials for his hilarious edits.
Interestingly, Fridman adhere to people instructions and that's why his photo manipulations are hands down hilarious. While he receives requests via Facebook and Twitter, Fridman has equally proven the Photoshop can make any photo pretty much anything you desire, including erasing wrinkles on the face.
Still abiding by people's instruction, here're are his recent trolling. Brace up for a good laugh-out-loud and if you do wish to remove your ex from a photograph, Fridman is the right professional editor. Enjoy!
More info: James Fridman | Twitter | Facebook
#1
#2
#3
#4
#5
#6
#7
#8
#9
#10
#11
#12
#13
#14
#15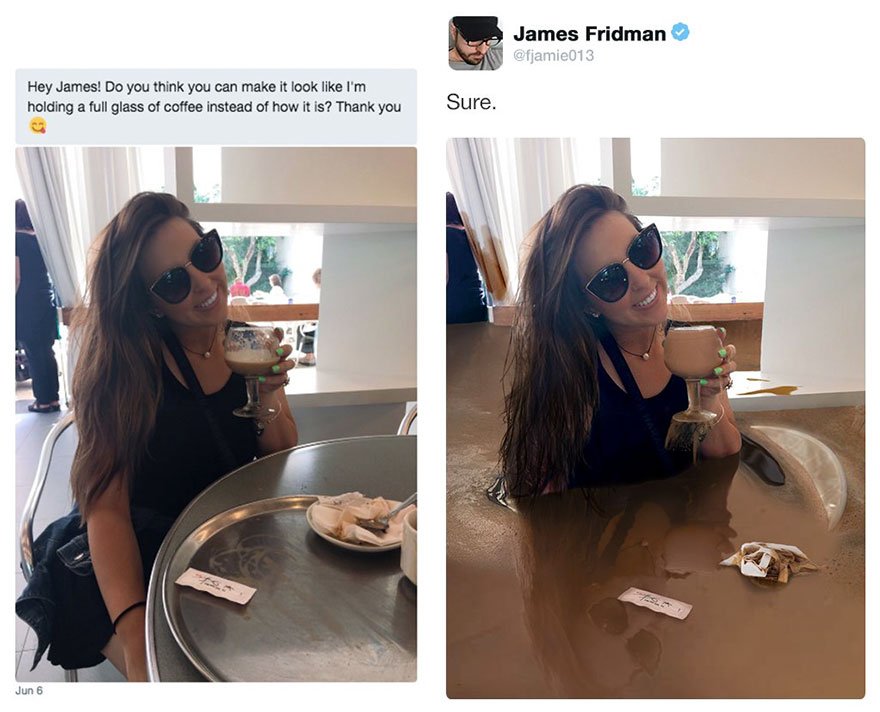 #16
#17
#18
#19
#20
#21
#22
#23