What is life without a four-legged companion, especially dogs? Most homes have them as pets, but did you know that the discomfort dogs experience when bred as a dogfighter?
German Artist Jenny Jinya has been bringing to her over 311K followers serious problems that both wild and domesticated animals go through in our today's society.
From the popular black cat comics, the terrifying circus act, an abandoned bunny to the family of ducks sequel, Jenny's comics portrays the harsh reality of how cruel humans can be to animals.
Her series, dubbed 'tearjerkers' tend to stick with readers for days and sometimes even months. Here again, she's back with a heart-melting strip about a dog born to be bred as a dogfighter. 'I'm deeply sorry it took this long. This sequel was extremely painful to draw.' The artist captioned the latest series.
More info: Facebook | Instagram | Twitter | Jenny-Jinya.com
Artist Jenny Has Released A New Strip Displaying The Cruel Practice Of Dog Fights
Jenny inspiration for this sequel resulted from her concern over the extremely negative stigma, some dogs have in our modern world. Admitting dogs are the sweetest animals ever, Jenny was knowledgeable that pit bulls are forced to fight, endure serious injuries and interestingly are partly stolen from normal households and trained.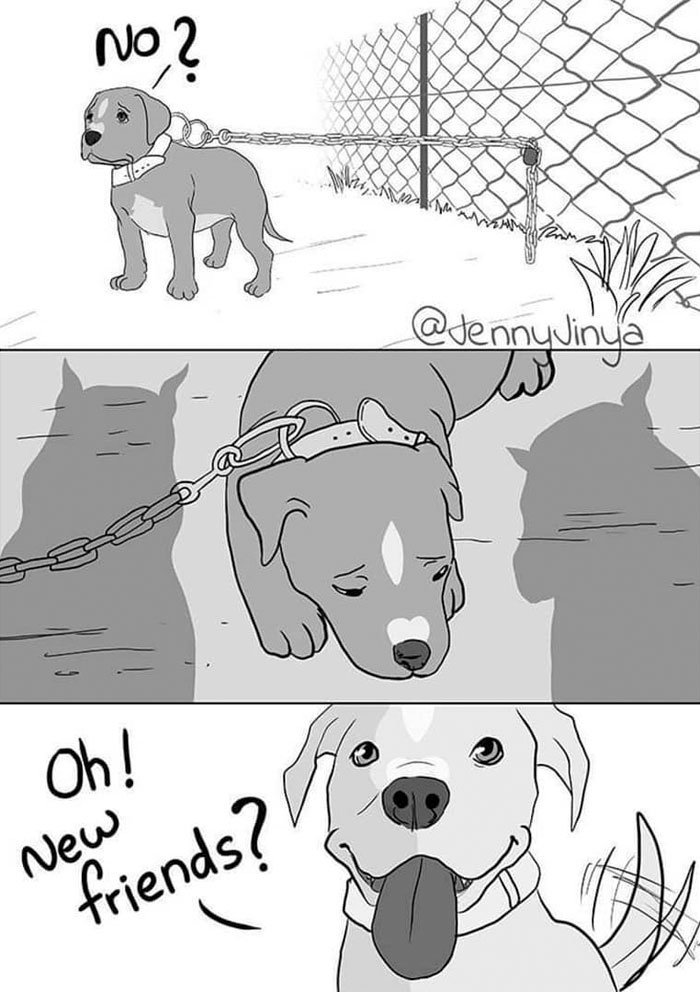 The animals who had hoped for a family filled with love are taken away into a universe of loneliness and violence. The German illustrator went on to confess that the more she digs about the bloody sport, the heavier it became in her heart.
Turned Out Jenny Was Lazying Around The Sequel As It Was A Painful One
jenny_jinya
People Reacted Positively To Jenny's New Strip: