Just because some of us are allowed to go out by the regulation, doesn't mean we're free to enjoy a cup of coffee at a crowded cafe again. Businesses are reopening while respecting and following social distancing rules. From providing hand sanitizers to using dividers on joint tables, these places have different ways to keep everyone safe while keeping their businesses aloof.
We will get through this together and in order to do that, let's support our local small businesses by making takeaway orders or shop online. If you have to be there in person, make sure to respect social distancing and don't forget to wash your hands with soap for a full 20-second!
#1 This is a UV Sanitizer at the gym to clean phones.
QuickTake -Via
#2 This a classroom at Yangzheng Primary School in Hangzhou. They wear one-mete hats to keep social distancing.
SixthTone -Via
#3 These barbers wear full suits while cutting hairs.
#4 Students in China eat with dividers between them.
ThaiPBSNews -Via
#5 The pews are taped off to keep people from sitting together in Spain.
#6 This private club has temperature check at sign-in.
JoyceLauNews -Via
#7 UV sterilizer on this escalator's handrail in Hong Kong.
ceowin -Via
#8 This restaurant in Spain posted their menu on Instagram.
#9 A local chain restaurant in Beijing does this to maintain social distancing.
yufengzhang -Via
#10 Stand behind yellow line and a 2-meter horizontal distance has been added.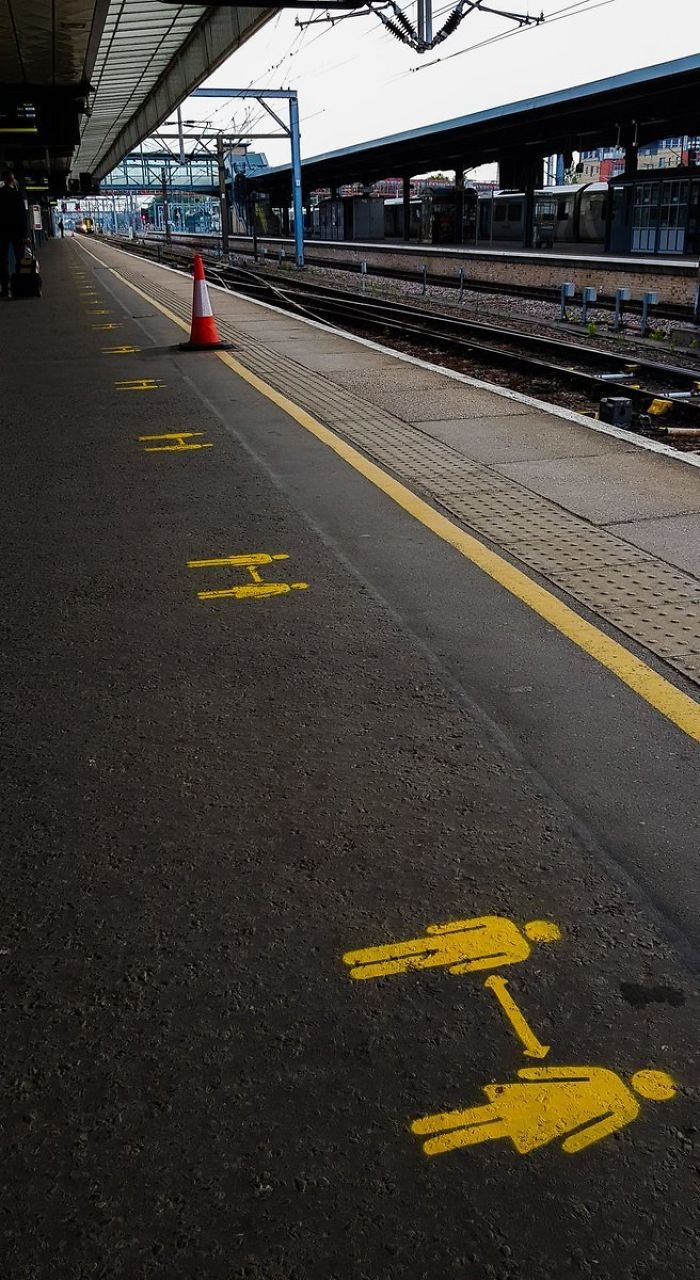 EurostarJustinp -Via
#11 As kids go back to school in China, they go through these steps to maintain hygiene.

Mantas Kačerauskas
#12 The robot delivers food in this Beijing restaurant.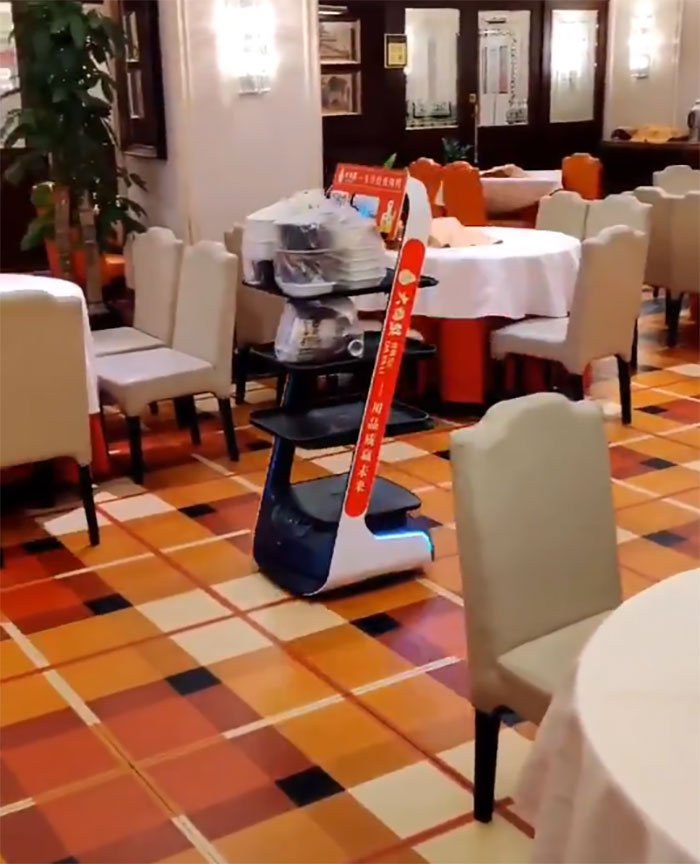 yufengzhang -Via
#13 Kings Heath and Erdington High Streets are making more space for pedestrians.
bhamconnected -Via
#14 Precautions in Austrian supermarkets.
sataniscraycray -Via
#15 This Danish supermarket has handwashing stations set up outside.
fapamena -Via
#16 Plush pandas in Maison Saigon to encourage social distancing.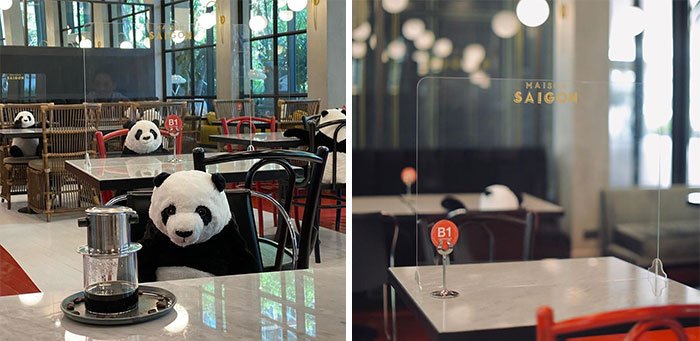 Maison Saigon -Via
#17 Starbucks in Taipei, Taiwan, has an auto dispenser for sanitizer and dividers on tables.
https://www.instagram.com/maison.saigon/ -Via
#18 Restaurants in Hong Kong offer bags for mask while eating.
natadachoco -Via
#19 This gym has dividers in between their equipment.
virginiaylau -Via
#20 Germany has shop and bar owners install spit guard between guests and workers.
Matt_Paice -Via
#21 Thermal monitor at McDonald's before taking your food.
JoyceLauNews -Via
#22 Pool noodles hat in Germany on its first day reopening (partly for fun!).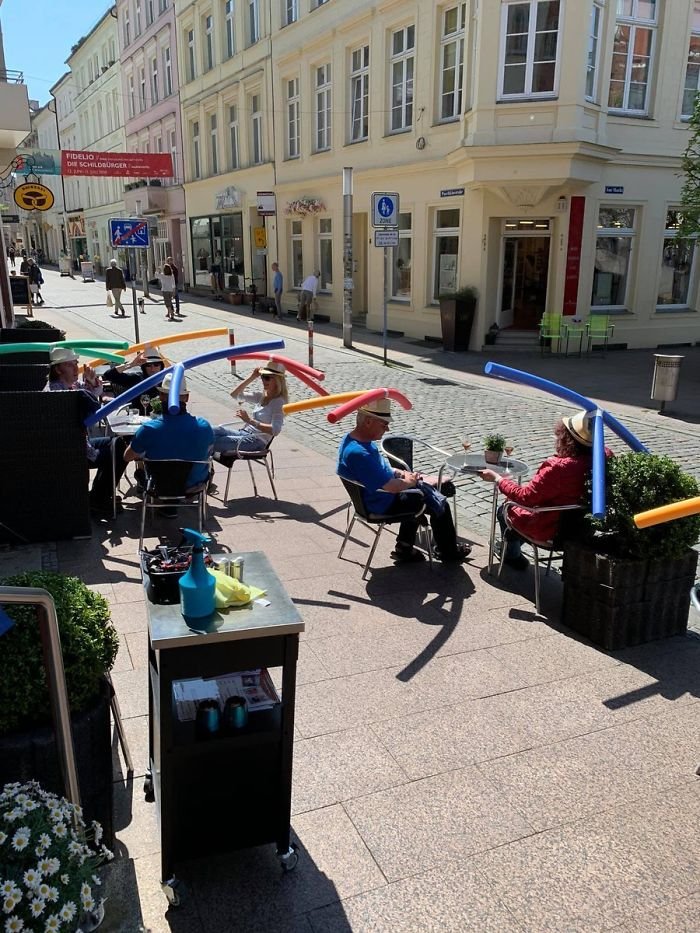 TheBCC_Org -Via
#23 This mall in Bangkok has a robot that measures body temperatures that pass by.
#24 UV sanitizer at the gym for smartphones.
QuickTake -Via
#25 This sanitizer sprays food-grade disinfectant in the air.
paddyku -Via
#26 Japanese restaurants has an acrylic barrier on the table.
Teuflisch -Via
#27 Yardbird in Hong Kong with retrofitted panels between booths.
sean dix -Via