The online sales of furniture were as high as $200bn in 2019. Anyone who has done repairs in their homes and apartments knows how much money can cost for the simplest things.
The people from today's compilation has, however, brought new life to their old furniture: they cleaned, polished, re-painted and decorated. Now, even the oldest tables and cabinets after a little bit of touch appear awesome after a little bit of work.
Bright Humanity was motivated by Reddit and Twitter Users who have proven that even the most ordinary cabinet can transform into the heart of a home when a skilled person does the right thing.
#1 'I Saved This Side Table My Neighbor Left On The Curb. Spray Paint & New Hardware Made It Feel Like A Brand New Piece.'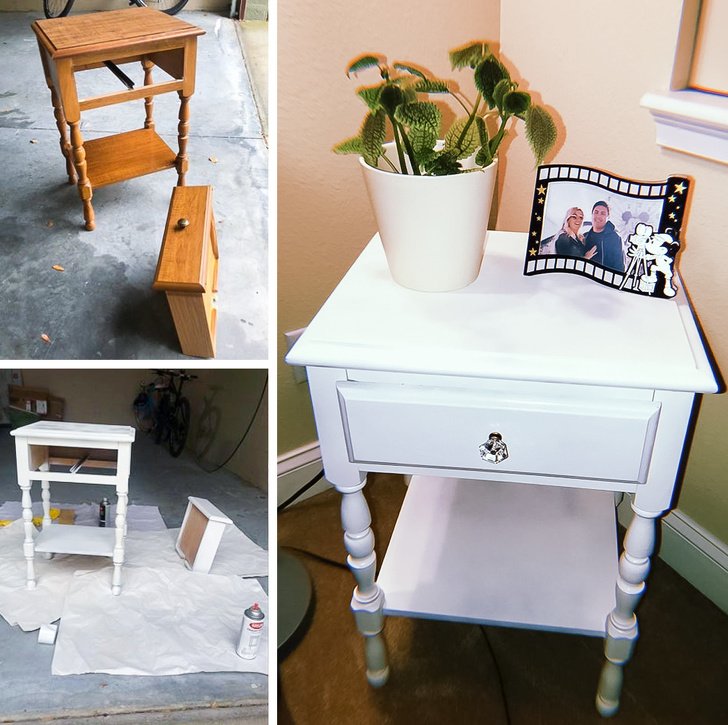 © flashbulbsburst / reddit
#2 'Upcycled This Old Sloping Roof Cupboards'
© Mememasteryoda / reddit
#3 'A New Breathe Of Life For An Old Cabinet'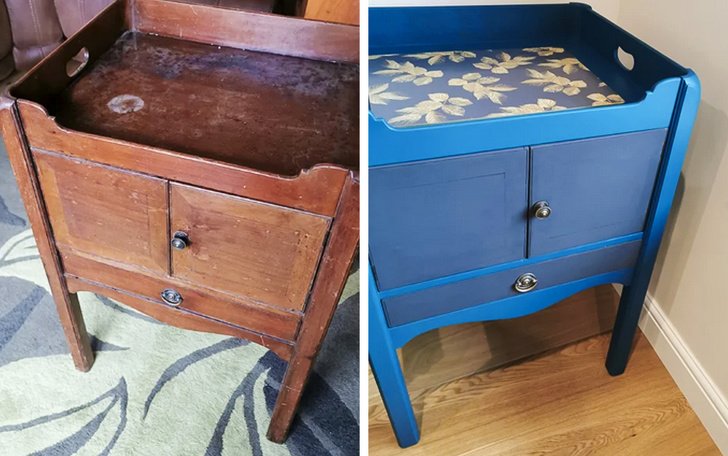 © Honestly_Red / reddit
#4 '$10 Student Desk From Thrift Shop Transformed With Paint & New Knobs For My Kid'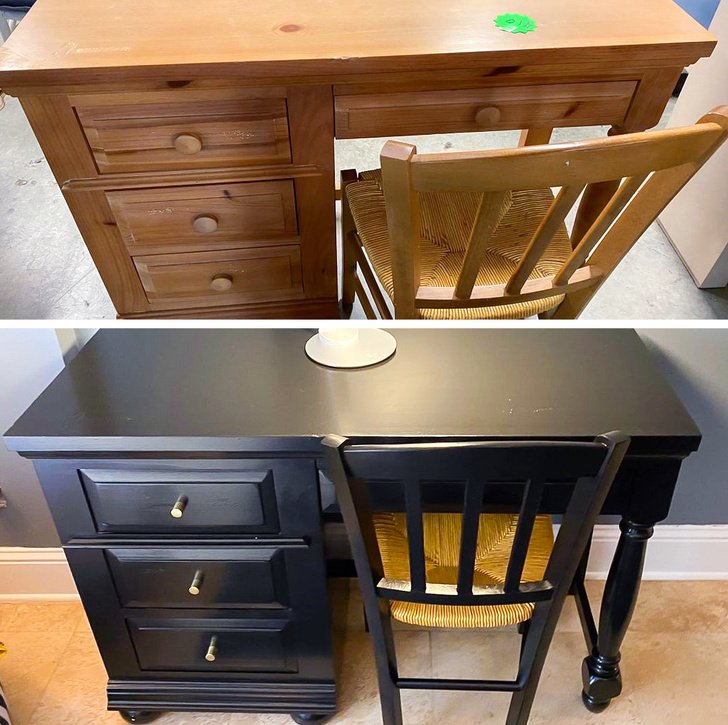 © robinbiro / reddit
#5 'The Magic of Sanding And Paint'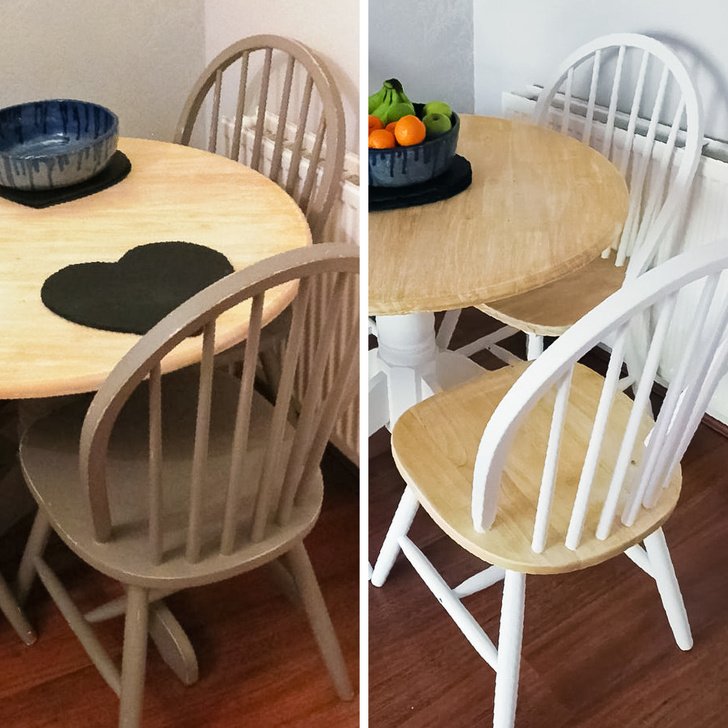 © Chamerlee / reddit
#6 'With $20, This Dresser Became New With Paint & New Knobs'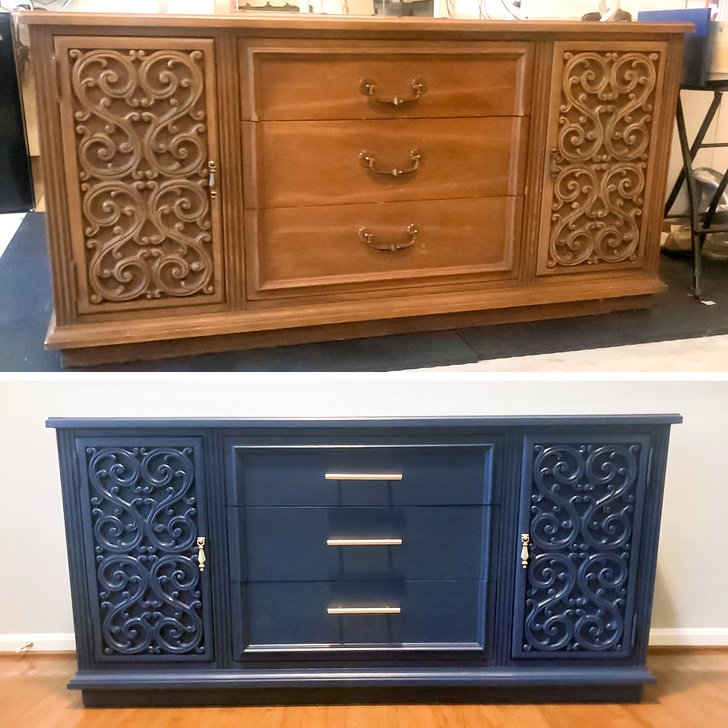 © milavamak / reddit
#7 'Upcycled An Old Particle Board Table Into A Chest Of Drawers'
© CopperTop345 / reddit
#8 'Kid's Kitchen Made Out Of An Entertainment Unit Found On The Street'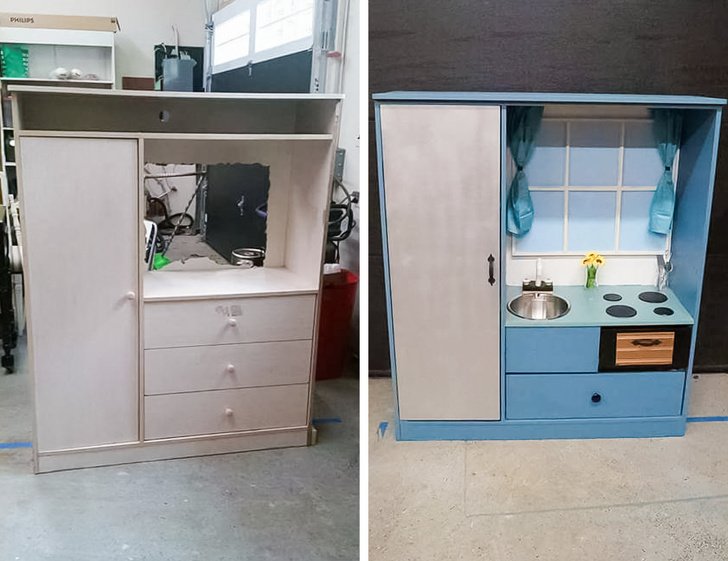 © ShoelessJodi / reddit
#9 'Old Telephone Chair Found In The Trash Transformed Into A Beauty'
© deedeesdumb / reddit
#10 'Family Rejected This Cabinet, It Was Going To Be Donated, But With $2 Contact Paper On The Doors, They Loved It Again'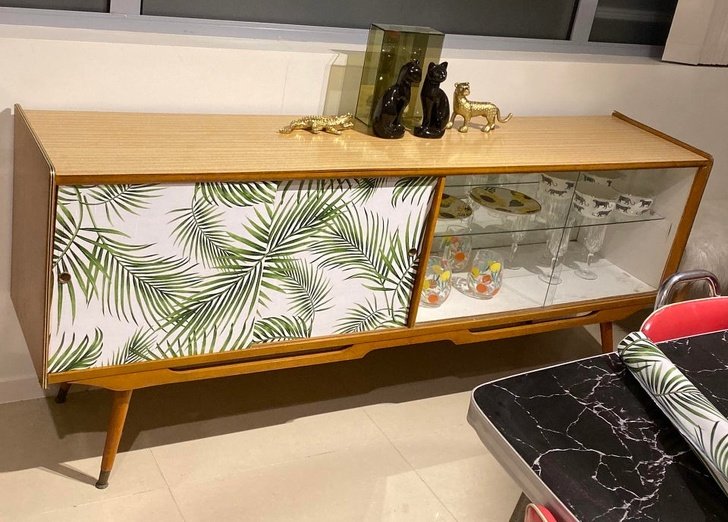 © lrnhrdng / reddit
#11 'Chose This Free Desk and $2 Chair. Repainted It Using Thrifted Paint'
© micaepistachio / reddit
#12 'Upcycled This Wardrobe By Removing The Doors & Changing The Knobs'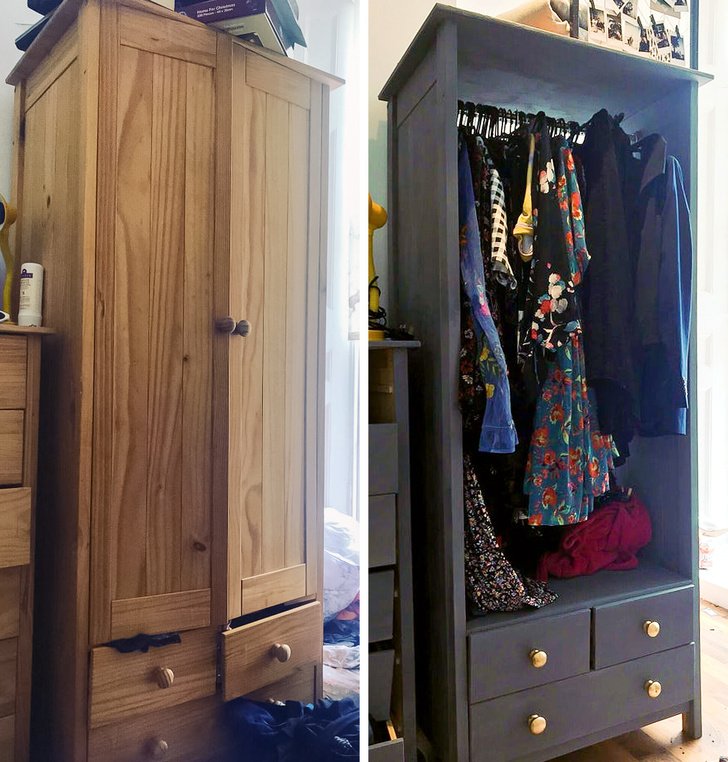 © ABC7897 / reddit
#13 'Vintage Chairs Turned Into Wall Hangers For Sisters'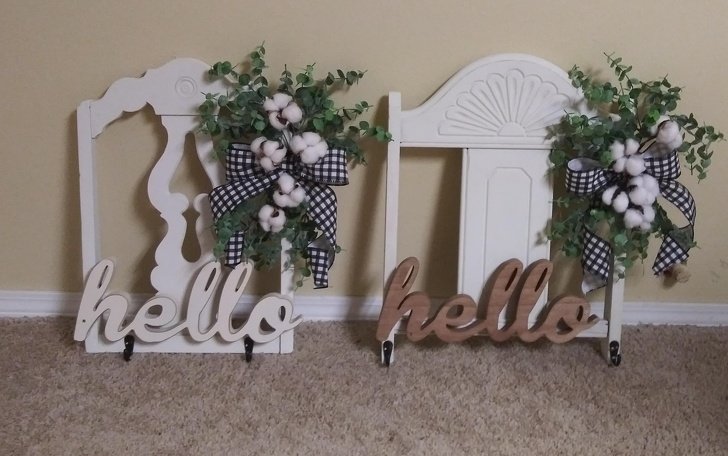 © rancid_granny / reddit
#14 'Old College Cube Shelves Made Into A Fancy Adult Dresser'
© alyssatriesart / reddit
#15 'Found This At $3, Peeled The Orange Vinyl & Added Some Paint, Casters, Cushion & Fabric'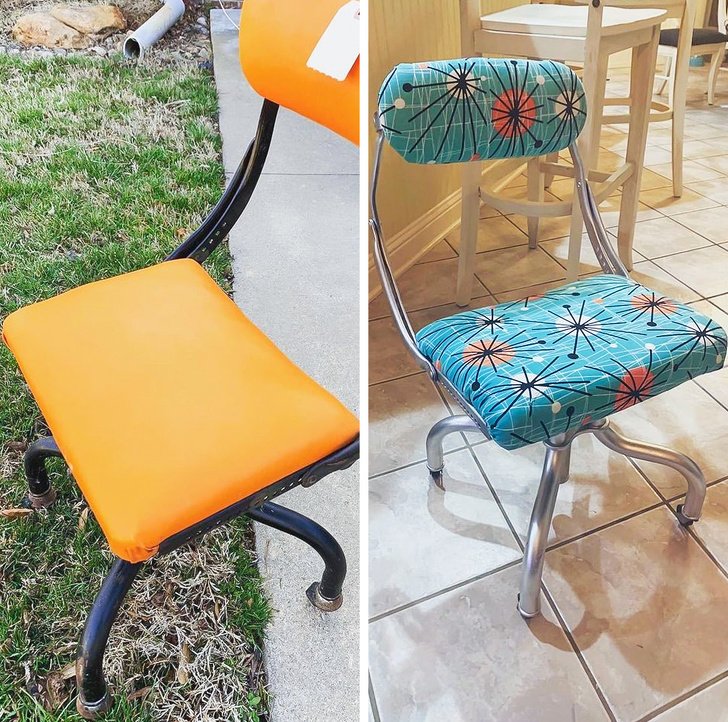 © Fatty_McButterpantz / reddit
#16 'Upcycled This IKEA Drawers To Fit In My Bedroom'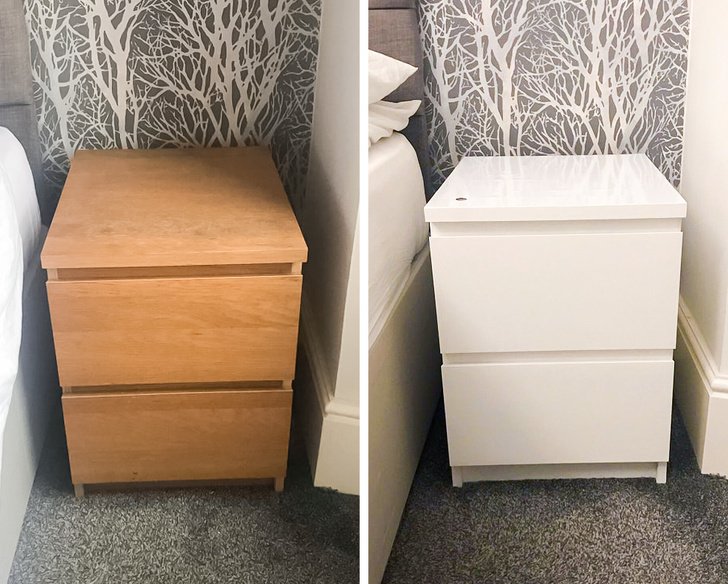 © catsnsnacks / reddit
#17 'Little Paint, Wallpaper & Few New Knobs Added'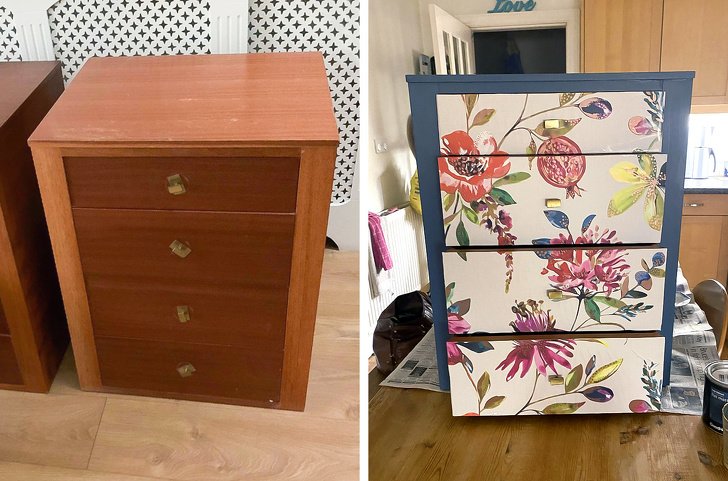 © paulaPJL / imgur
#18 Bought This Stand For $25. Here's The New Look'
© AwayInMyTreehouse / imgur
#19 'This Headrest From An Old Bed Is Turned Into A Bench'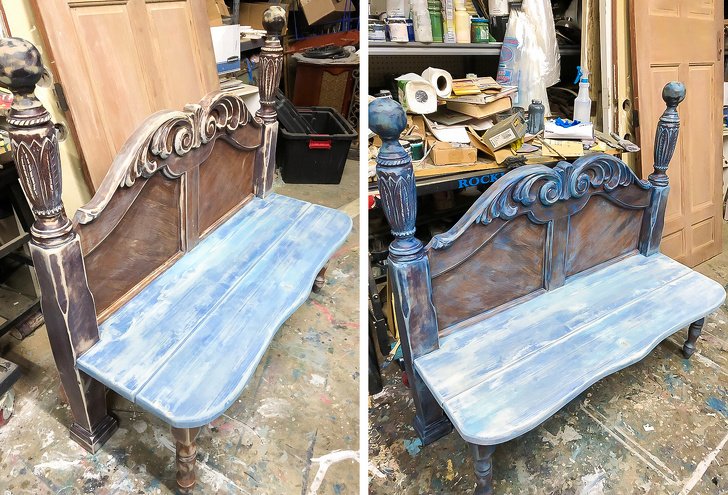 © itsatrap0 / imgur
#20 Polished Table & Chairs
© ezzagirl / imgur
#21 'The Incredible Transformation Of A Kitchen'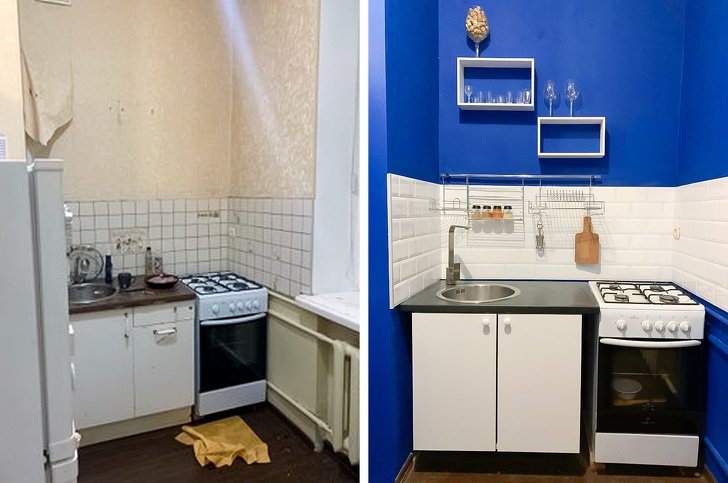 © yasakharnaya / twitter