Katy Perry has been seen shopping with a bright smile on her face for baby's needs recently in Melbourne. The 35-year-old singer could be seen flaunting her baby bump in a blue one-piece with flower patterns and light blue kitten heels.
The 'Con Calma' singer previously announced her pregnancy on her first child with Orlando Bloom last week.
Katy Perry looks gleeful as she strolled around shops with her baby bump clearly visible under her blue, green, yellow dress.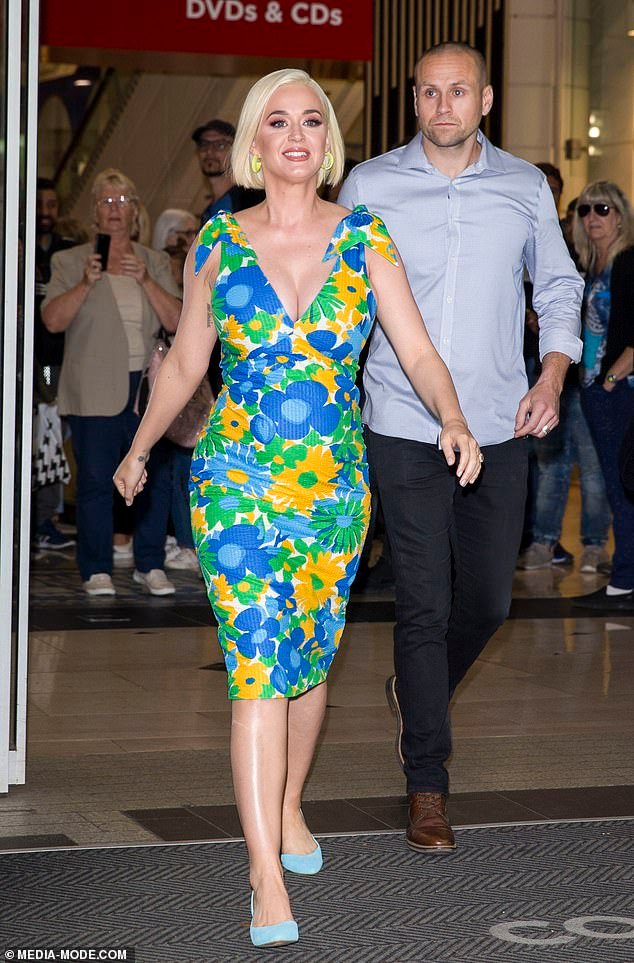 She let her short ashy blonde hair fell while she walks around luxurious brands of baby shops, taking the attention of people around her who recognize the 'Roar' singer. Her engagement ring from fiancé, British actor Orlando Bloom adorned her ring finger.
She spent about 20 minutes browsing for items and the store did not forget to post a picture of the celebrity's visit on their Instagram page!
She went into the show in preparation of her first child as well as a few things for her nieces according to the official page's caption. She also had her entourage with her and she looked especially focused on her browsing as well as proud and happy.
She had a microphone pack clipped on the back of her dress as well.
After Katy announced the big news during her performance at Women's Cricket World Cup Final in Melbourne, she also mentioned that she wished for her first child to be a girl. She also showed off her bump in her new MV for 'Never Worn White'.
She looked so excited with her shopping in the baby store and she couldn't stop smiling!
This is Katy's first child with Orlando, who already have a 9-year-old son, Flynn. Flynn's mother is supermodel Miranda Kerr, Orlando's ex-wife.
Katy Perry was previously married to comedian Russell Brand, but the marriage did not last a year. She dated Orlando Bloom in 2016 before briefly splitting in 2017. They got back together in April 2018.
We're congratulating Katy Perry and wish she and Orlando will have a beautiful family in the future!