Love is bliss. We experience love in many forms and give it away in many forms too. It consists of many things and not all of them are bright and shiny. It is the love we receive from parents, our siblings, our friends, our achievements, and most importantly, ourselves. True love is not about all those gifts, chocolates, hugs and kisses, but it is about how we feel about each other, how much we are dependent on each other, and how strongly we are bonded to each other that even a speckle of their pain feels like a mountain. It is about growing together and supporting each other in every situation. It must be two-sided and only then, it grows, blossoms and blooms.
Amanda Oleander, from Los Angeles, has a lot of knowledge about the topic and she is bold enough to showcase her emotions and thoughts about true love into her work. Her illustrations are all about those little intricate details like eating out and brushing your teeth that make up every couple's most time of the day. We put together 18 illustrations by her to show you what true love looks behind the closed doors.
More info: amandaoleander.com | Instagram | twitter.com | Facebook
#1 Love doesn't distinguish the hairy parts of your partner
#2 Random sniffs come all the way in true love
#3 Their smile would make you do anything
#4 Let your real emotions out with your loved one
#5 Magic appears when you two stay together
#6 Nothing can part you two, not even the stuffed nose of your partner
#7 Scars have a whole lot of stories to be told and that just bonds you two stronger
#8 Deciding what to eat at dinner can be forever in disguise
#9 You may wonder where all that hair comes from without even having a cat
#10 Eat whatever at home, it is a date anyway
#11 When you're with them, you're comfortable everywhere
#12 That pimple is nothing but a toy to play with
#13 Why do men have perfect bed hair?
#14 Your inner child will come out like instantly with your favorite person
#15 Every gesture is so full of love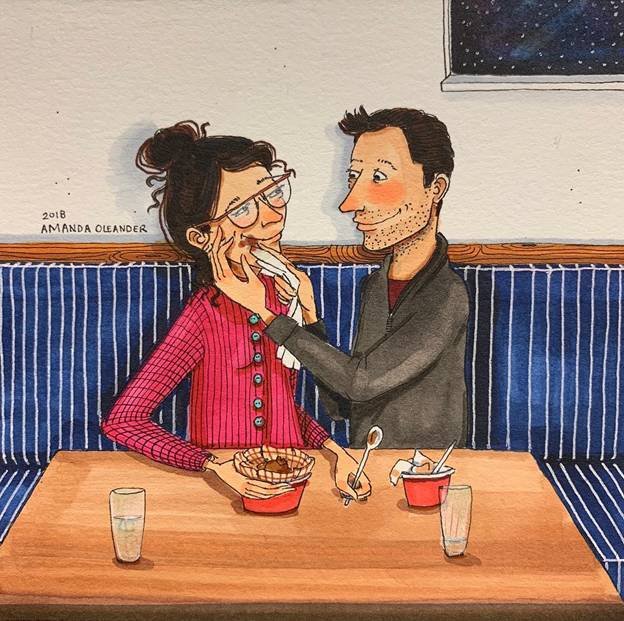 #16 Keeping your differences aside, you'll enjoy every great match together
#17 An imperfect body doesn't matter when you are loved so deeply
#18 The morning touch!