Jenny Hefczyc is more commonly known with her pen name Jenny-Jinya. You have probably encountered one of her most famous comics on 'Black Cat' and 'Good Boy' that follows the journey of a black cat who is separated from a grandma who frequently feeds her. This time, she focuses on a family of duck with one of the babies separated from the group.
One could never imagine how you could cry for a family duck, but Jinya did just that. We also never imagined that, but she never failed to impress us all with her amazingly sad, but still a kind story.
More Info: Facebook | Instagram | Twitter | Artstation | DeviantArt


Once upon a time, there was a family of duck with 7 ducklings behind their mother.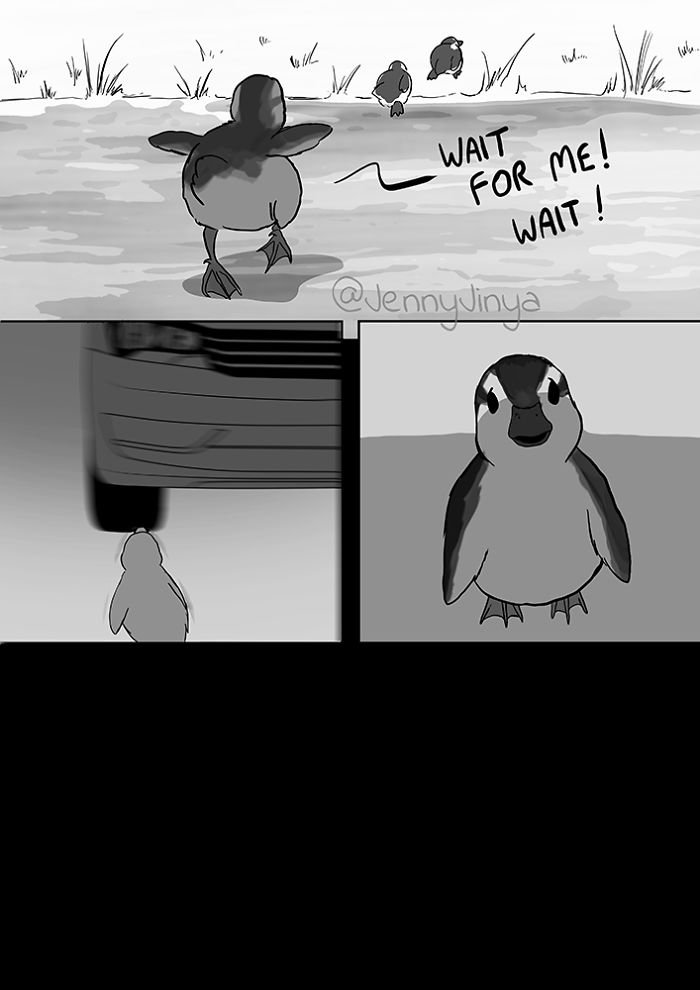 Jenny Jinya tells the story of how she came up with the story for her comics.
Jenny now has more than 178k followers on her Instagram and her latest post on the duck family has gained almost 72k likes with over 1,851 comments. It is Jinya's personal preference (because favoriteI doesn't sound right) to draw heartbreaking comics on social issues with animals.
While human lives should never be above any other creatures, it's a given that some people don't spare second thoughts on animals. These animals don't have a voice and statistics on abandoned and neglected animals often forgotten. She hopes to raise awareness on the issue with her comics.
Meanwhile Death is just an individual who's just doing her job and she's not necessarily one that enjoys her job.
People are again stunned and touched by her gentle, but also realistic approach to her stories.