Losing weight is always a struggle and quite difficult. It requires a lot of willpower, discipline, tons of patience, commitment and plenty of exercises and a healthy food diet to see the desired results. And as summer is right around the corner, many of us may be looking to shed a few extra pounds to get that summer body. But unfortunately most of the time the hardest part of losing weight is motivation.
Busy schedules, tiring seasons, and lack of motivation are used as excuses to put off taking the first steps towards shedding those extra pounds. But when you always compliment yourself on the accomplishments and stick to your routine, it really isn't so hard to achieve your goal. And some people fought blood, sweat, and tears to stick to their healthy diets and exercise routines to reach their desired body transformation goals and it's all so worth it in the end. So here we have a list of a few people who will motivate you to go to the gym and shed those extra pounds!
1. "75 pounds less. The first picture is from May, 2019. The second picture is from January, 2020."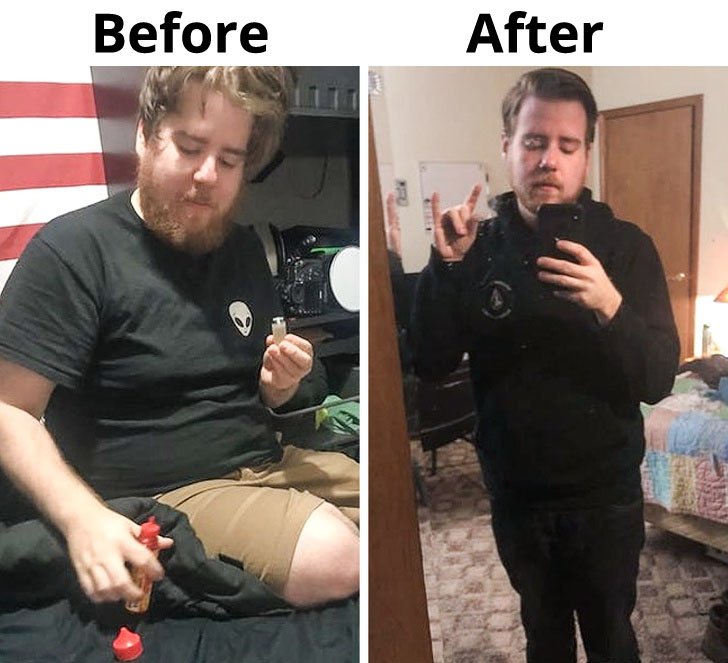 © harloe / Reddit -Via
2. "I lost 53 pounds. I did intermittent fasting and went for a low carb and gluten-free diet (due to an allergy)."
© dvorys / Reddit -Via
3. "61 pounds less. From class one obese to a healthy BMI in 10 months. Intermittent fasting changed my life!"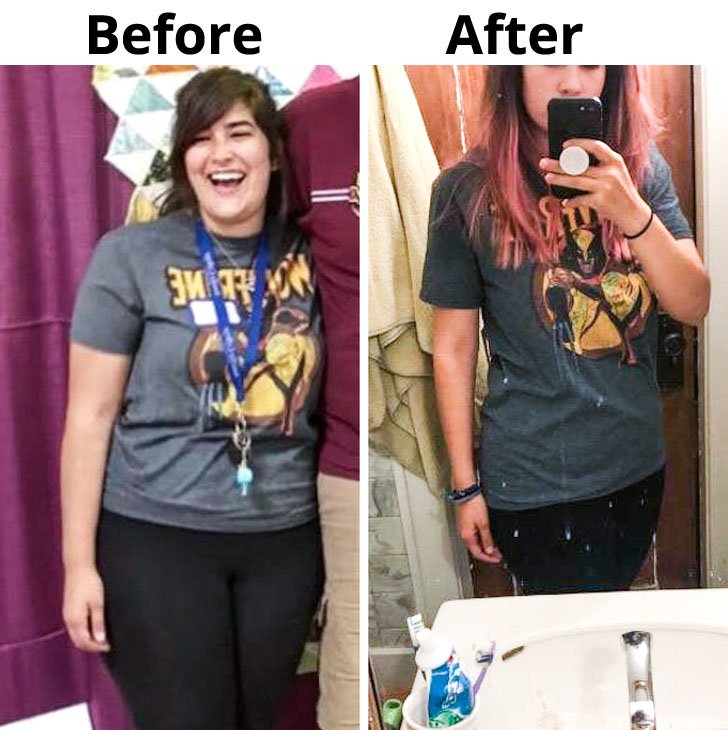 © sushiqueen99 / Reddit -Via
4. "Through working out, fasting, and new eating habits, I've lost almost 45 pounds in 2 years! "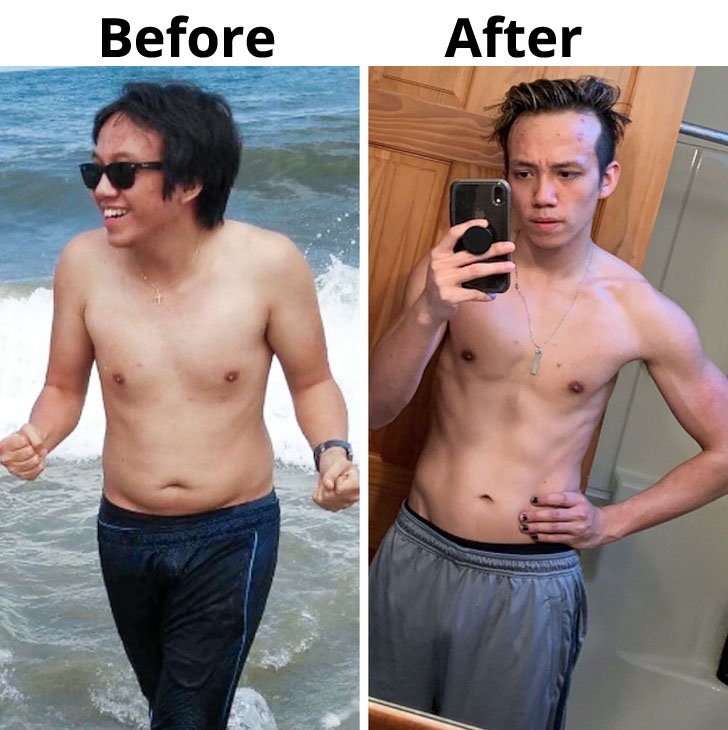 © Topzm / Reddit -Via
5. "Down 45 pounds. 15 to go!"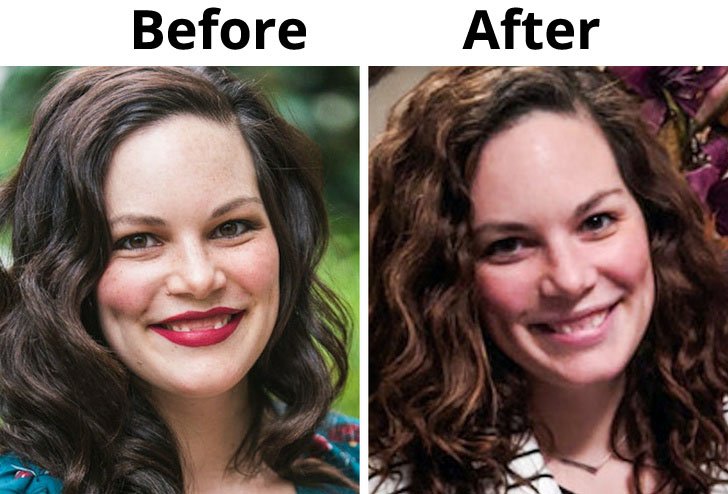 © kahliemelsey / Reddit -Via
6. "Before, 207 pounds. After, 158 pounds. Took me 5 months."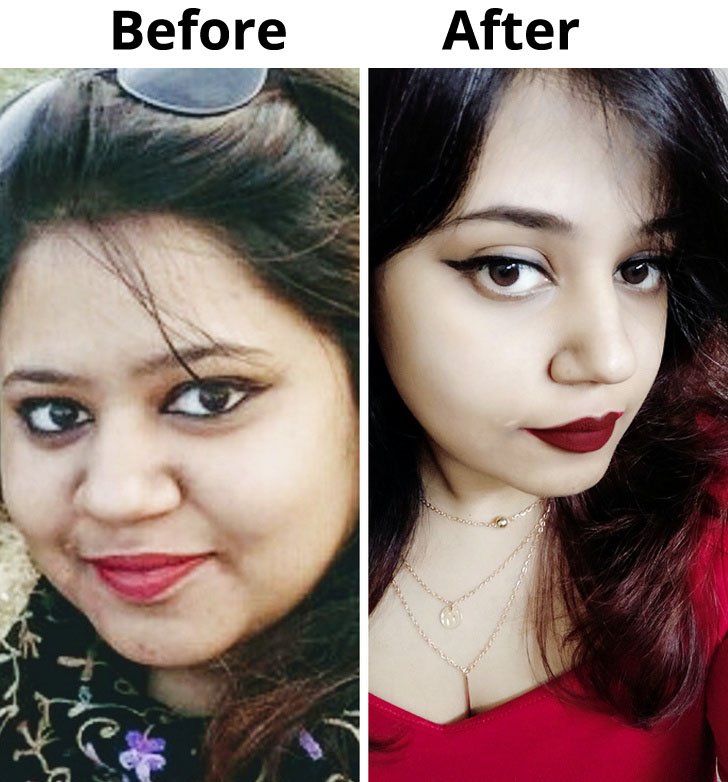 © ankitaarao / Reddit -Via
7. "7 months difference. 297 pounds down to 189 pounds!"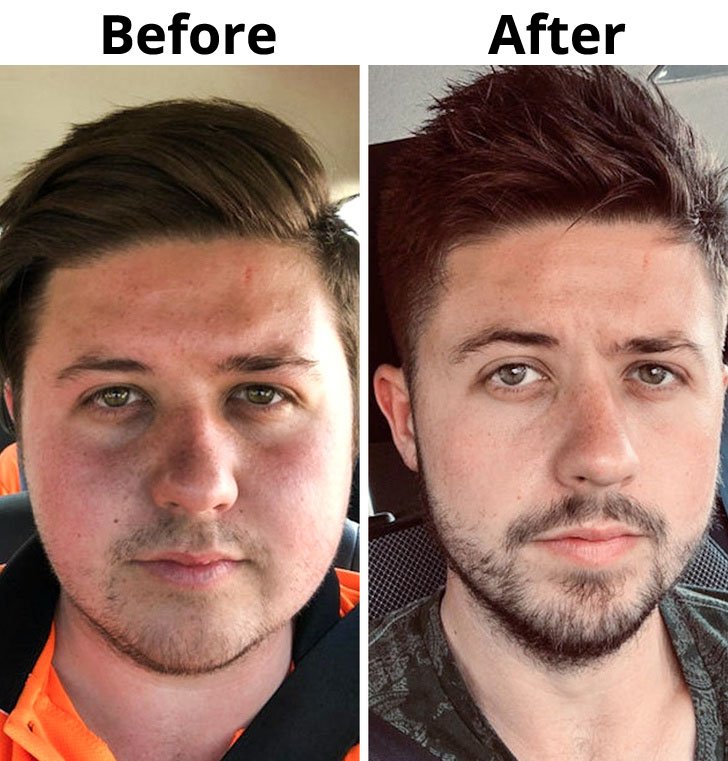 © RichDoughnut / Reddit -Via
8. "My hat didn't fit. I decided to lose weight so I could wear it again. Unfortunately, I lost the hat."
© LiuKangBakingPies / Reddit -Via
9. "10 years ago, I made a New Year's resolution to lose weight. On the way, I found myself, and I couldn't be happier."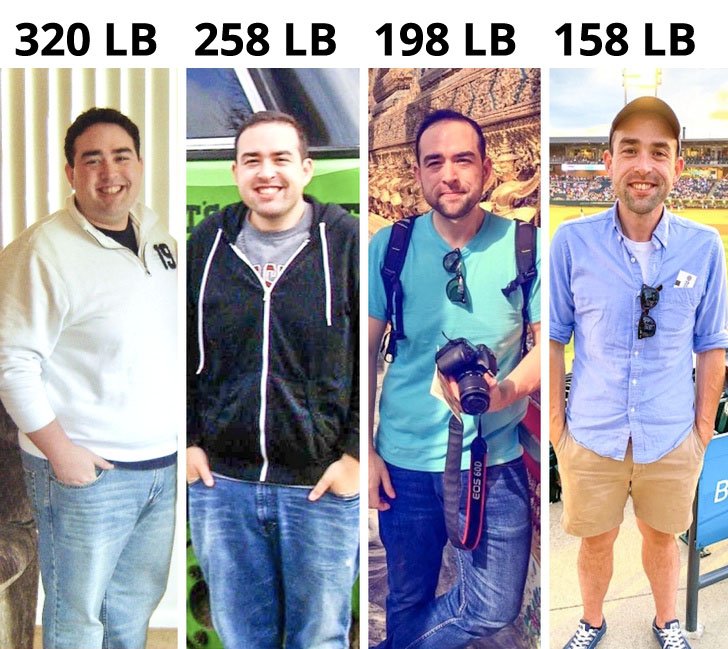 10. "After 2 years, I'm finally able to make my last post: I reached my goal weight! Thank you all for truly inspiring me to adopt a different mindset."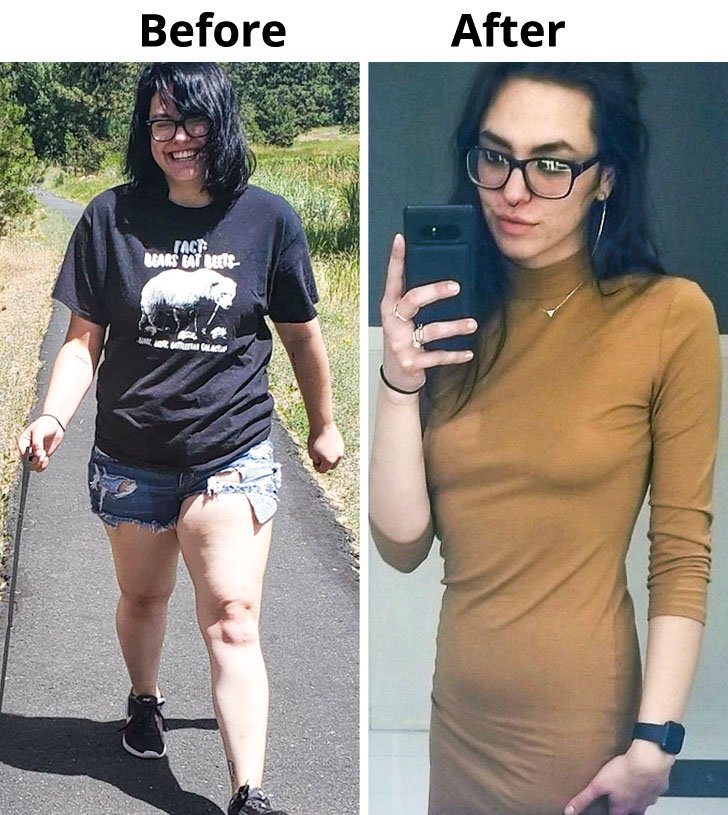 © secretiveBirdgirl / Reddit -Via
11. This girl went from 229 pounds to 187 pounds.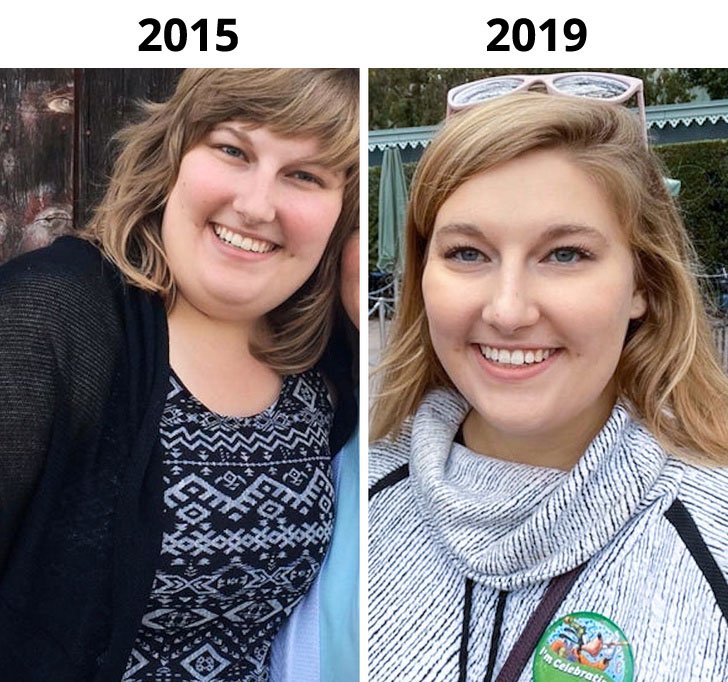 © 143amaramariee / Reddit -Via
12. "In 3 years I went from 383 pounds to 274 pounds. I've battled with obesity and depression my whole life, but I've never given in, and I've begun to enjoy the journey."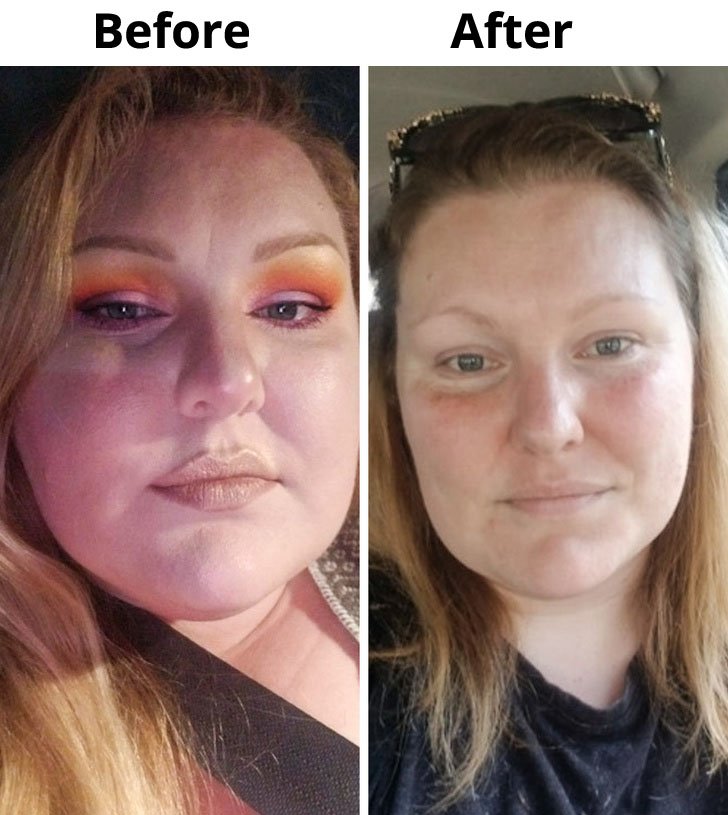 © peachersen / Reddit -Via
13. "I went from 165 pounds to 125 pounds. I love my face! I also learned to take care of myself."
© Novosibirskchennai / Reddit -Via
14. "I went from 425 pounds to 202 pounds in 17 months. I came across the picture on the left and was blown away. Feeling so great about how much weight loss has enhanced my features!"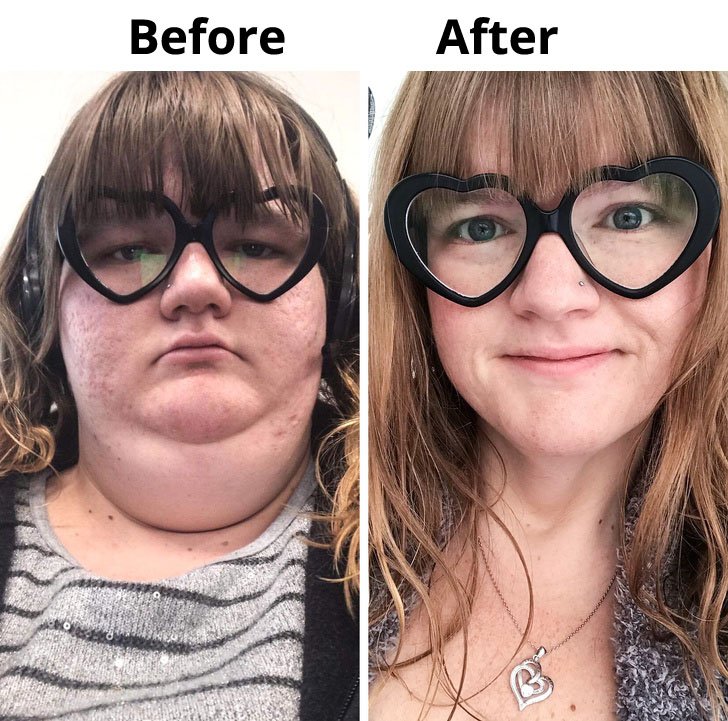 © bumblebb94 / Reddit -Via
15. "Same shirt, about one year apart..."
© BurZaxbys / Reddit -Via