Love and commitment have been on the top of the list of things that make long-term relationships and marriages work. However, there are a few elements that when added can spruce up a relationship and guarantee a happy and thrilling love journey.
Sometimes couples could get too comfortable and in the process bore themselves out of an otherwise great relationship. What another way to lighten up the mood than giving each other practical jokes? Some husbands and boyfriends learned early that having a great sense of humor is as sexy as having well-sculpted abs.
We have compiled a list of those enlightened men who make sure their spouses never get bored, enjoy.
#1 Legend Has It They Remain Hidden To This Day
#2 Went To NYC On Business And I Had To Show My Wife I Wasn't Enjoying It Without Her, So Here Is Me Having A Bad Time All Over New York
Redbaron1701
#3 R.I.P
DireBat
#4 Day 14 Of Wife Being On A Work Trip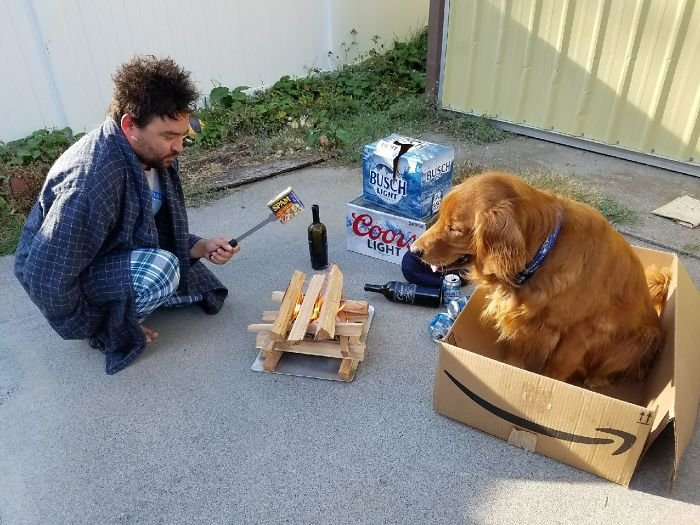 Crybad
#5 My Wife Really Likes It When I Do House Work So I Sent Her These Pictures While She Was At Work Hoping It Would Turn Her On
dirty-ol-sob
#6 My Wife Hates Being Embarrassed, So We Surprised Her At The Airport
#7 Probably Another Bored Boyfriend At The Hobby Lobby
ILoveLamposts
#8 My Wife Is Smokin' Hot So I Picked The Shower Curtain
ryencokez
#9 Great Deal
utk2774
#10 The Handsomest Man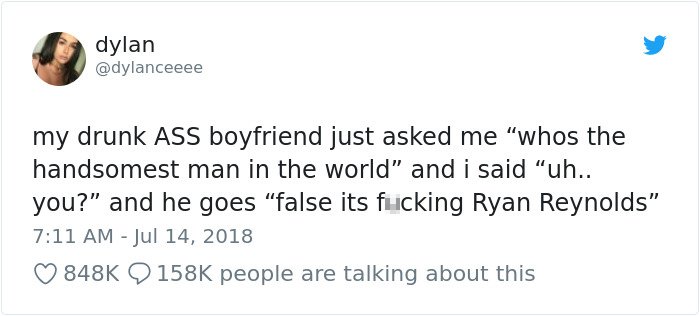 dylanceeee
#11 My Husband Has Been Sticking These In Places I Can't Reach To Annoy Me. It's Working
Kimmer22
#12 He Dead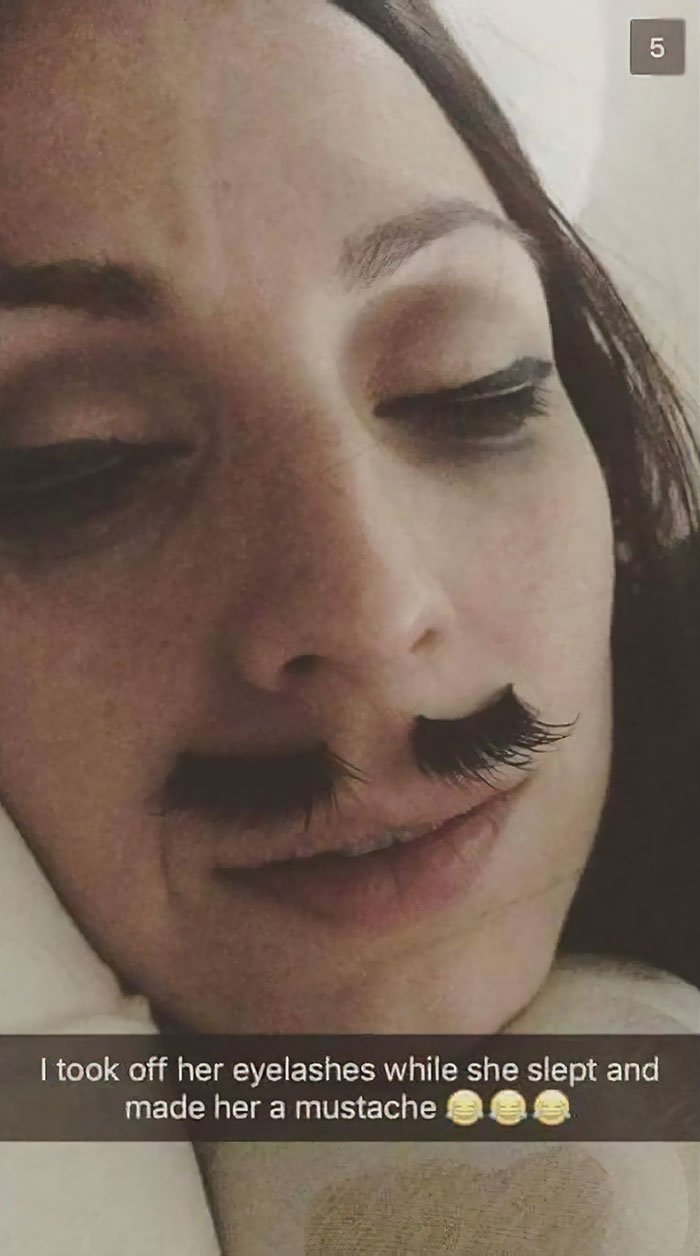 #13 Just Got To Tennis. Boyfriend Has Taken My Racket Out And Put A Frying Pan In Instead. I'm Not Even Joking
heidistephens
#14 I Let My Husband Decorate The Bathroom
prm7777777
#15 My Wife Ordered This On Amazon For Our Baby Announcement But It Didn't Fit Her So I Decided To Put It To Use
garamas
#16 Can A Girl Poop In Peace? My BF & Our Cat!
xxnancyyxx
#17 My Girlfriend Put The Quote On The Left, It Took Her 2 Weeks To Realize I Changed It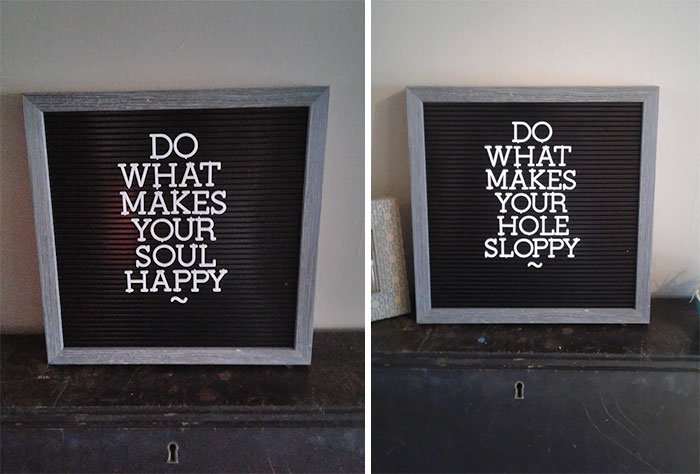 alexy6012
#18 My Wife Took The Toddler And Left Me With The Baby Yesterday Morning. She's A Worrywart And I Love Photoshop. Lesson Learned: Don't Reply With Just A Photoshopped Picture When She Asks How Things Are Going With The Baby
FeedBack20
#19 When You Leave Your Wife In The Car To Shop At The Hardware Store On A Really Hot Day
i-realestate
#20 My Wife Ran And Won Her Age Group In Her First 5 K This Weekend. Here Are A Couple Pictures From The Race
zachirino
#21 Styling Done Right
KatBlizzard
#22 Groundhog Day Flowers For My Wife
heyagbay
#23 Just Doing What My Wife Asked
timelymanner85
#24 Built A Garden For My Wife A Few Months Ago And It Is Finally Time For The Bountiful Harvest. Tonight, We Feast Like Kings
jouelle1
#25 Wife Gave Me One Job To Do For The Day - To Get The Dogs Tag Engraved
deanparry85
#26 My Friend Played A Prank On His Girlfriend. She Has A Night Vision Motion-Activated Camera Setup In A Quest To Treat A Sick Coyote. She Checks The Footage Every Morning Religiously. He Rented A Sasquatch Outfit And Walked Around The Camera At 4 Am
Keyser520
#27 Being The Girlfriend, I Was Given The Job To Decorate Our New Home. Yesterday, My Boyfriend Said He Wanted To Pick Just One Piece Of Decor Out. I Was Impressed He Actually Wanted To Be Involved! Next Day, He Walks In Smiling, And Introduced Me To Kittiana Jones. This Is Why I'm The Chosen One
Misskylakandy
#28 At The Time My Girlfriend Didn't Know Why I Wanted My Photo Taken On This Side Of The Bridge
tbag90
#29 My Husband And In-Laws Wanted A Family Photo While I Was In Labor And Having Contractions
ashryche
#30 My GF's Obsession With Cheesy Cursive Signs Inspired Me To Make My Own Uninspirational Signs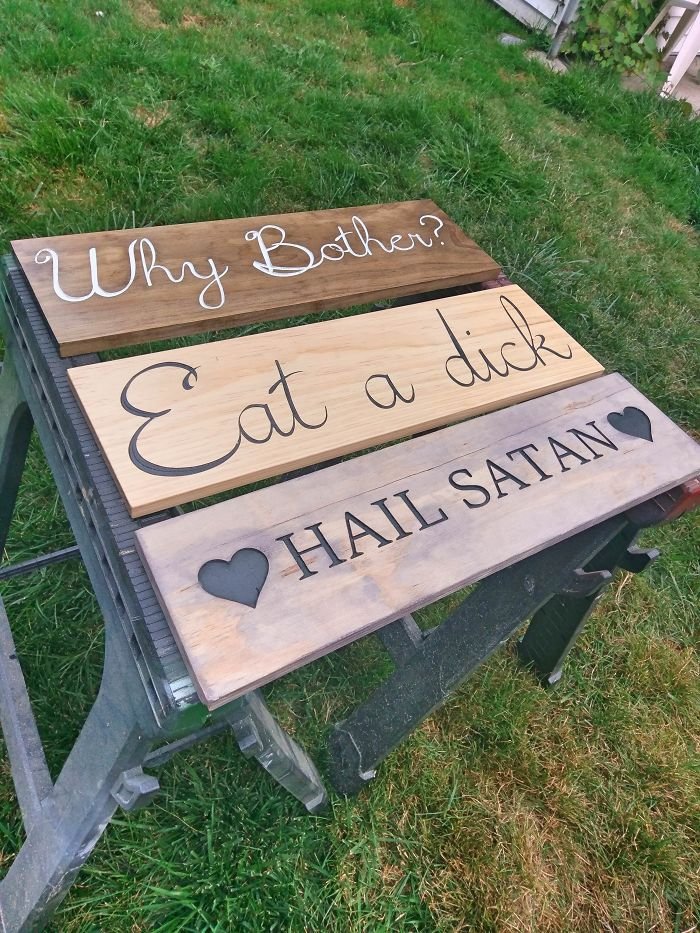 Shanca