A 64-Year-Old Brazillian Grandfather, Joao Stangenelli Junior has created Vitiligo Crochets Dolls to make children with the condition feel better.
Lived with Vitiligo since his 30s, it's regarded as a long-term skin condition in which some patches of the skin lose their pigment and become white, displaying sharp margins.
joaostanganelli
The skin disorder affects an estimated 1-3% of any population and it's physically harmless. It can, however, result in social stigma, increased sensitivity to the sun as well as psychological stress.
Recently retired from the Gastronomy Industry due to his unrelated health issue, the Grandpa decided to put his hobby into action and to keep himself engaged and vibrant. Specifically, Joao and his wife took up crocheting, though quite tough at first, but shortly got hanging in it.
joaostanganelli
'At the initial, my fingers and back hurt a lot, but today I don't feel it anymore. I am not yet retired. I still very much keep up with my old work with food. At the moment I spend about 90% of my time creating dolls and I have so many orders.' Joao told Bored Panda.
The Grandpa explained that crocheting has an addictive attraction. 'Once you become so familiar to the rhythm, it becomes very difficult to stop,' Joao added.
joaostanganelli
Accordingly, his first project was a doll for his granddaughter. After which, he decided to create a doll with vitiligo patches and a huge idea was brought to life.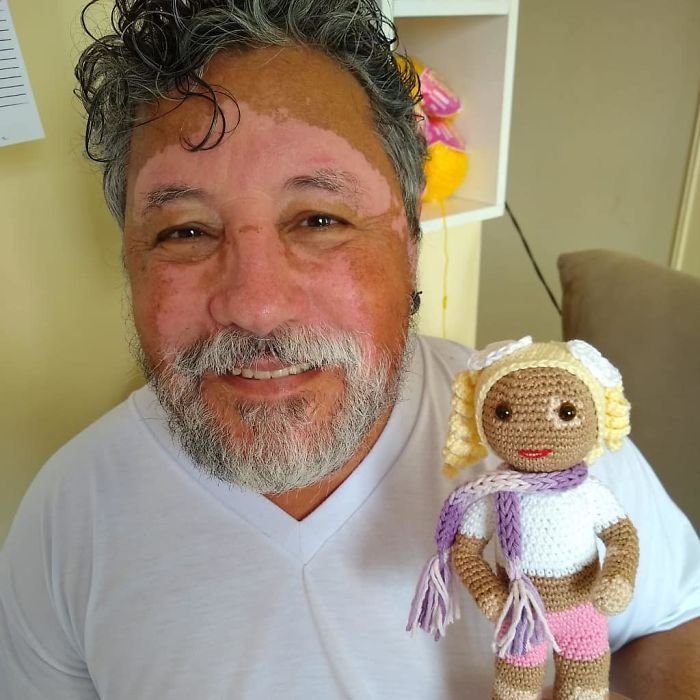 joaostanganelli
joaostanganelli
joaostanganelli
joaostanganelli
joaostanganelli
joaostanganelli
joaostanganelli
joaostanganelli
joaostanganelli
joaostanganelli
Making more of inclusive dolls in a wheelchair, Joao designs were created to assist children to feel valued and normal. Inspired by the joy and self-esteem brought by his dolls, the grandfather continues to create and uses both Instagram and Facebook to display his works.
Here's However What People Are Saying About João's dolls