Dressing all in white with a beautiful hairdo is not really everyone's to-go style as maid of honor. Especially when you know they really prefer to be different and themselves. That's why when 40-year-old bride-to-be Deanna Adams told her sister she can come wearing anything so long as it's not inappropriate, she could kind of see this scene coming.
Her 38-year-old of a sister, Christina from Texas, came as a Maid of Honor who is wearing a T-Rex costume, something that she's long wanted to get. She found her reason to get this dinosaur costume. And of course, hilarity ensues when she comes out from the porch all suit up. Pictures of her in T-Rex costume and standing next to her sister as she and the groom speak their marriage vow went viral on Facebook and Reddit.
"When you're maid of honor and told you can wear anything you choose... I regret nothing."
The post has 34k shares and 17k comments now with many of them praising her sense of humor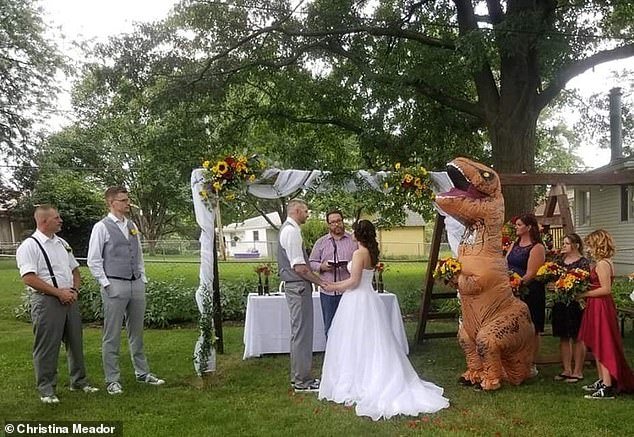 Christina thinks it's weird that it went viral and the only reason she got it was because her sister said she could wear anything.
Speaking to DailyMail Christina said, "She, knowing that I'm not a big fan of wearing formal dresses and that I probably wouldn't have a lot of money to buy something really nice, reassured me by letting me know that I could pick out any outfit that I choose.
"I was trying to think of something that I would be willing to wear more than once and thought to myself, "Well, she did say anything, and if I'm spending more than $50, I want it to be a dinosaur costume, because they're fantastic and I've always wanted one."
Deanna was 'ok with it'!
Initially, Christina decided to just get a $7 dress from thrift store because the costumer was too costly. But fate has other plans.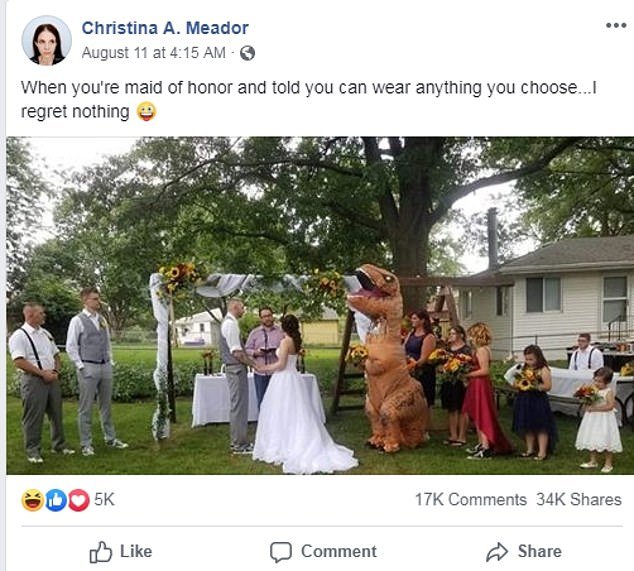 Christina loss weight following the week before the wedding, so she had her chance to grab the costume.
She arrived to Nebraska and told her family that she's wearing the Dino suit. Everyone had a good laugh but Deanna began to coax her to wear her new $20 dress
Obviously, she didn't back down and there she is! She did wear the new dress under that Dino suit which she ditched after ceremony.
Into the reception, Christina took it off because it was too hot inside.
Everyone was splendidly happy for the occasion and now, they want their maid of honor to do the same.


That wasn't quite the end!
"Funny side story - about 15 minutes into the reception, someone was looking for me and said they saw me walking around the neighborhood with a boy. But it wasn't me, it was a kid and his friend who was just cruising the neighborhood in another T-Rex costume!" Christina said excitingly.
Sharing the pictures on Facebook and Reddit, Christina received overwhelming reactions from the Internet.
The private and beautiful wedding ceremony took place in a garden in Nebraska.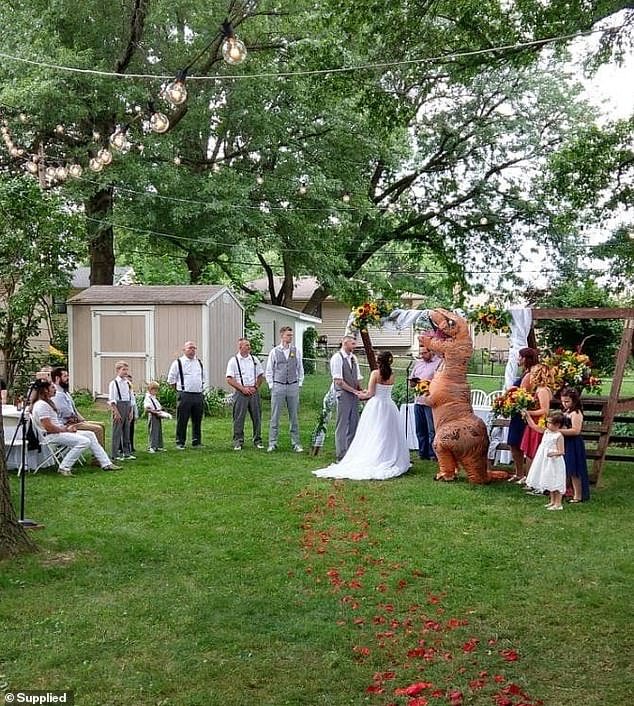 Deanna came into defense when some people negatively think her sister was only stealing attention, "It's not a joke, it's a giant middle finger at spending thousands of dollars and putting ungodly amounts of pressure on ourselves just to please a bunch of people who, in the end, only want free food and drinks.
"The point was to get married to the man who treats me like I hung the moon, and we did that part."