A balanced diet is crucial in the growth and development of children. Much as this is not a mystery anymore, it is ironical to so find that some schools are not holding up the end of their bargain. The aspect of food they offer children are wanting.


12-year old Martha Payne from Scotland had a curious concern on what children from other parts of the world took. With the help of her daddy, she published a series of foods offered in other schools worldwide in her blog.


comparing lunches from many other countries, its evident that they are varied. delicious and packed with fruits and vegetables, can you say the same about your own? Brazilan and Korean dishes, seem to appeal more with their variety and appetizing looks.

Take a tour and don't be afraid to look out their recipes.
What children in other countries eat (clockwise from top left): Ukraine's version of sausage and mash; Brazil's plantains, rice and black beans; beetroot salad and pea soup in Finland and steak with beans and carrots in France
Unhealthy meal: Children in the US get fed popcorn chicken with ketchup, a spoonful of mashed potato, green peas, a fruit cup and a giant chocolate chip cookie for lunch
South Indian school children eat off a thali plate which has white rice, sambar (dhal), smoked gourd vegetable stir-fry, curd, buttermilk and kesari, a type of sweet dessert made from semolina
Lunch in an Estonian school is rice with a piece of meat and purple cabbage. They also have bread and a get a cup of chocolate drink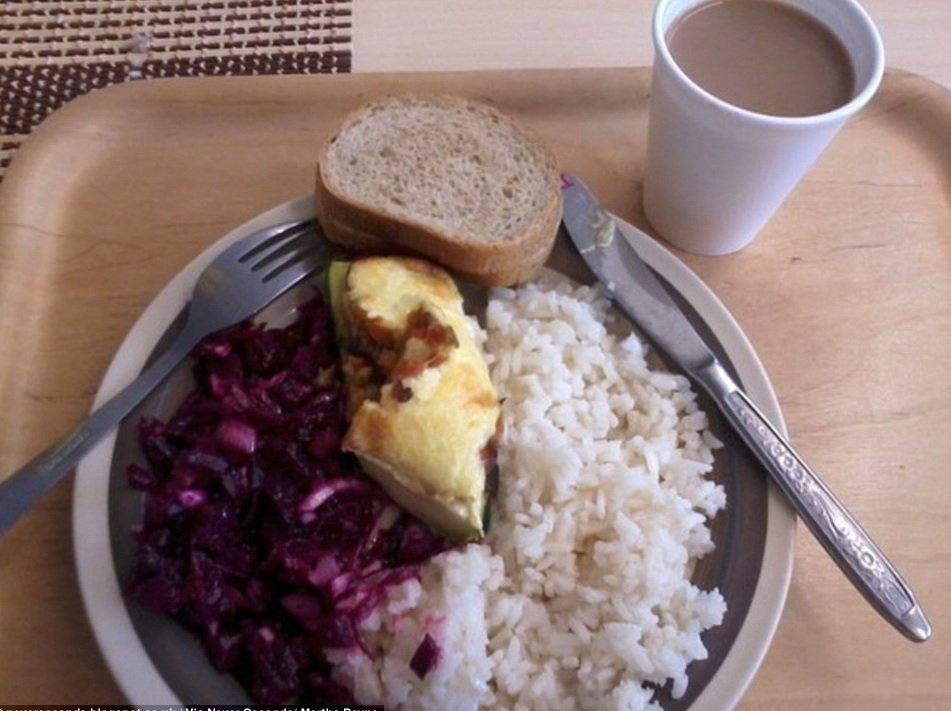 UK school dinner of frankfurters and beans, a baked potato, corn on the cob, slice of melon and a box drink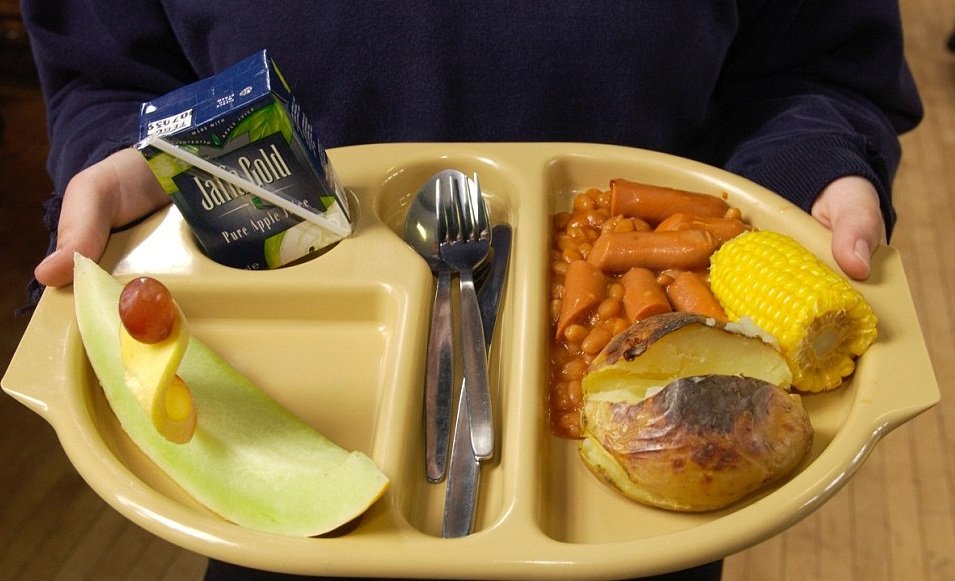 Balanced diet: Italian children get pasta, fish, two kinds of salad, rocket and caprese, a bread roll and grapes
In Finland lunch is mainly a vegetarian affair of pea soup, carrots, beetroot salad, crusty roll and sweet pancake with berries to finish
School lunch in Alba, Spain (left): white flesh peaches, strawberries and yogurt melts, cous-cous, broccoli, cucumbers and roasted salmon; (right): Poached apple pears, strawberries and blue berries, boiled swede and fresh garden peas
South Korean children tuck into broccoli and peppers, fried rice with tofu, fermented cabbage and fish soup
Brie, green beans, carrot, rare steak and pudding of kiwi fruit and apples is served in French schools
A meal of traditional flavours: Brazil's rice and black beans, baked plantain, pork with peppers and coriander, green salad and a seeded roll
Rice, a chicken croquette, a piece of taro root and yellow pea soup is the school lunch in Old Havana, Cuba
In Japan, school children tuck into fried fish, dried seaweed, tomatoes, miso soup with potatoes, rice (in the metal container), and milk
Wholesome: Seeded roll, shrimp with brown rice, gazpacho and tri-colour peppers. Dessert is half an orange
A serving of borscht (beetroot soup) with pickled cabbage, sausages and mash. Dessert is a sweet pancake
Greek school lunches feature baked chicken with orzo, stuffed grape leaves, salad of cucumber and tomatoes, yogurt with pomegranate seeds and two oranges
Bowls of salad are ready to be served at Delcare Edu Center, a local kindergarten and child care center in the business district of Singapore
A healthier UK school dinner: Two trays at a primary school in London. The meal at right consists of pasta with broccoli and slices of bread, and fruit. At left are vegetable chili with rice and broccoli, sponge cake with custard, and a banana
In France, school lunch is an art form: hot, multi-course and involving vegetables. A meal of rice, salmon, ratatouille, a slice of bread, a salad with celery and carrots, and an orange and donut at the Anne Franck school in Lambersart, northern France