Hell has no fury like a woman scorned. A young divorcee has proved right this adage after setting on fire her wedding dress in an 'empowering' photo shoot to celebrate the end of her marriage.
Katylynn Mokee, from Illinois, decided to wade through mud and scorch her $1500 worth of a dress after going separate ways with her husband.
Katlynn said destroying the dress had set her 'free' after 4 years of an unhappy marriage
The couple had been together for 10 years
before parting ways last summer. Gusty would then enlist the help of her original wedding photographer to snap the final chapter. The 25-year-old says she set up the shoot to set herself free after four tough years in marriage.
She downed a bottle of white wine after setting the expensive dress alight
She said: 'My relationship wasn't a good one, so it was a relief to finally be free.
'We'd been together since I was 16 and married for four years.
'We grew apart.'
The mother-of-one, pictured on her wedding day four years ago, says her relationship 'wasn't a good one'
Kaitlyn, had initially researched Trash the Dress for inspiration before cooking up the plan to burn her gown while downing a bottle of wine.
She said: 'I did a bit of research but all the ideas were my own and it was exactly the way I wanted to do it.
The divorcee thinks 'It actually ended up being quite sexy' because she stripped down'
'It was like my rebellion against the marriage, my way of saying I'm free.
'We went out to this little area with mud and water and I had a bottle of wine and a gas canister in a basket.
'I got into the water in my dress so it was really dirty, then started ripping it up.
'I cracked open the wine, took it off and then set it on fire.'I watched it burn while I drank the wine.'
The dramatic photoshoot was in stark contrast to Katlynn's wedding day photos
The mother of one has since said that the shoot helped her to rebuild her confidence.She said: 'It was very liberating, exciting and empowering.
'It actually ended up being quite sexy because I stripped down to my underwear.'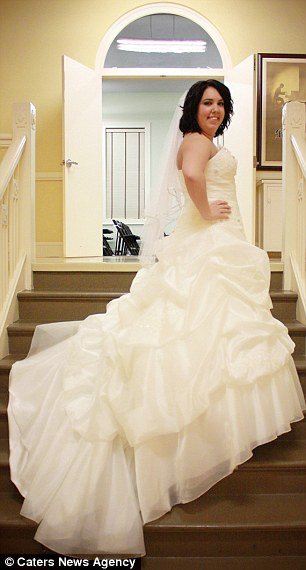 Kaitlynn told her ex what she was planning and he even volunteered to be in it.
She said: 'He was surprised that I was going to do it because I'm not really like that.
'He joked that he should be in it and I could punch him or something, but I wanted it to be just me.
Katlynn, who works as a hairdresser, said she was 'empowered' by the unusual shoot
'My friends thought it was awesome and I had loads of people getting in touch saying they wish they'd done the same thing.'
Kaitlyn plans to display the new photos in her new house. She says that her new boyfriend isn't intimidated by the pictures, in fact he thinks they are 'cool'.
She brought a canister of petrol and a bottle of wine to help with her mission
Katlynn said: 'I was really happy with it all and I loved the way it turned out.
'I don't have any of display at the minute but I'm planning on it.
'I'm now happily in a new relationship and he really likes the pictures.'
Katlynn said: 'I was really happy with it all and I loved the way it turned out'
Katlynn, says her ex-husband even offered to be a part of the shoot - but she declined
She now has a new boyfriend who isn't intimidated by the pics, saying they are 'cool'
The mother of one is now planning to display the photos in her home