The woman with the world's biggest lips, Andrea Ivanova, has got 26 lip fillers on that makes her pout extremely big. But she doesn't think that's enough, and she has yet another filler planned in the future. The 24-year-old, who is now based in Sofia, Bulgaria, often shares selfies for a self-confidence boost on her Instagram with over 9.8k followers.

Andrea has heard a lot of reactions to her unusual appearance, but she's mostly in love with her new look.
In her bid to become the Bratz doll, she's done more than just lip fillers. She's also spent £500 for a face lengthening and contouring procedure to reshape her chin and jawline to her liking.
"I like them a lot and feel much better with my lips," she said regarding her lips.

She also boasts of having received compliments and invitations from men all over the world.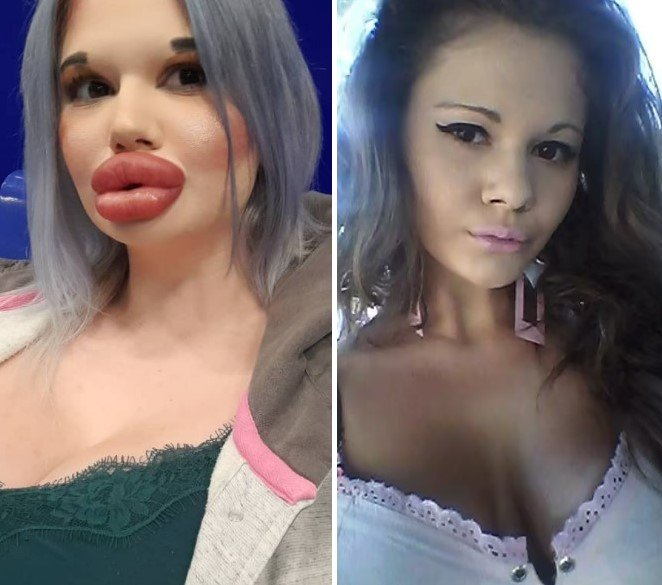 She said, "Many men from all over the world write to me on my social media networks offering me money, trips, and inviting me to meetings all the time."
And despite being dubbed as the woman with the world's biggest lips, she's not stopping anytime soon.
She reveals her plan for the near future, "Very soon, I will do the new procedures for lip and cheek augmentation, too."
Every lip injection costs her £200, which means she's spent a total of £5,200 for lip fillers alone. They result in the big lips she now has and her fans love them.
Many people compliment her lips and encourage her to go get more.
Compliments would pour in whenever she shared her selfies. One of them read, "You are gorgeous, a total babe!"
A male fan's comment reads, "Fantastic? I would love to be the man who has the honor to have a wonderful dinner with you…let me know…"
"Worlds best lips," reads another.