How is fashion meant to be worn? These celebrities and runway models showdowns are some of the best fashion battles we love to see. Fashion is a subjective topic. Or is it?
Here are 30 looks celebrities walked the red carpet in taken from the runway, but with added touches from themselves. Fashion as how designers meant them to look vs. fashion in the eyes of the wearers: The battle is on!
#1 Tracee Ellis Ross was in Prabal Gurung.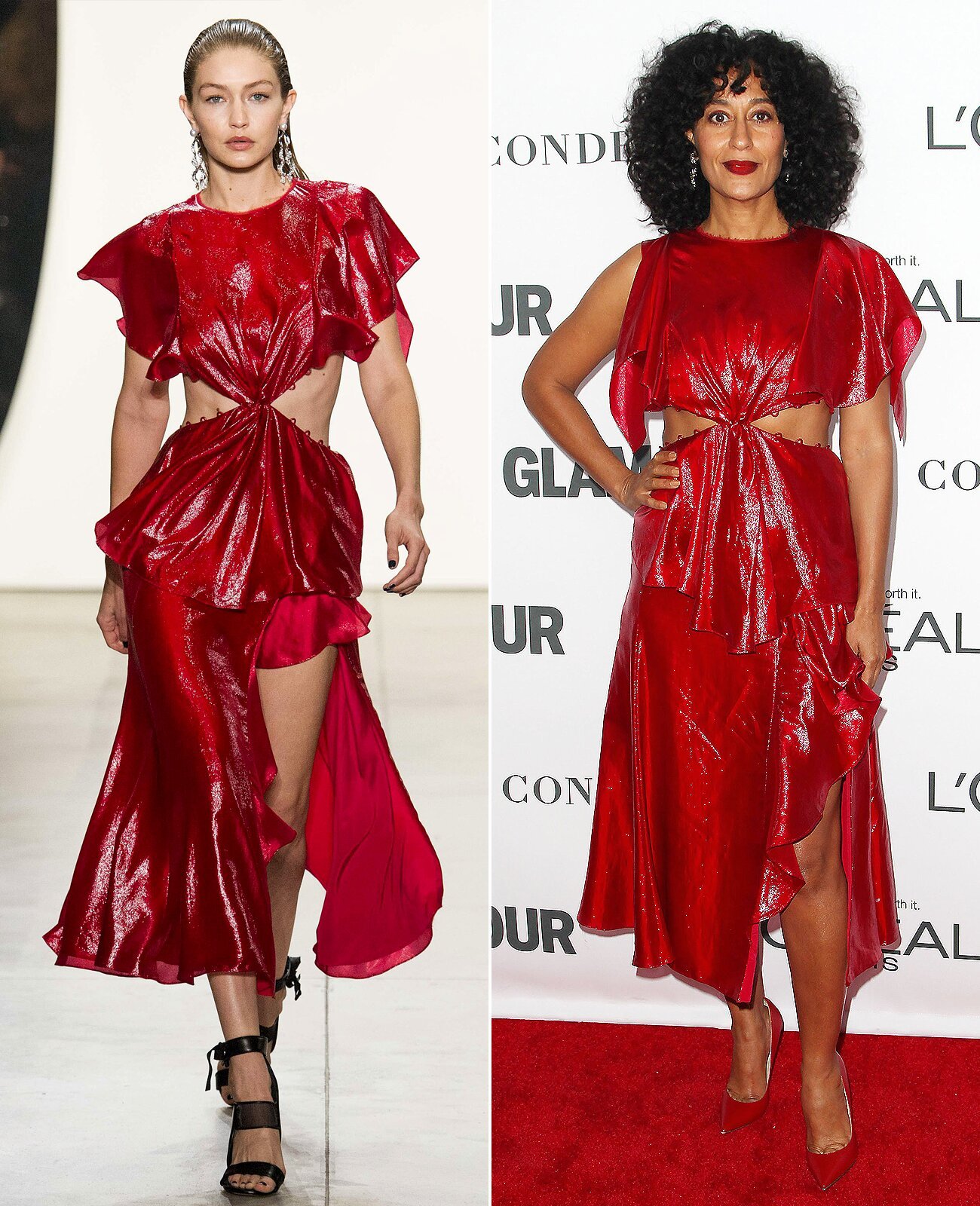 Getty, Splash
Gigi Hadid walked in the same red Prabal Gurung dress with a daring midriff cutout from the Spring 2018 collection. Tracee wore it to the Women of the Year Awards by Glamour.
#2 Allison Williams in black by Brandon Maxwell.
Getty
At the red carpet of Governor's Awards, Allison wore the black ballgown by Brandon Maxwell, walked by Jourdan Dunn from his 2017's collection.
#3 Kors Collection on Jennifer Garner.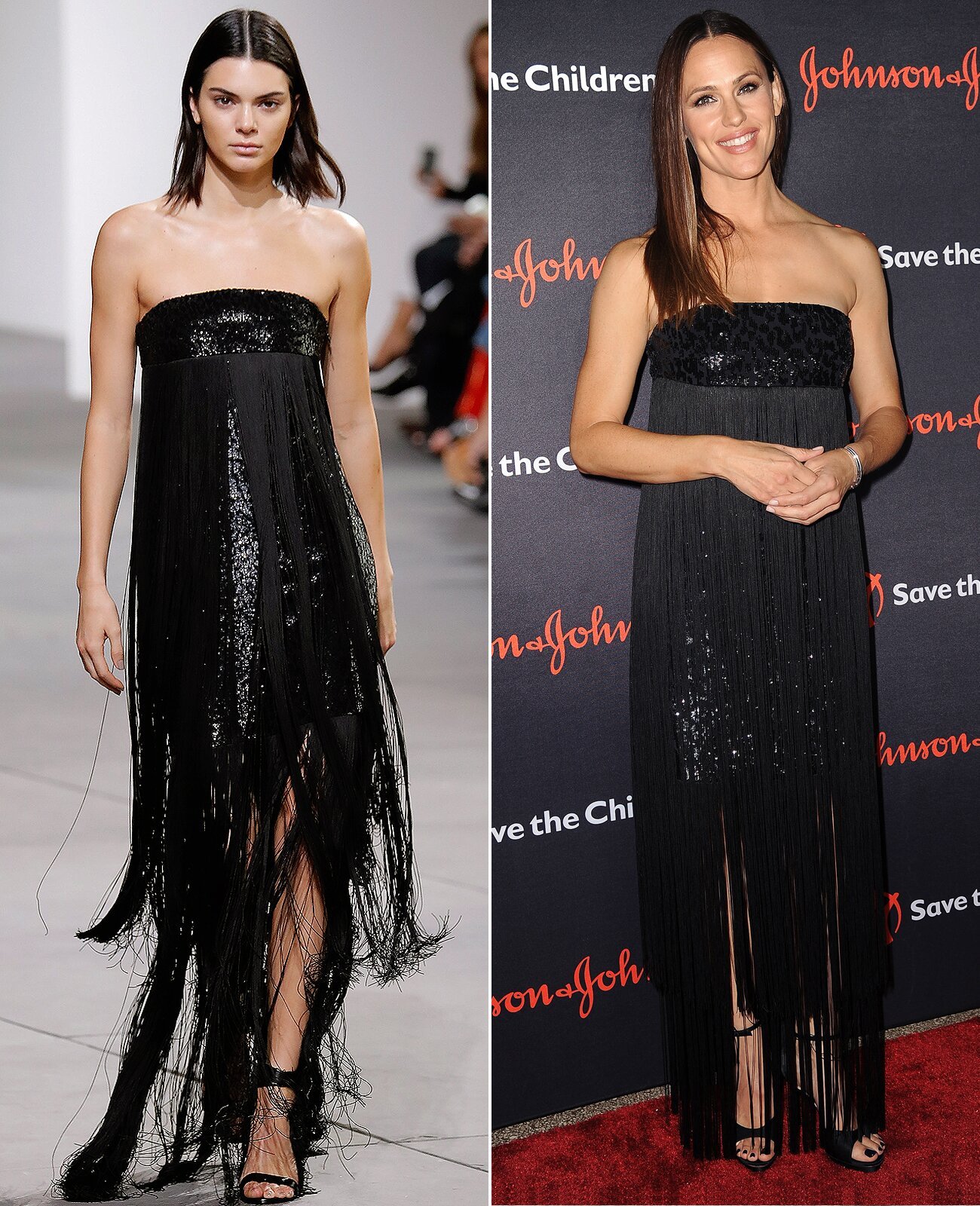 Getty, Splash
Jennifer maintained the same look as the runway, which was first worn by Kendall Jenner back in 2017 from Michael Kors' Fall collection.
#4 Blake Lively in yellow.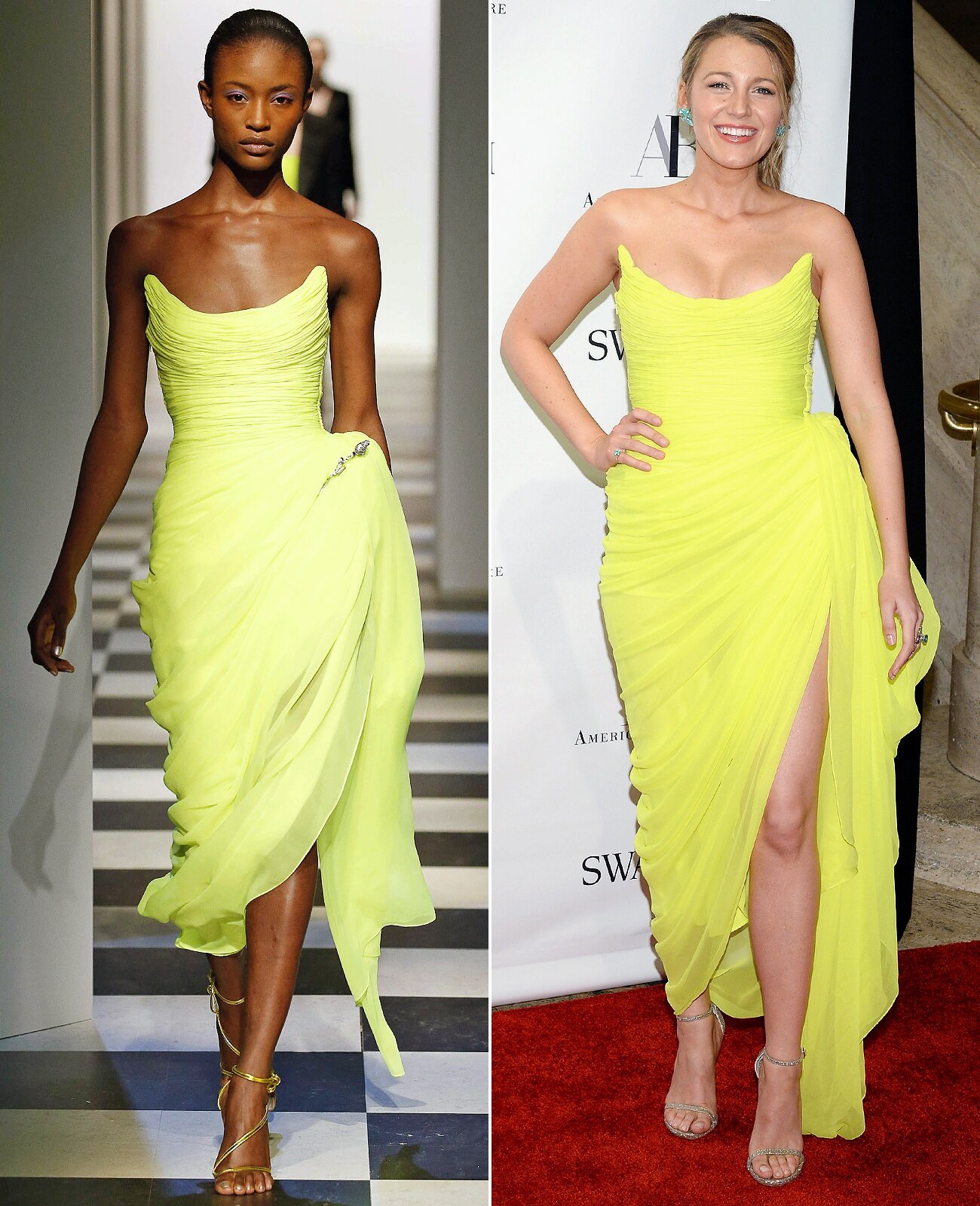 Getty
The yellow Oscar de la Renta dress Blake Lively wore was another by the new directors from the brand, Laura Kim and Fernando Garcia.
#5 Kendall Jenner in Alexandre Vauthier.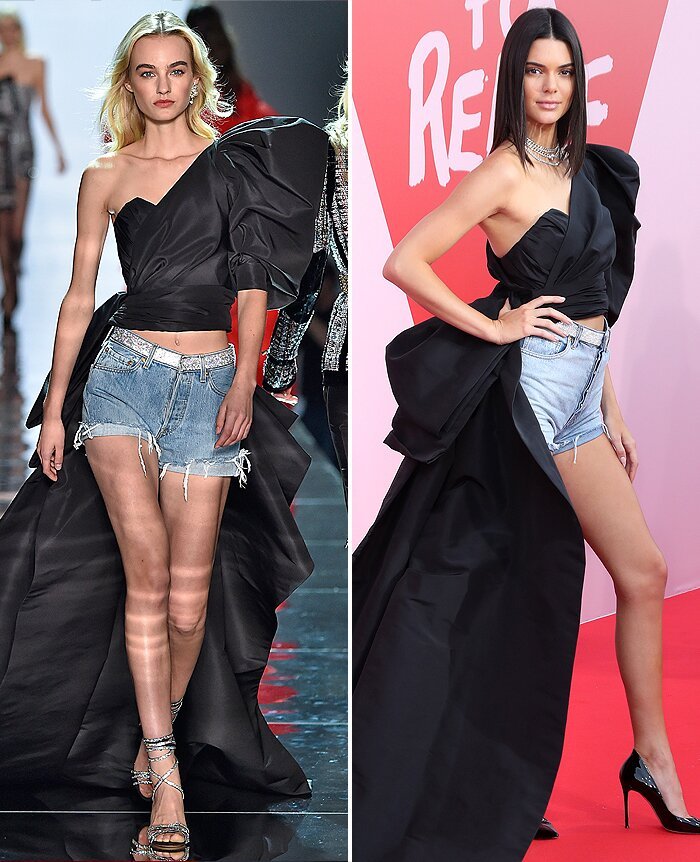 Getty, Rex Shutterstock
Jenner wore the same dramatic black top crossed with denim shorts on the red carpet. She adds class to the style with a pair of black pumps.
#6 Kristen Stewart in Chanel.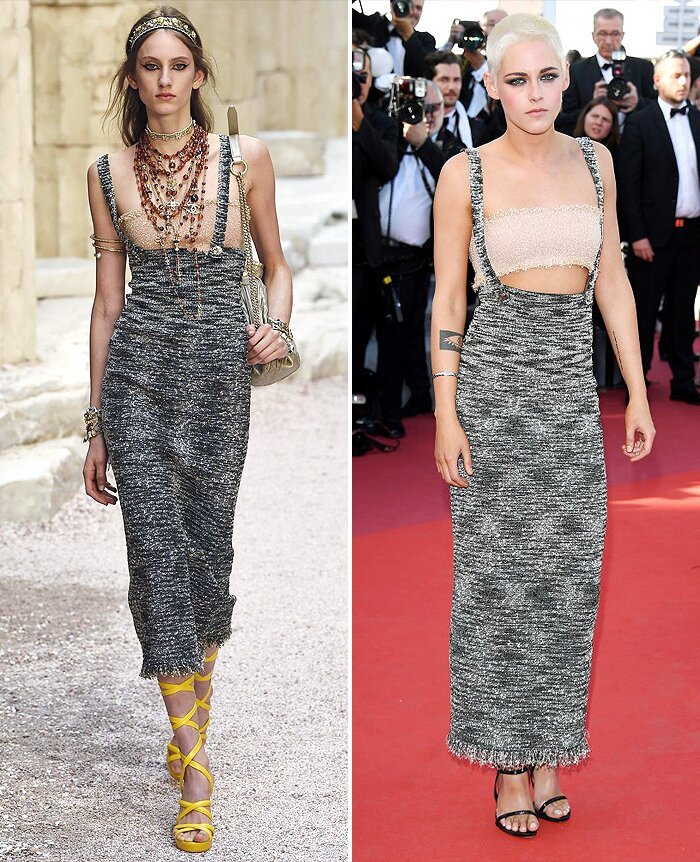 Shutterstock, Getty
Kristen, the face of Chanel brand, rocked the same suspender dress by Chanel two weeks after the model walked in it, minus the necklace.
#7 Blake Lively looked cheerful in Marchesa.
Getty
Blake Lively wore the floral dress that featured colorful fringes and plunging neckline with frills details for the TIME 100 gala.
#8 Sara Sampaio and Stella Maxwell's Balmain look.
Getty, Shutterstock
Supermodel Sara wore the Balmain dress for Cannes' Fashion for Relief without the black belt after it was worn by fellow Victoria's Secret Angel, Stella Maxwell.
#9 Cara Delevingne vs. Bella Hadid.
Getty
Cara's green daring gown by Alexandre Vauthier almost caused Bella a wardrobe malfunction as she quickly prevented herself from flashing the crowd due to the high slit.
#10 Kirsten Dunst in floral by Rodarte.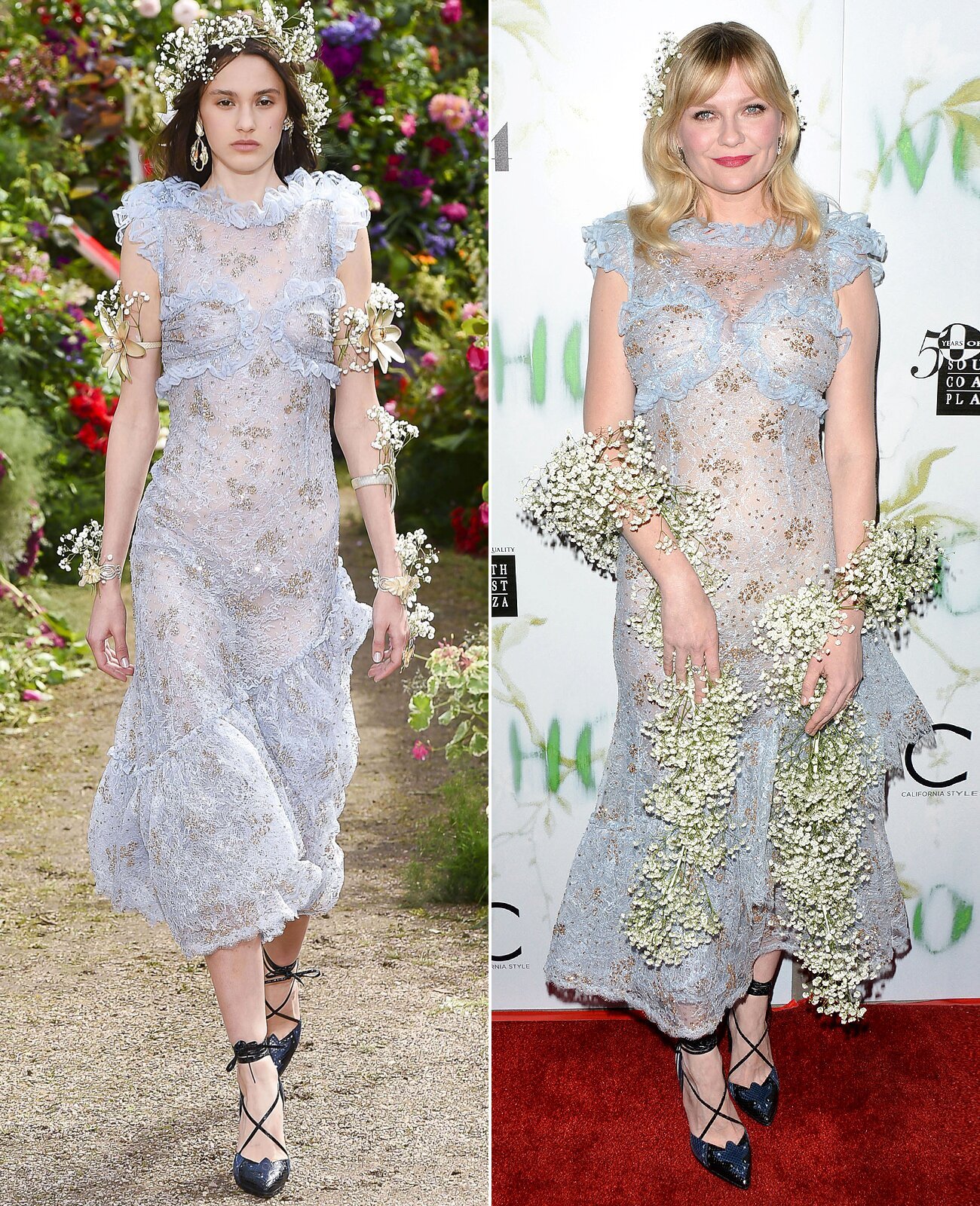 Getty, Rex Shutterstock
The 'Woodshock' star looked super flowery as she appeared in the semi-sheer ashy blue dress designed by Kate and Laura Mulleavy who were directors of the film, complete with the baby's breath accessories.
#11 Laura Dern made her own Proenza Schouler.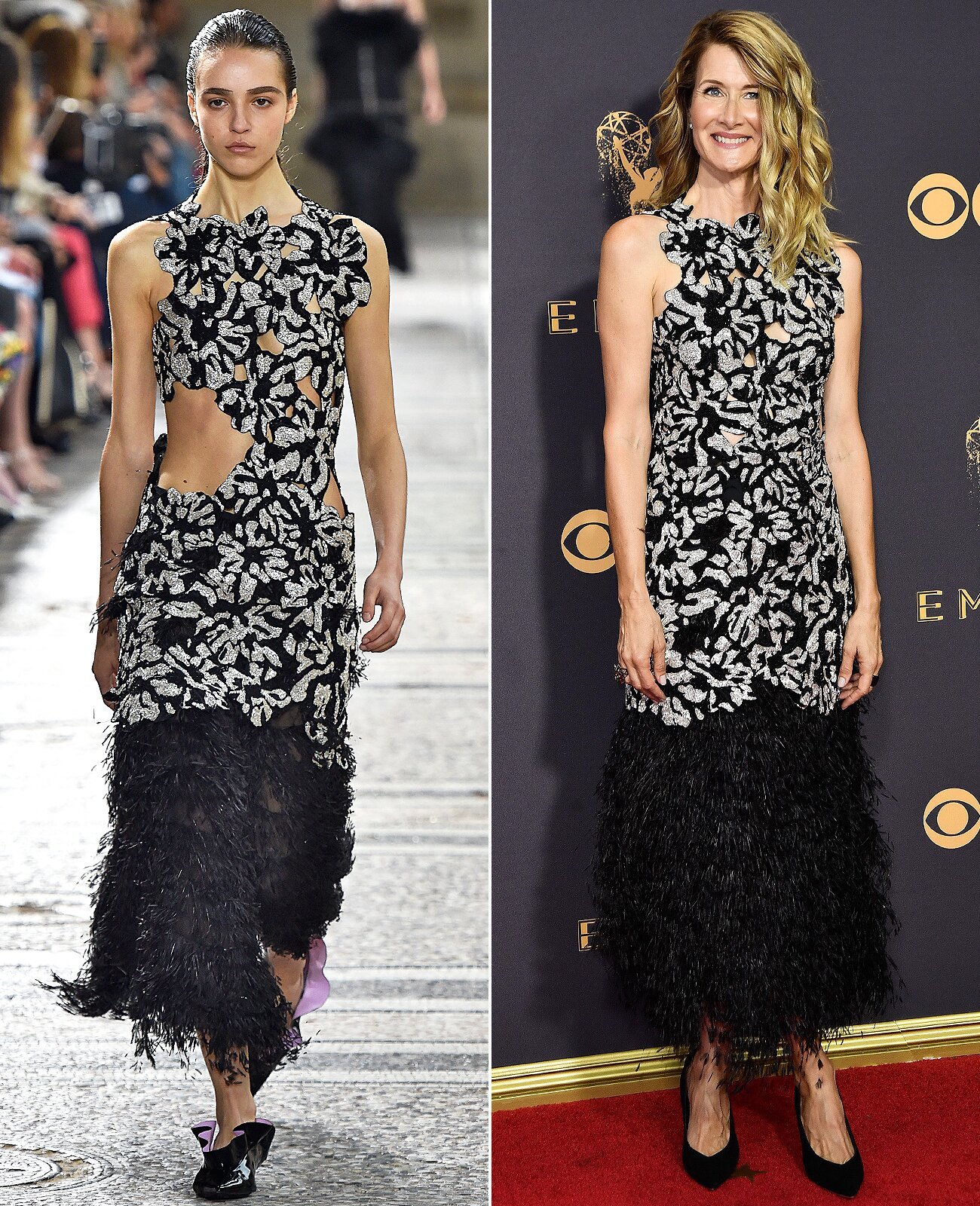 Getty, Rex Shutterstock
Laura walked up the stage for her Emmy award in Proenza's 2018 collection that looked extra modest as she filled the cutouts.
#12 Diane Kruger in Jason Wu.
Getty
The semi-sheer rosette dress by Jason Wu had a bit of altering compared to when model Lexi Boling wore it for extra coverage as Diane walked the red carpet for Cannes.
#13 Serena Williams in the dress her beloved model friend Gigi Hadid walked for.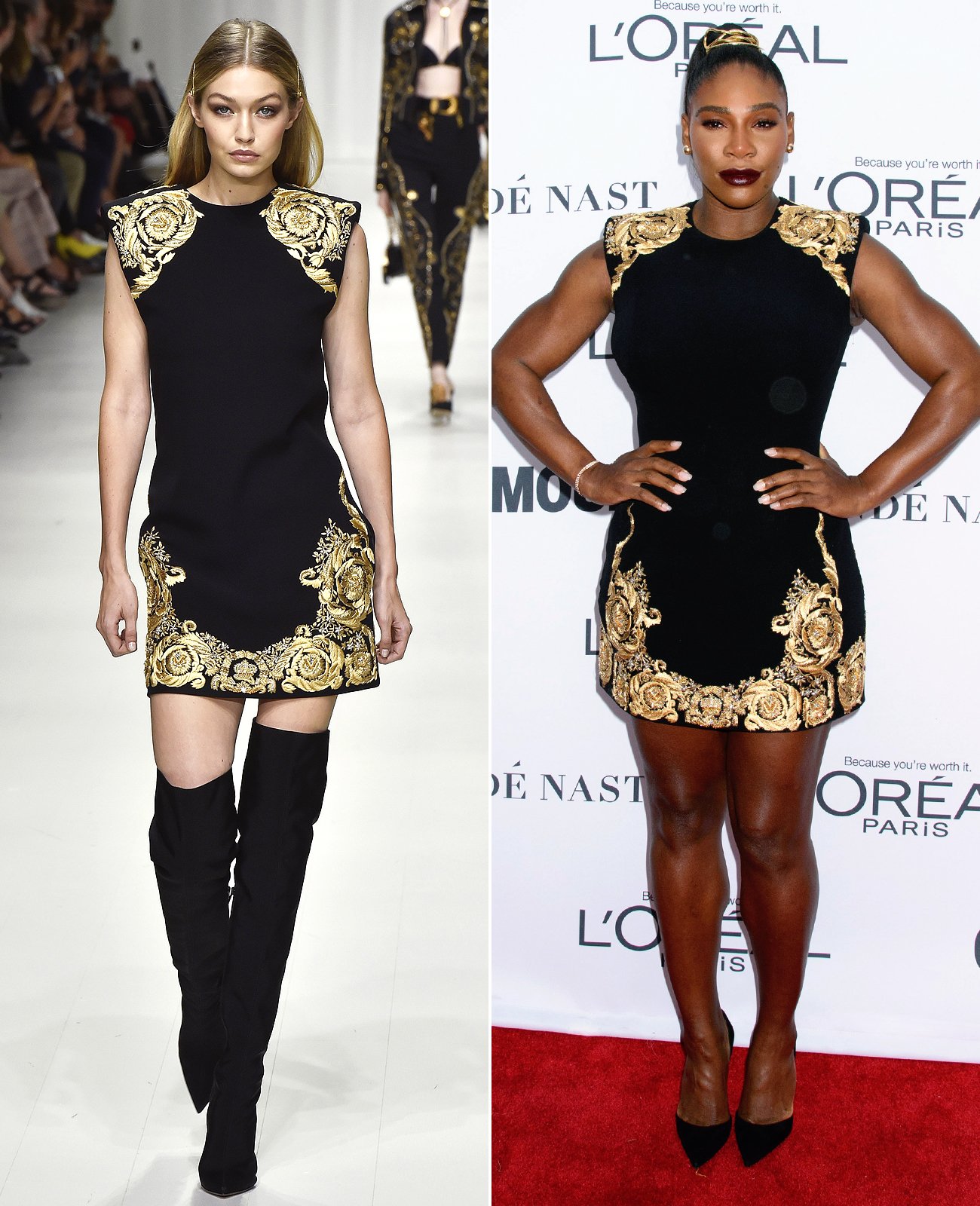 Splash, Getty
A close friend of Gigi Hadid, Serena Williams, wore the same dress Hadid walked on the runway for Spring 2018. The black mini dress with golden embroidered was paired with classy pointy heels instead of boots.
#14 Tracee Ellis Ross by Chanel.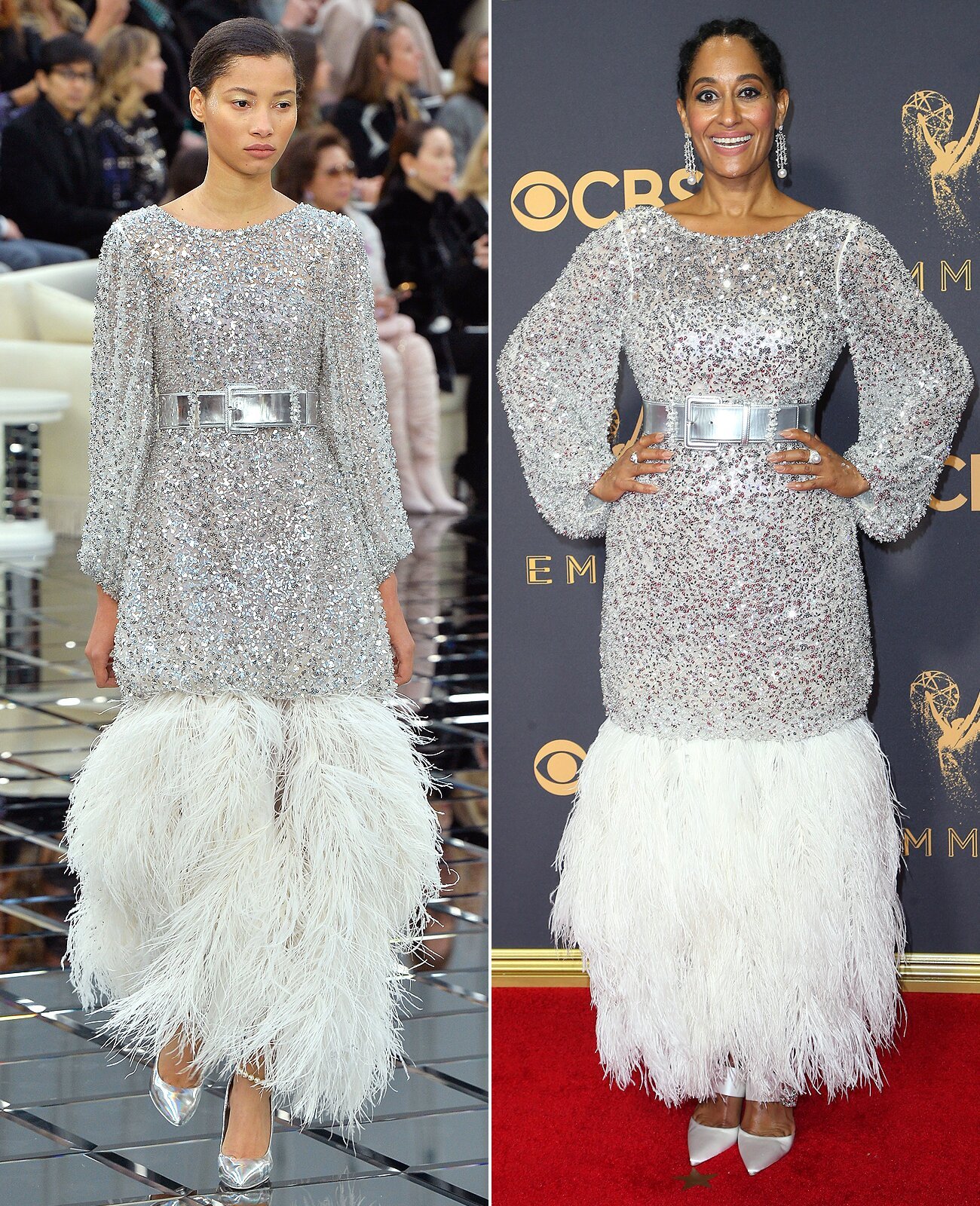 Getty, Instar
Tracee's Chanel Haute Couture look from 2017 was a dress that took 1,300 hours on the crystals and beads alone and another 80 hours on the feathers and pompom. Model Lineisy Montero walked it down the runway in Spring 2017.
#15 Alessandra Mastronardi in Chanel.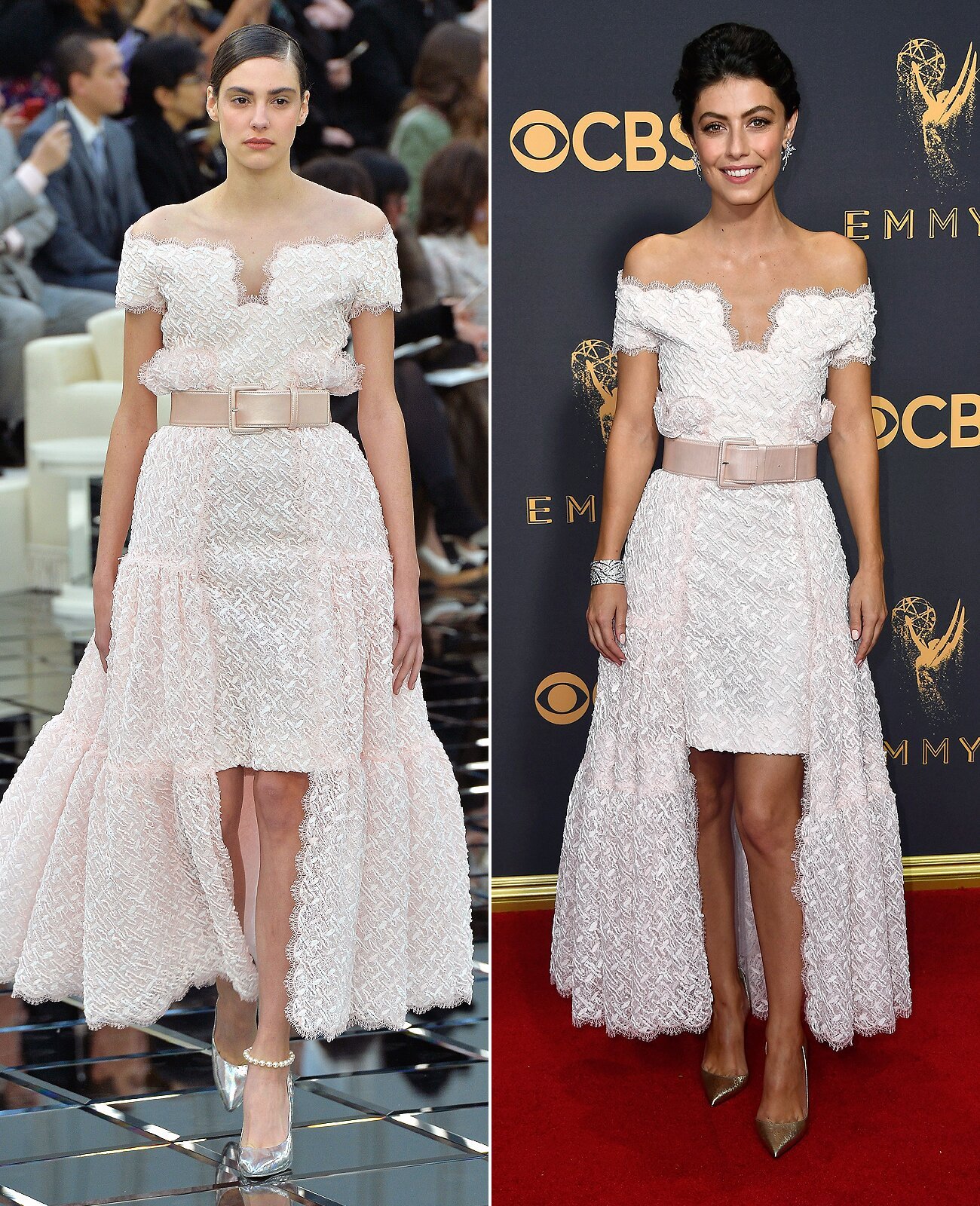 Getty
The Chanel that 'Master of None' star wore was an Haute Couture as she marked her debut on her first major award show, the Emmys.
#16 Black Lively's daring take with Chanel's jumpsuit.
Getty, Splash
The black and white jumpsuit with dogtooth pattern was first seen on Gigi Hadid, who was walking for Chanel in 2017.
#17 Gigi Hadid in Brandon Maxwell.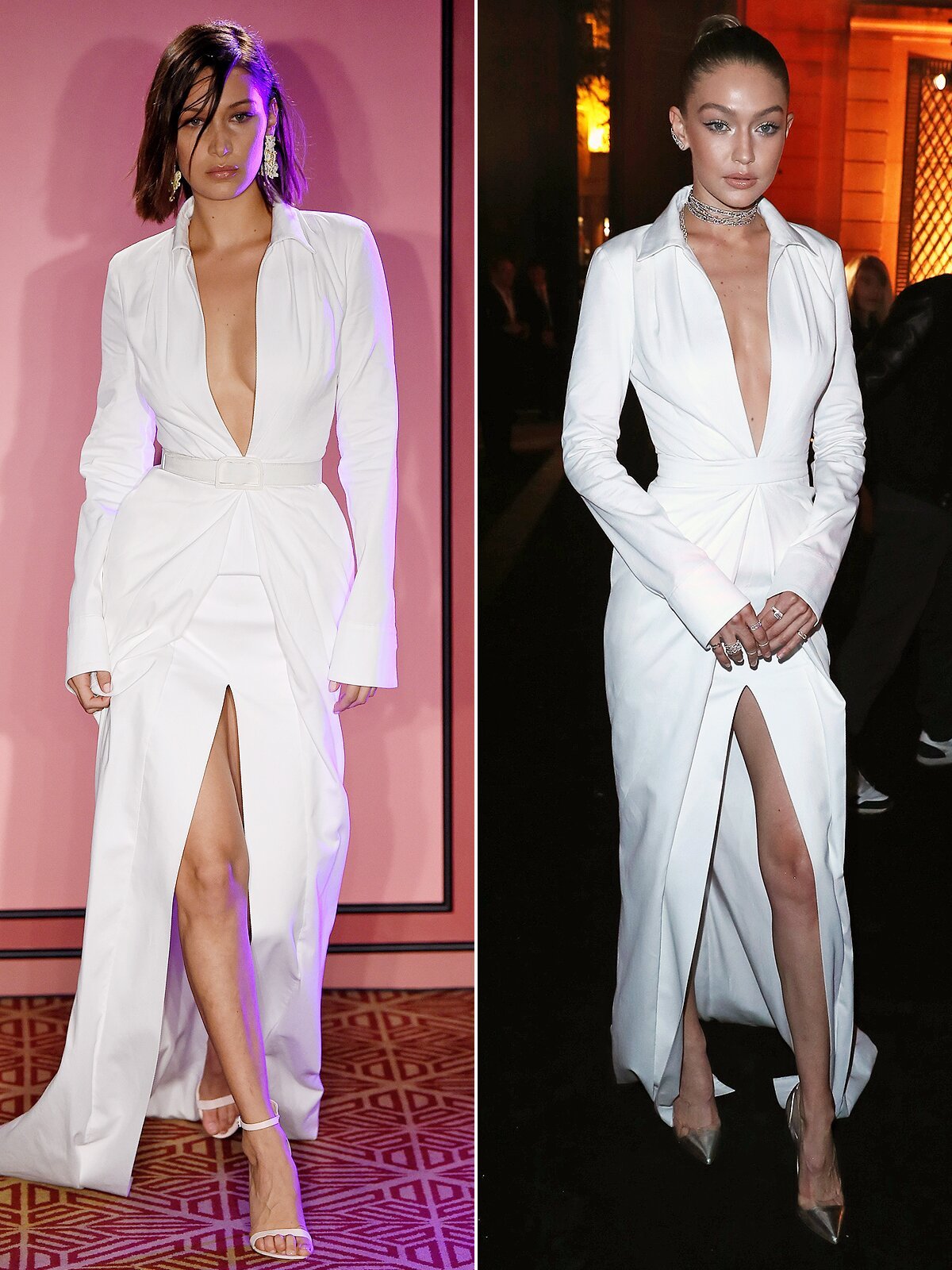 Shutterstock, Wireimage
Gigi rocked in the same white dress with a plunging neckline that her sister, Bella, wore on the runway for Brandon Maxwell. She abandoned the earrings for a sparkly choker.
#18 Nicole Kidman in Zuhair Murad.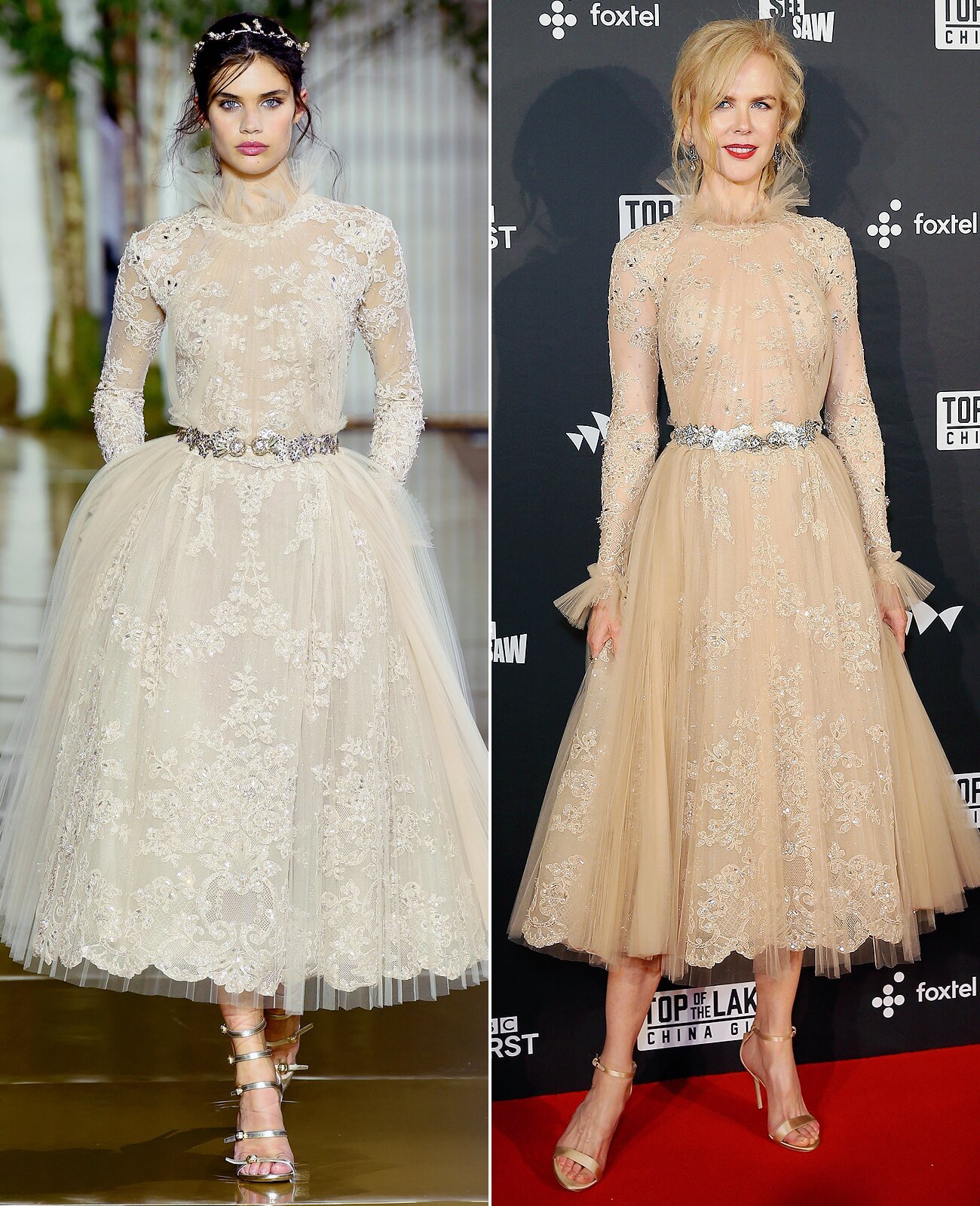 Rex Shutterstock, Wireimage
Zuhair Murad's gown is a favorite of many celebrities, including Nicole Kidman. The neutral-colored gown features floral details, as Sara Sampaio wore for the 2017 couture show in fall.
#19 Oscar de la Renta on Selena Gomez.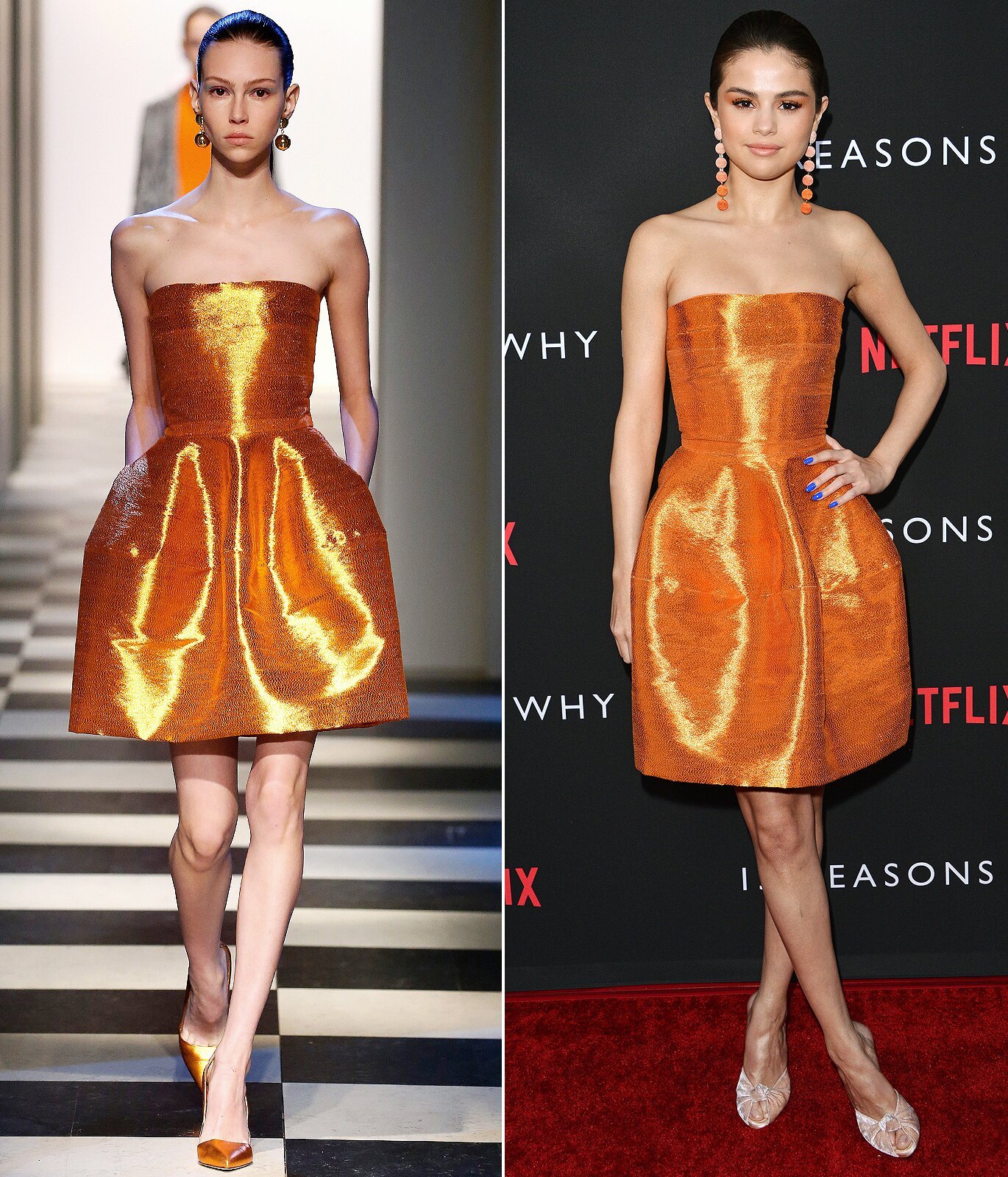 Getty, Splash News Online
Selena Gomez went daring with the color palette in this bright orange dress. Her earrings were ombré, her nails were cobalt blue, and her mules were champagne.
#20 Lily Collins' night glam takes on Chanel.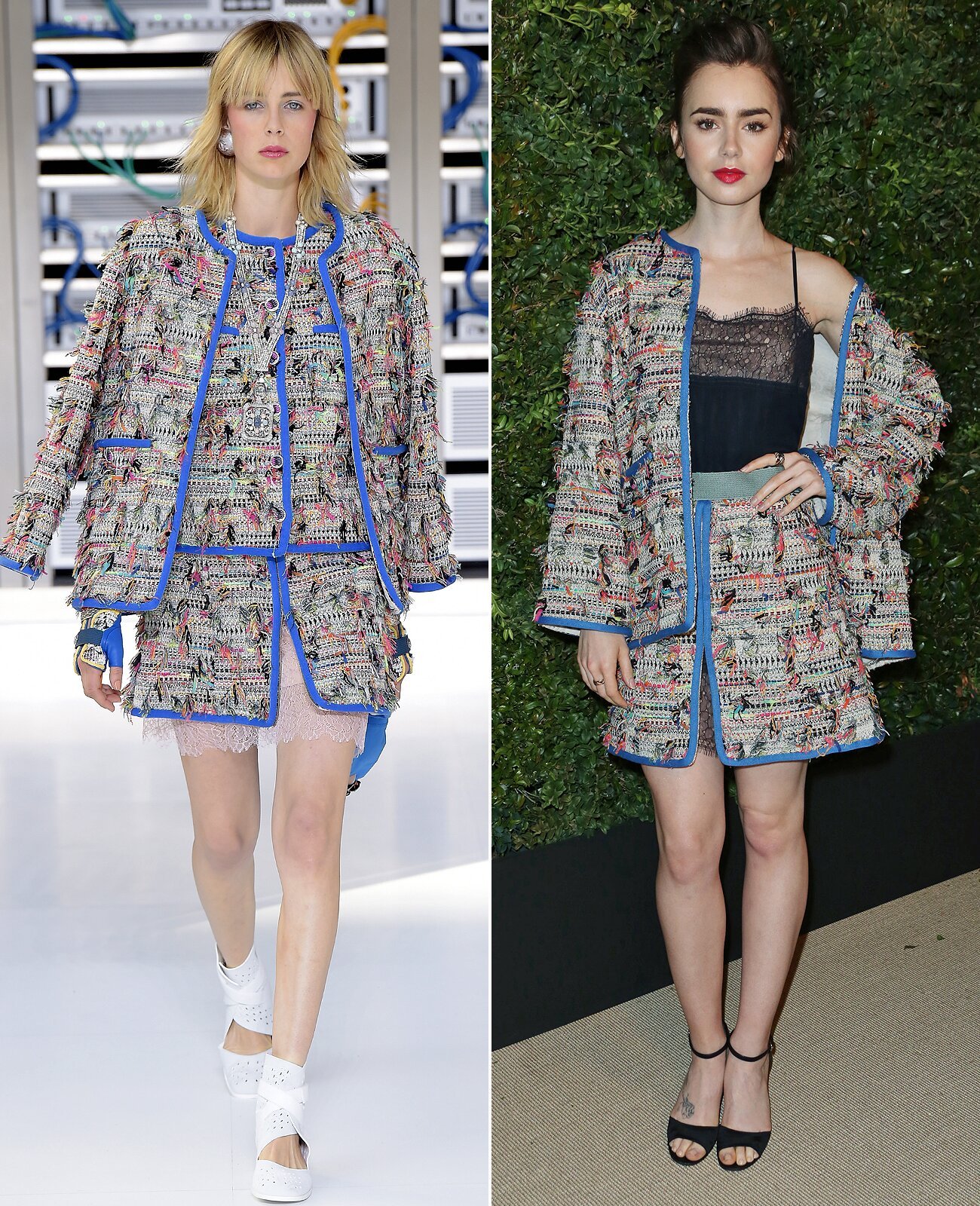 Rex Shutterstock
While the original look that Edie Campbell wore for Chanel gave it a more daytime, casual look, Lily swapped the white shoes for black pumps, matching the black inner clothes.
#21 Zoe Saldaña in black by Ulyana Surgeenko.
Getty
The 'Avatar' actress appeared for the 'Guardians of the Galaxy' premiere event in the structured midi dress by Ulyana Surgeenko that Natalia Vodianova walked in on the runway in 2017.
#22 Nicole Kidman in Oscar de la Renta.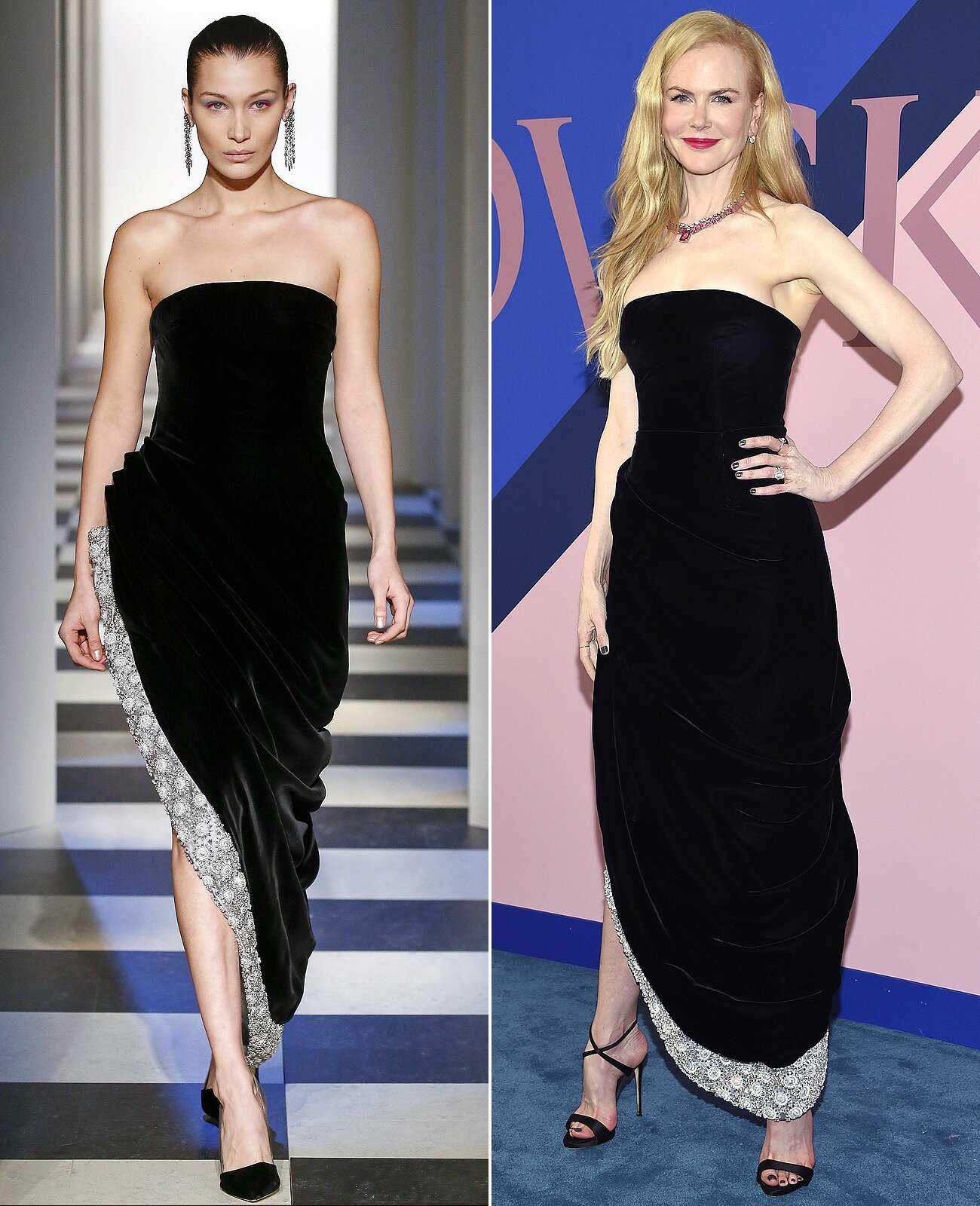 Splash, AP
Nicole Kidman and the runway model Bella Hadid were the only two A-listers allowed to wear the black dress from the new creative directors in Oscar de la Renta.
#23 Candice Swanepoel in altered Prabal Gurung.
Getty, Rex Shutterstock
Candice's take on Prabal's semi-sheer black dress that was walked by Victoria's Secret Angel Josephine Skriver had her remove the top part of the sheer fabric for a more daring look at the 2017 Tony Awards.
#24 Vanessa Hudgens in Moschino.
Rex Shutterstock
Hudgens really loved the colorful Moschino ensemble as she dressed up in the dress complete with the bomber. Miranda Kerr was first seen wearing the dress a year before.
#25 Kate Hudson in Michael Kors, walked by Bella Hadid.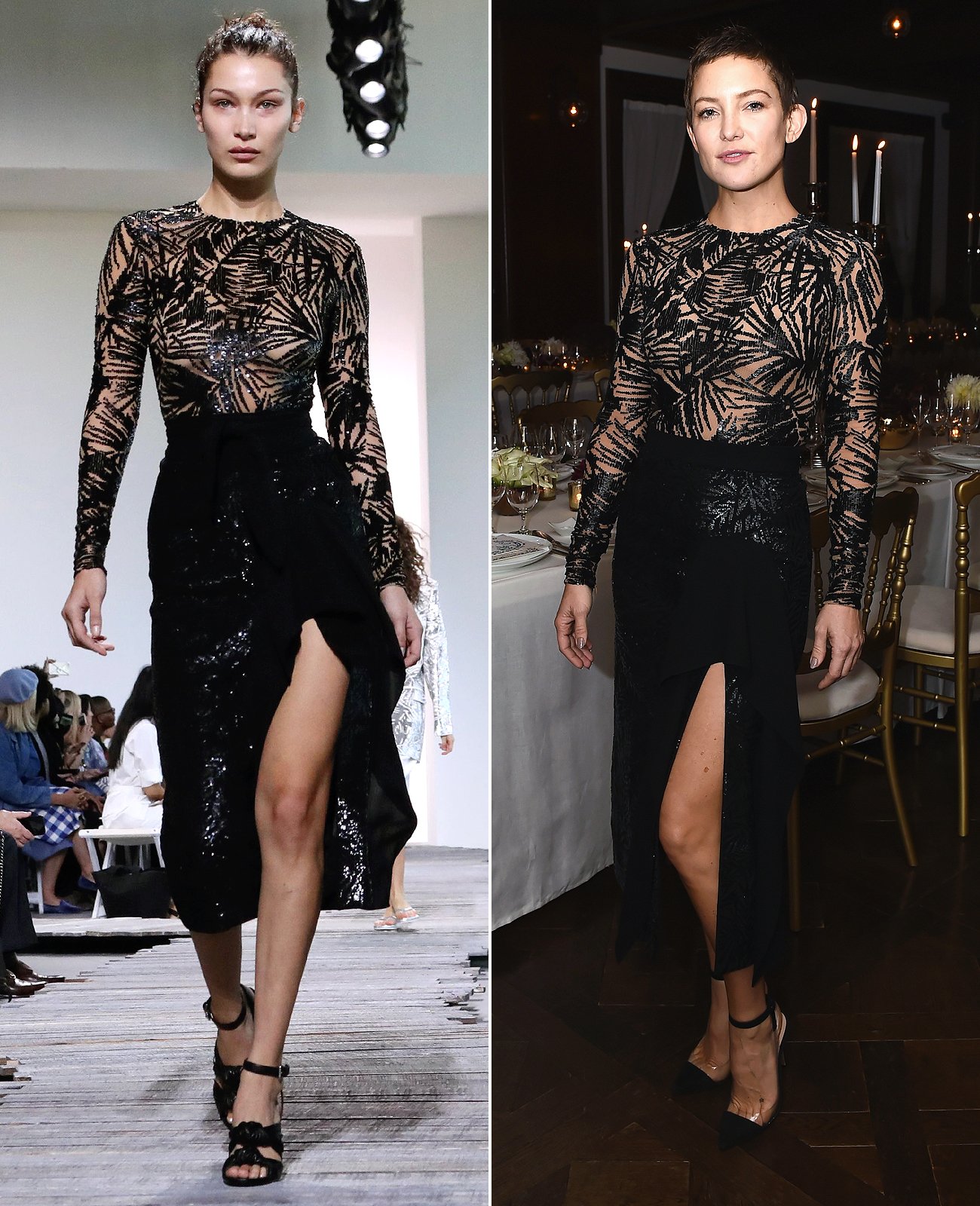 Splash, Getty
The actress attended the charity dinner 'Watch Hunger Stop' in the Kors' collection from Spring 2018 that Bella Hadid walked in.
#26 Jennifer Lopez in Elie Saab.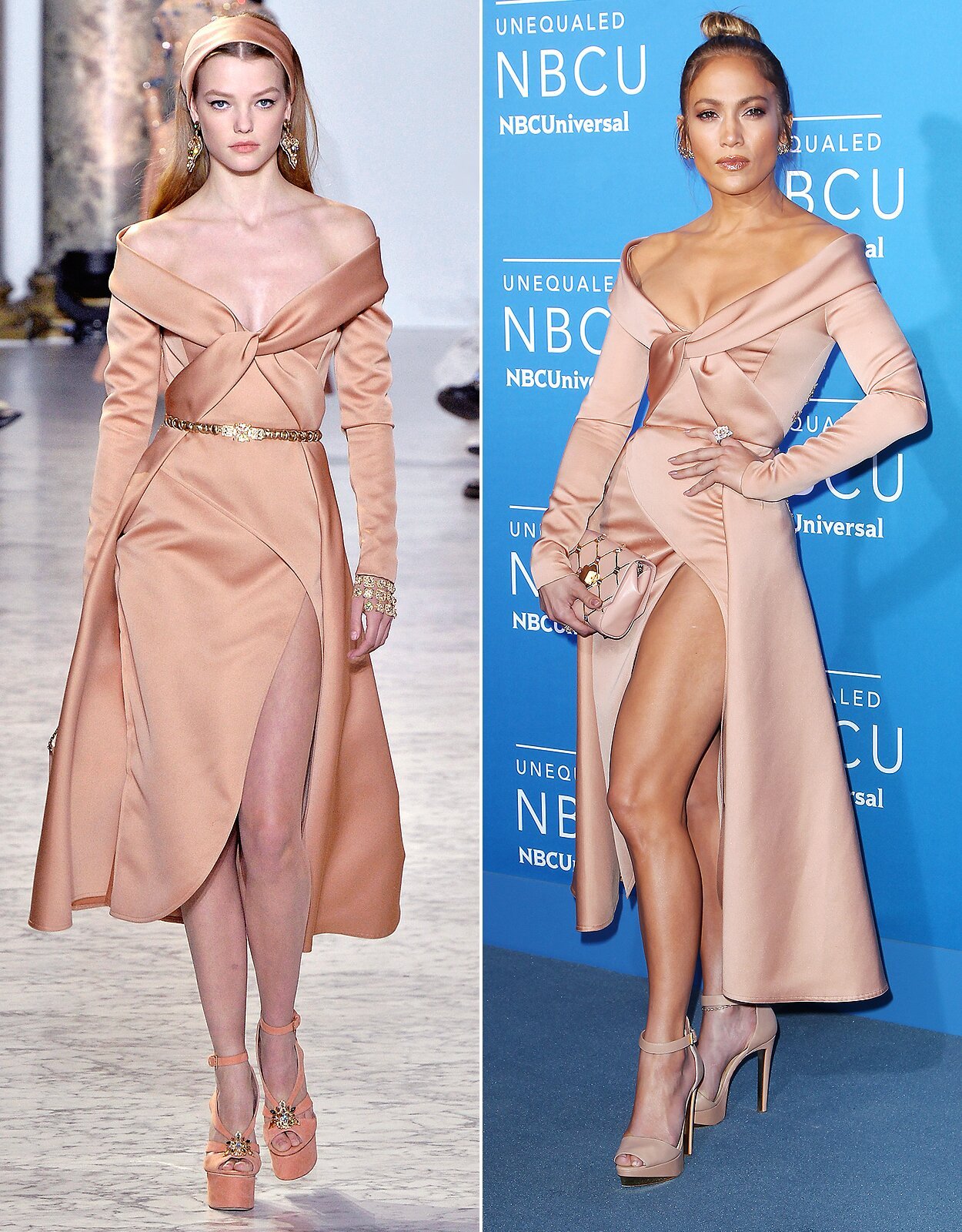 Getty, Rex Shutterstock
Jennifer promoted 'World of Dance' at the NBC Upfronts event in this 2017 Spring Collection by Elie Saab. Her rosegold dress was paired with a pair of shoes in matching colors instead of the orange pumps the model wore for the walk.
#27 Sarah Paulson called dibs on Carolina Herrera's dazzling dress.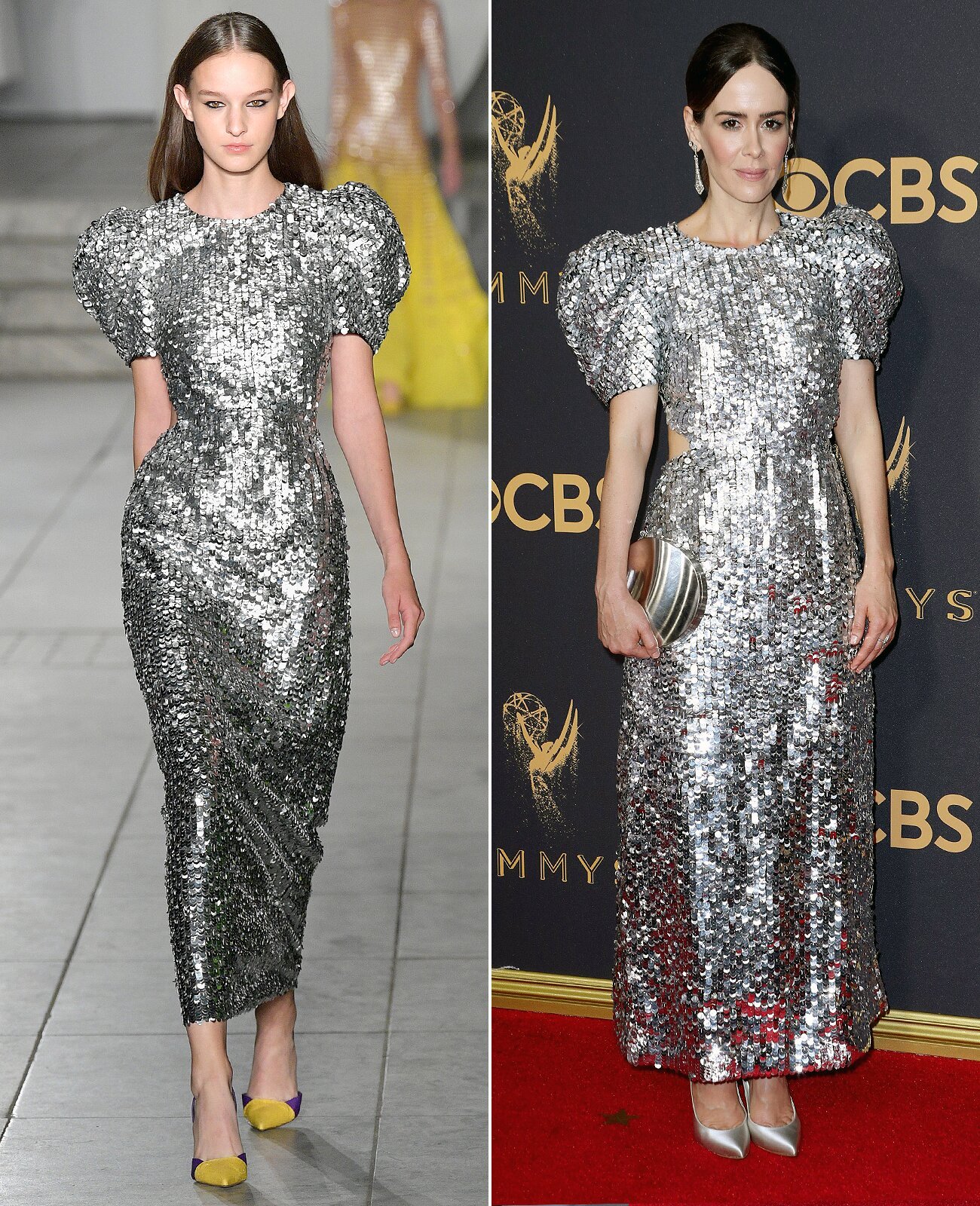 Getty, Rex Shutterstock
Just days before her appearance on Emmys' red carpet, Sarah and her stylist, Karla Welch, rang up Carolina to if they could get the sparkly, vintage dress.
#28 Bella Hadid in Dior.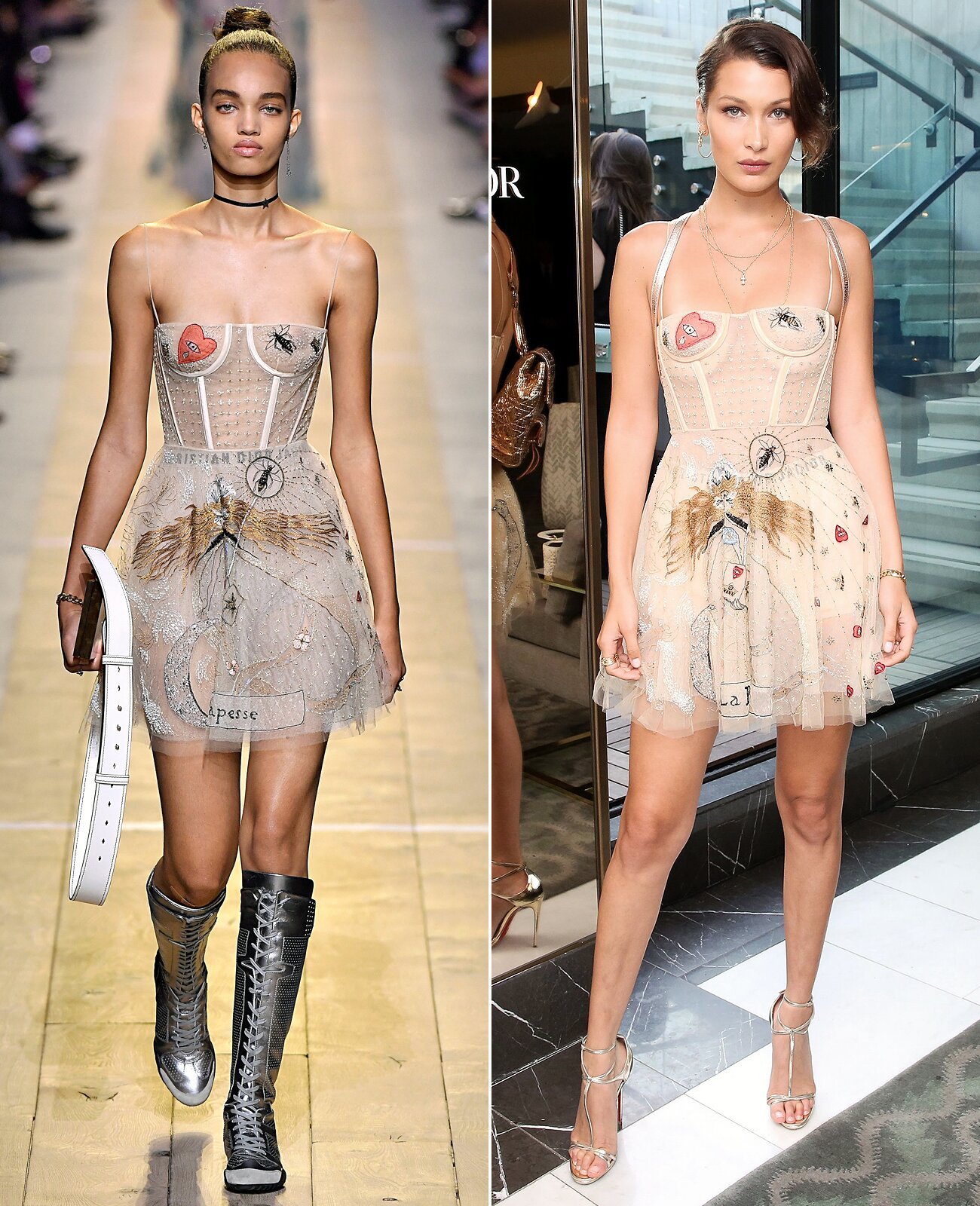 Getty, Rex Shutterstock
As the brand face of Dior, Bella Hadid rocked in the cute mini dress that features funny prints from the brand while celebrating their beauty line's new mascara product.
#29 Poppy Delevingne in sister's Chanel look.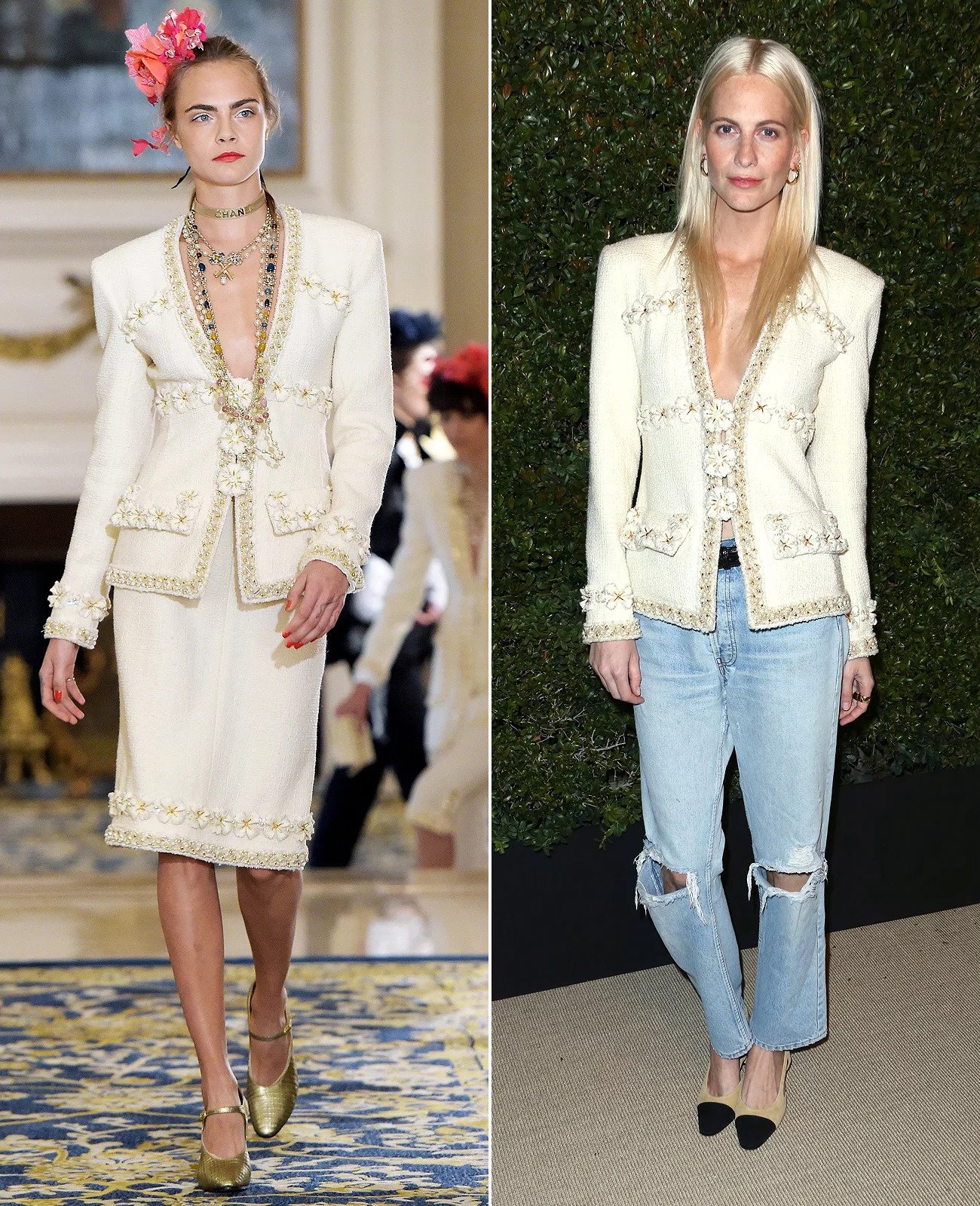 Rex Shutterstock
Cara Delevigne's sister, Poppy, took the same top Cara wore for Chanel's walk from a 2016 event and gave it a more casual feel with ripped jeans.
#30 Kim Kardashian West Arrives In a unique see-through creation at the GQ Men of the Year Awards 2014.
RALPH & RUSSO, Getty