Madonna really raised some eyebrows with her antics at 'Jimmy Fallon's Tonight Show.' People really had a cringe moment when the 63-year-old suddenly started crawling all over Jimmy's desk while spreading her legs.

It all began when Fallon asked about her newest documentary show and what people would see in it.
NBC
During her time as the guest on the talk show, the singer was promoting her documentary, 'Madame X.' She shared, "Art is important in our lives. I don't think people emphasize that enough. I'm really inspired by James Baldwin, the writer."
"He was a great source of inspiration for the show, and one of the things I quote over and over again in the show is that artists are here to disturb the peace."
"And so I hope that I have disturbed not only your peace this afternoon but people's peace while they watch the show. But I mean that in the best way," she warned.
NBC
Fallon, still oblivious to what's about to happen, replied enthusiastically, "Oh, yeah, you get in good trouble."
While echoing Fallon's words, Madonna stood up and started crawling all over the desk in her little black dress and fishnet stockings. She split her legs, posing in a sensual way for the camera to see. Shocked Fallon called out, "No! Madonna! Stop it! I don't know what to do. Stop it right now."
His attempt to cover Madonna up with her jacket was short-lived as she immediately turned around and flashed her bum for the audience and the camera for the world to see.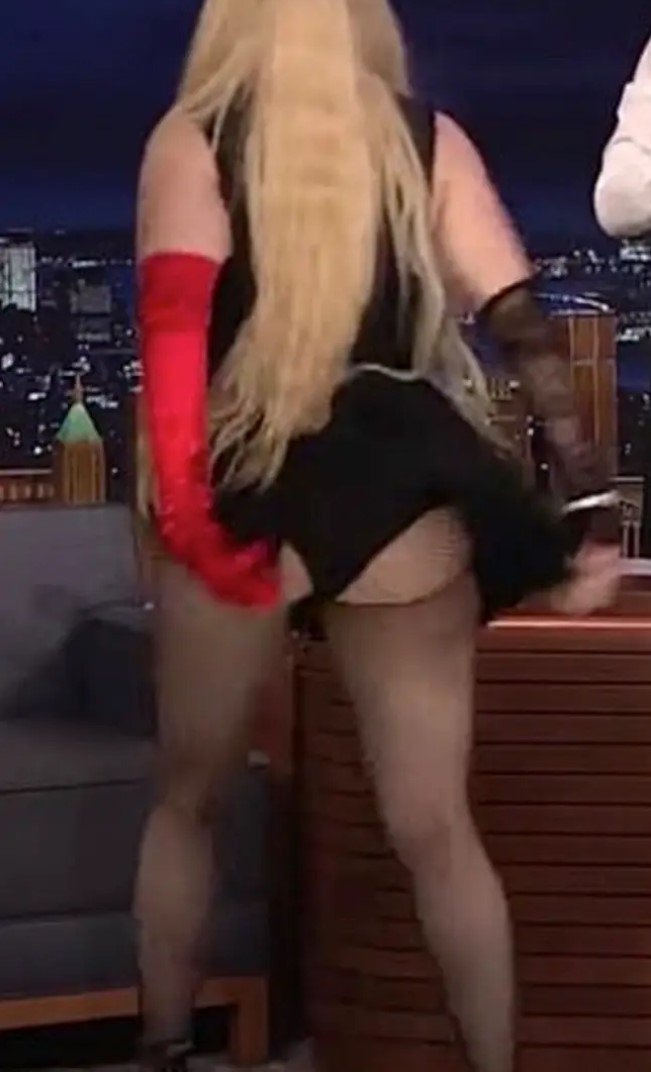 NBC
She walked back to her seat and crossed her legs while Fallon was still in shock with what had just happened. She continued teasing the host, "Life is not just about interviewing kitties. Don't you want to talk to an adult? Let's have some adult conversation."
There was a back and forth asking if Fallon was talking to an adult and the singer replying with, "I'm not sure... I feel like you're in some kind of conflict right now. Have you been to a therapist?"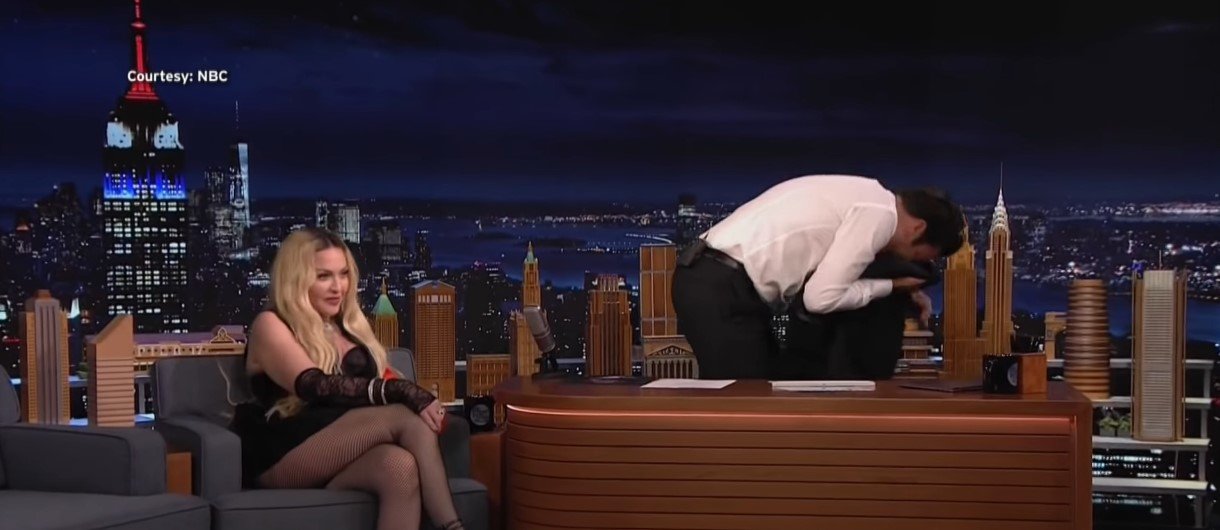 NBC
But a lot of people weren't fans of what she did on the show.
"Artists are here to disturb the peace."

-@Madonna explains how James Baldwin inspired her new movie #MadameX. #FallonTonight pic.twitter.com/WPzdQ9FhxS

— The Tonight Show (@FallonTonight) October 8, 2021
MaybeMorque -Via
btchplzzz -Via