Croatian content creator and influencer Kornelija Slunjski felt very offended when a man commented on how her nipples could be seen through her clothes because she wasn't wearing bra. The Florida-based makeup artist took to TikTok to share her frustration with captions that described how it's just much more inappropriate to talk about people body parts because you didn't like seeing them.
A very open social media user, Kornelija often receives criticisms other than positive comments.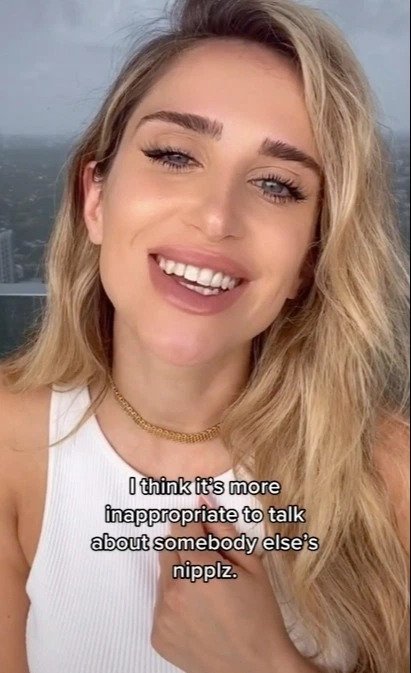 And she gets comments about her not wearing a bra was inappropriate from men a lot of the time. She decided to take the issue to TikTok to address them and shut them down.
Recounting one of them, she captioned her video, "I can see your nipples through your shirt."
It naturally does not faze her because she was conscious of the fact that she was not wearing a bra, and she knew what was coming next. She was then told to wear a bra. She asked back if it was a "secret" or "inappropriate" that she has nipples.
She was told, "No, it's inappropriate to show your nipples." And she told them the harsh fact: I think it's more inappropriate to talk about somebody else's nipples.

And when they told her, "We wouldn't have to talk about it if you put a bra on." She replied them with this:
Several people think that it's 'class' not just to let them jiggle out in the open. But many agreed that people could just avert their eyes if they don't like to see something. One wrote, "I mean, it's just a body part! I don't know why people freak out about the dumbest things. If it bothers you, then don't look."
Another threw a shade at the negative comments, "Did I just travel to the 1950s when I opened the comments?"
One took a middle stance and commented, "There is a time and place, though."
This is where we get a better insight. Kornelija explains, "I wouldn't have my nipples out if I'm meeting my new in-laws or something, but if I'm running my errands, I'll let them be!!"
The video currently has its audio taken down because, guess what, the nipples talk. View count has reached 392k, however.
She continued this complaint, saying that men can dance topless, but she cannot talk about not wanting to wear a bra.
kokobeaute -Via